Down at the Pawn Shop... (a NGD Production)

Join date: Apr 2009
10

IQ
Went out off on a rainy afternoon yesterday with some money to spend. Of course I made a discovery that I was able to convince myself that I could not do without...
So without further ado, the mandatory, "All Packed Up" shot...
Now for the taters of the post...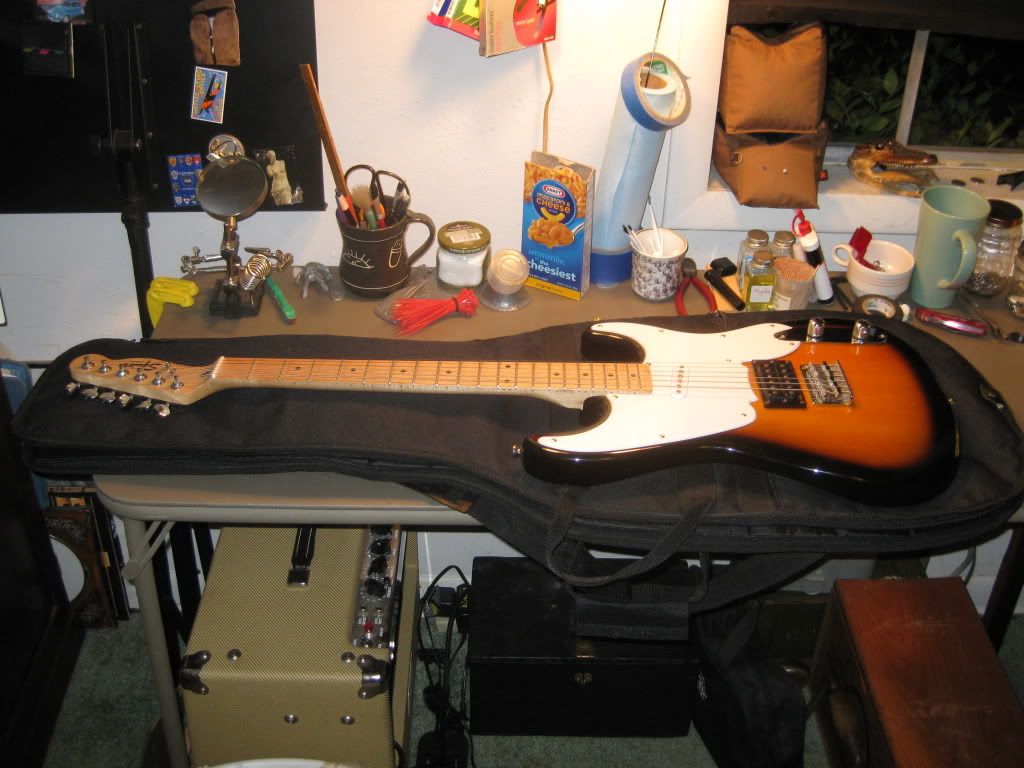 That's right a Squier 51, a completely stock one as well. The only flaws were a nice ding to the finish that looks like a rock chip in a windshield, and a really loose volume knob that came off everytime you pull the coil-tap.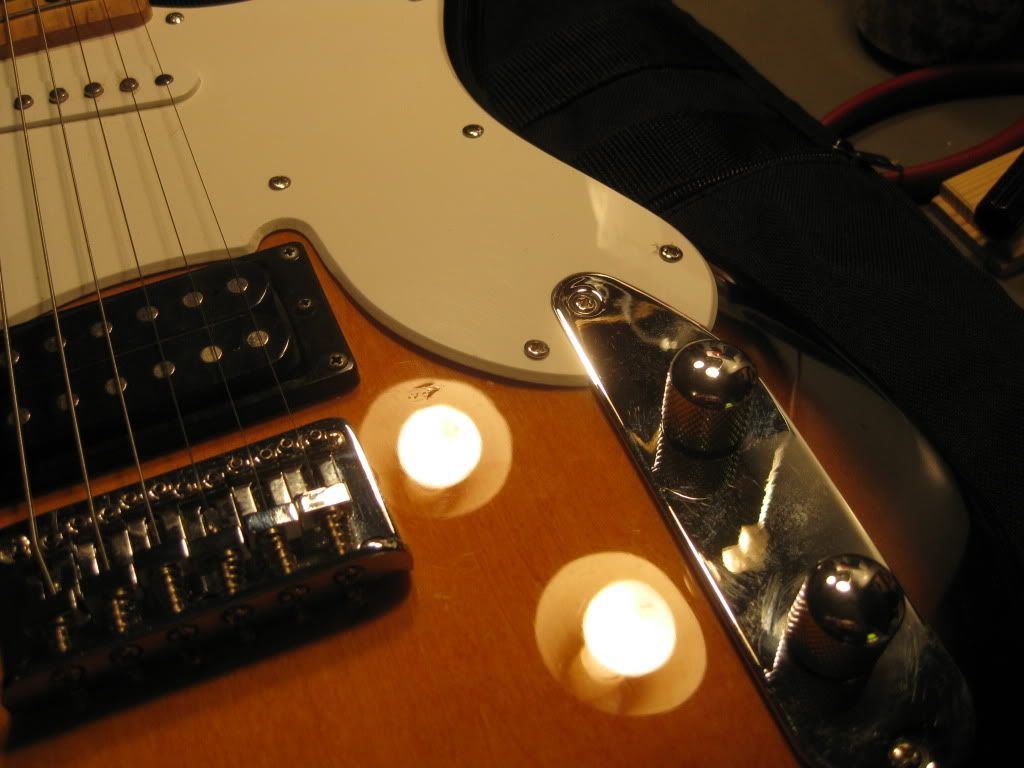 I couldn't talk them down to what they cost new, so I saw this cool strap under the cabinet, but the button holes were all wallered out, so I said to the guy throw in the strap and you got a deal, so guess what happened...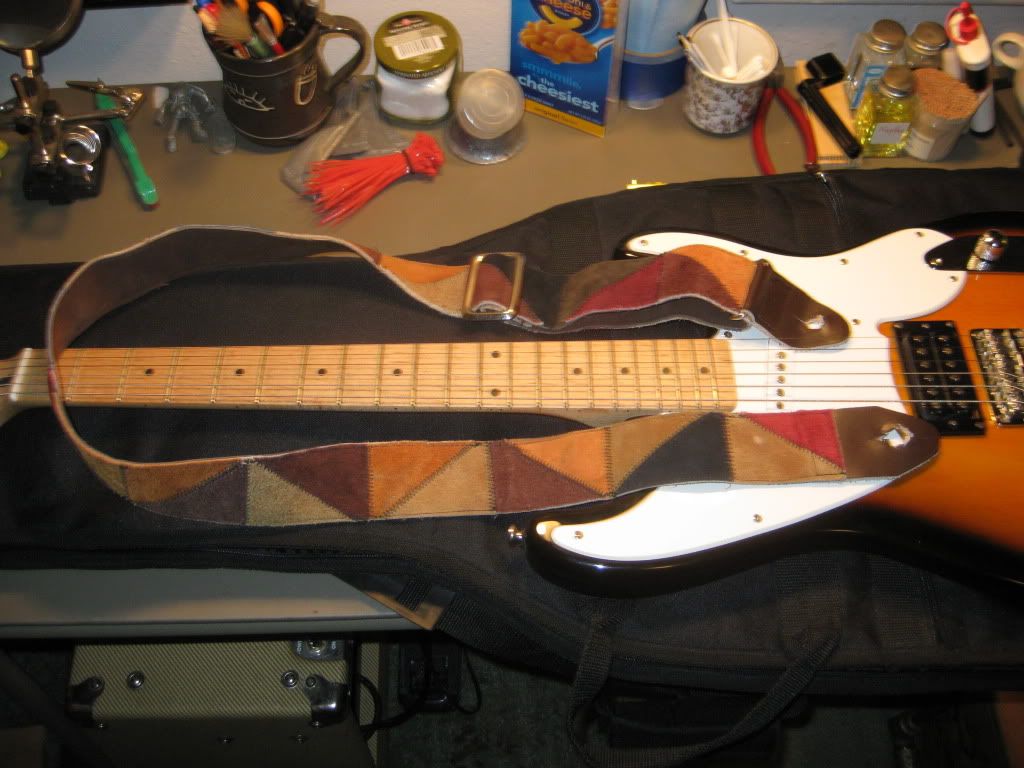 After leaving the Pawn Shop decided I should head over to get it some new strings and a couple of new knobs with set screws, of course I had so many plans running though my head for mods and what not, in the midst of all this an epiphany hit me, instead of having the leather ends of the strap replaced, I could just...
... pick up some strap locks too!
After a round about trip home, I commenced to clean up my new guitar... I hope I dont give anybody a complex about this now, but I'm gonna speak about the conditions of pawn shop guitars for a minute, or at least Arkansas Pawn Shop Guitars... EWWW, a pawn shop guitar (in my price range at least) usually has spent awhile in someones closet, collecting dust, and other closet funk, lots of times they have a nice even coat of tar and nicotine as well, then the guitar makes it to the pawn shop, usually it has rusted strings and it's barely even been touched by the owner, and it's given a 5 second rub with a towel by the guys at the shop, and then it spends the next few months being picked up by god knows who and each person leaves behind part of them on those strings that were rusty before it even made it there. I love pawn shoppin' but for that reason alone, I mostly window shop, it really has to strike my fancy first. Not afraid to play one, but I don't like to borrow trouble either. So it got cleaned toughly, thoroughly and immediately.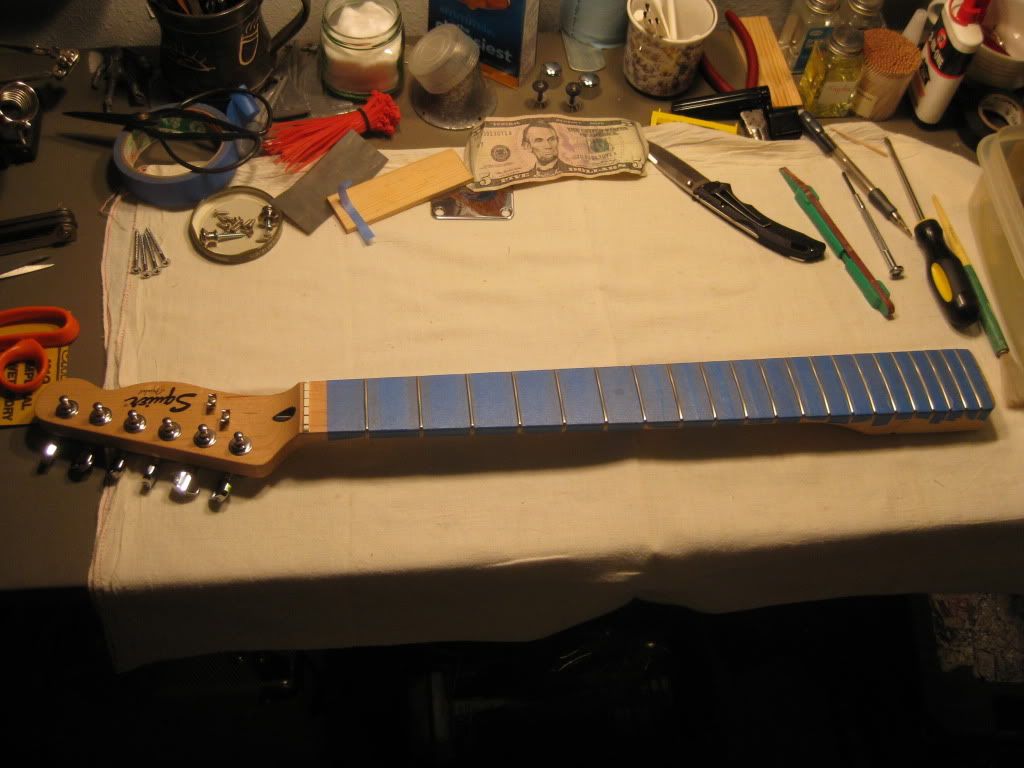 I said thoroughly, I meant it, somehow I missed the pic of the naked body, or maybe I didn't but I am respecting the new guitar's modesty... Since I had the neck off, decided to do something about the frets, smoothed them out with some 400 grit then some 000 wool, then a round of polish wading.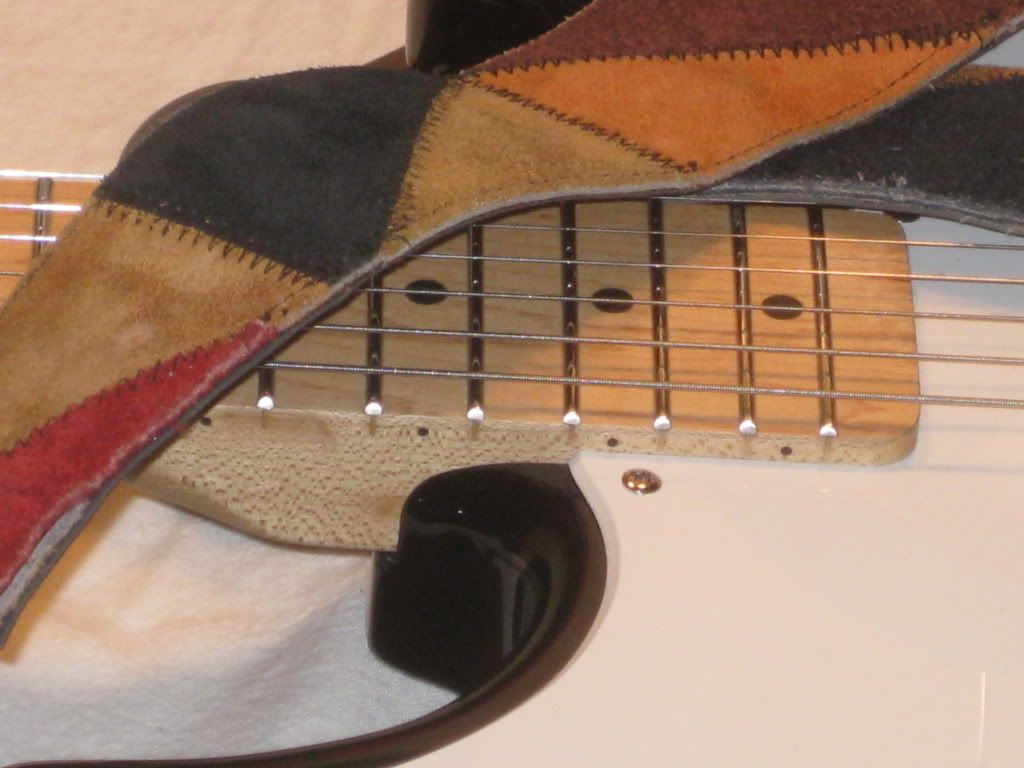 Couldn't get a good shimmery close up fret shot... but they shined up good, as proven by the after.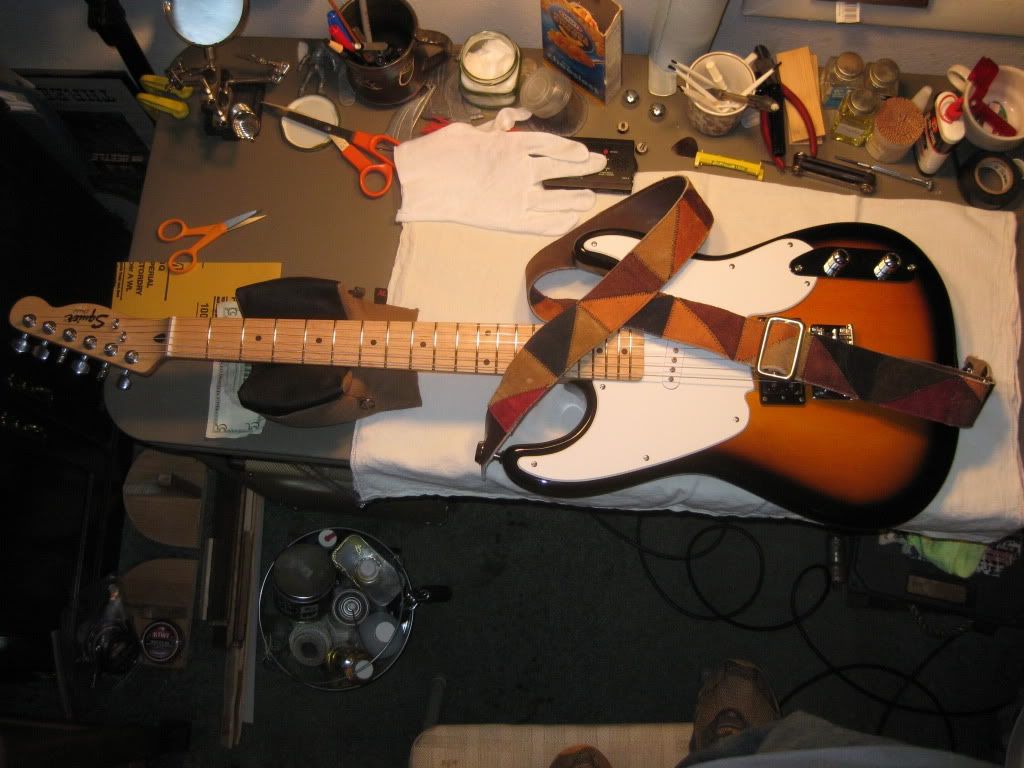 The Duncan Straplocks went on the strap perfectly so no worries there, the knobs of course weren't any problem, the set screw is really handy for the toggle switch too.
Took a minute to get the neck seated back in right, but that's been worked out. The layers of funk have been peeled away, and I'm happy to say it's cleaner than it has ever been before, didn't even leave the factory that clean. They only thing left is to mod away on it.
Down the way I'm thinking about a P90 in the Bridge, with a RW Lipstick Tube in the neck, a shim in the neck pocket, and some better saddles. Maybe a complete paint job as well.
Not bad for $115, and even with the extra purchases I still got away cheaper than I would have on ebay, and I'd prolly be without a gig bag and strap.
James
P.S. It's name is Sonny... Original I know, but it was a dreary day before i found it.

Join date: Sep 2009
223

IQ
So beautiful.....

I wish I could find a Squier '51. I've been searching for a stock one for a couple of years now.
I'm so confused...Its like a Strat and a Tele had a baby, and your guitar is what came out. Still, very pretty

The only thing I dislike, and its complete personal preference, is the Dunlop strap locks. I like Schaller better, but thats just me.

Join date: Mar 2008
110

IQ
HNGD!

I got my Artcore from a pawnshop and it was pretty close to how you described it... rusted and dirty, but with some TLC it cleaned up very nicely. Turns out it still had the plastic covering on the pickups, so I'm assuming it was barely played at all before being consigned to a closet for a few years.

Anyway, looks very nice. I like your ideas for new pups too. Maybe make a thread about it if you do mod it?

Join date: Sep 2009
223

IQ
I'm so confused...Its like a Strat and a Tele had a baby, and your guitar is what came out. Still, very pretty
Actually, the '51 is what happens when a Tele and a P-bass mate. It's just that the Bass Gene is recessive.

Join date: Apr 2009
10

IQ
The pickguard is a 1951 P-Bass style as well.

Schallers would not fix the problem with the button holes on the strap, + I can still use any other strap I want on the guitar.


Yeah once I have a better idea of what I want I'll do a project thread, I need to get to know the guitar better first though. Just so much potential, that my favorite part of it...

James