UK F/S or F/T FS/FT Blackstar Ht40 Venue Combo & 1x12 Htv Extension Cab
Blackstar HT Club 40 1x12 Combo
Revalved with 12ax7 JJ Preamp Valves & Tungsol El34 Poweramp valves last month
Closed Back Combo
Great sounding cleans and overdriven tones
Matching Blackstar Htv112 Extension Cabinet
Open Back
6 months old
Very good condition, not gigged and only used in rehearsal with band
Couple of very small tears in covering, nothing major.
Smaller than a 5p piece
HT CLUB 40
Equipped with 2 channels and 4 modes the HT Club 40 is the ideal gigging valve amp for club sized venues. The 40W EL34 driven power amplifier has amazing punch and dynamics that will easily cut through in a full band situation. Switching to the amazing ISF equipped overdrive channel accesses a further two modes – 'classic crunch' and 'super saturated lead'.
• 40 Watt valve combo
• 2xECC83, 2xEL34
• Two footswitchable channels
• 12" Celestion speaker
• Enhanced tone controls
• Patent-Applied for Infinite Shape Feature (ISF)
• Clean voice switch
• Overdrive voice switch
• Master volume
• Digital reverb with dark/bright switch
• Speaker emulated output
• Effects loop
• 2-way footswitch included
• Cool vintage styling
HTV-112
The HT Venue Series has four outstanding speaker cabinets that are all equipped with Celestion drivers and have been voiced to work with the HT Venue amplifiers, as well as a wide range of other products. All the cabs have finger-locked (comb) joints, heavy duty wiring and a cool vintage styling.
• 1x12 80W
• 16Ω Mono
• Open back design
• Celestion loudspeaker
• Rugged construction
Looking to Trade for a mesa 4x12 cab to go with my mesa stiletto head
Looking for £525for both
I'm located in Bexhill, East Sussex
United Kingdom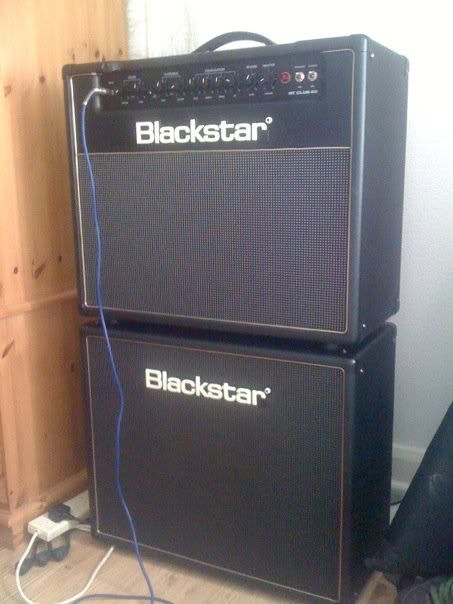 Bump to the top......Offers & Trades - Prefrebly 4x12 cabinets I can run a mesa stiletto duece head through

Open to offers & can deliver within 50 miles for cost of diesel