NGD - Jaden Rose 8-string prototype
I received this one in my hotel room, the very night before the Musikmesse. It was love at first sight! Here's a very tired Fred surveying his two demo axes, namely my beaten up S2 7-string and the lovely Spider 8-string: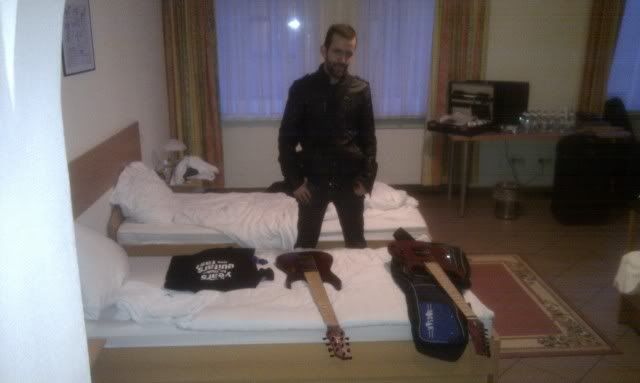 The DiMarzio D-Activator 8 prototypes took a while to arrive, but they managed to be fit in the nick of time:
And here she is, right off the workbench:
Quick test prior to a demo at the Jaden Rose stand at the Musikmesse:
Everyone and their dog wanted to buy my guitar as opposed to ordering one from Jaden, so we had to improvise a bit

:
Here she is in action, being played by Doug Campbell (Blackmachine) and I at the Diezel booth - I was REALLY eager to hear this one through the Herbert. Sound quality wasn't stellar due to the camera mic not really fancying the postioning, I think, but it should give you an idea. Doug laughing the moment we plugged her into the Herbert is the highlight, for me! Haha!
http://www.youtube.com/watch?v=6_yt8g5m1_E
Specs are:
- African Mahogany body, red oiled finish;
- 27" bubinga neck with maple fretboard;
- 24 Gold Evo frets;
- DiMarzio D-Activator 8 pickups (these are protos, but production units are the very same thing);
- Hipshot hardware
As usual, feel free to ask any questions!

Join date: Nov 2008
50

IQ
how can people play that neck?
really i can hardly imagine people playing that and thinking wow this guitar plays awesome.
on note it looks sexy, love how the jack input is placed.
It's actually a very comfy neck, probably due to not going overboard with the whole baritone thing, and to the profile itself. I have quite small hands as well, so I don't think people would have any trouble coping with the dimensions of said neck.
If you're going from that to a regular 6-string, though, it almost feels as if you playing a toothpick, though.

Epic.

I am pulling the trigger on a Series 2 in September, so its always great to hear good things about Jaden.

I loved the clips too.

Doug is much younger than I thought he would be.
Don't let Doug's looks deceive you: he's been building guitars for around 20 years now!


MOAR PICS!!!!!!

Join date: Aug 2005
60

IQ
Love the videos Fred, while aesthetically it's not my thing, i'm sure profile wise and tonally it sounds fantastic in person!
Congrats man

Really cool guitar. This is an interesting new trend, I'd really like to get my hands on an 8 string and try to play it.