Civil Rights Laws

Join date: Aug 2007
70

IQ
I was just doing some research for a paper I'm writing, regarding Racism and Rock 'n' Roll, and I came across this article.
http://www.fff.org/freedom/1090a.asp
It took me a couple minutes of reading to actually absorb what he was saying. But when I figured it out, I was pretty appalled. I want your opinion.
Main point: Civil Rights Movement impedes upon American freedoms. Agree or disagree?
Debating using it as a source, anyway.
Last edited by SlinkyBlue at Apr 16, 2011,
Civil rights laws are among the most repugnant forms of political control in American society.




Slinky, I am appualed by your spelling. (appalled)


Join date: Aug 2007
70

IQ
Slinky, I am appualed by your spelling. (appalled)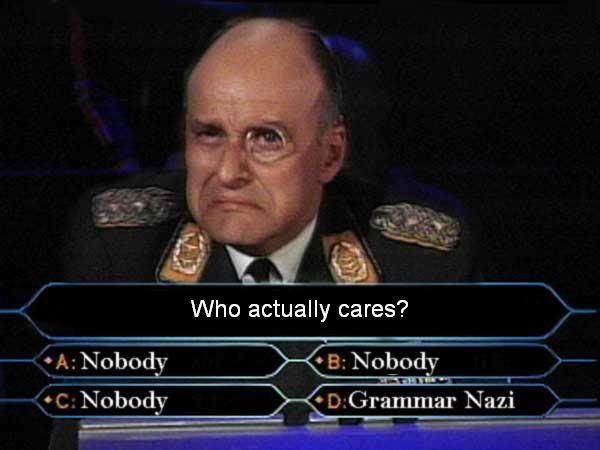 Despite your apparent disinterest in it, you fixed it.

Join date: May 2007
132

IQ
First, how can an individual be considered free if government officials have the power to coerce him, through fine or imprisonment, to associate with people with whom he does not desire to associate?
But we kind of aren't, I mean I've never been put in a police car and dragged to a meeting of peoples of all ethnicities where we are all forced to talk about racial issues. You'll find that if you really dislike any one group of people, you can pretty easily (and freely) choose not to associate with them. I don't really get what his point is here.

Join date: May 2007
132

IQ
"Along came rock and roll and turned that teaching upside down. While rock and roll had its roots in various strands of American music, i.e., country/western and gospel, its biggest foundation was rhythm and blues or "race music" as it was known in the 1950s. While whites were enjoying the sweet, innocent sounds of the Big Bands, rhythm and blues, with its especially strong sexual overtones, predominated among blacks. "

American music had been long associated with Black culture from long before then. Many of the crooners of the 50s were a direct line from the Tin Pan Alley boys of the 20s, which themselves were huge blues aficionados (albeit often in very misunderstood ways). Hell, just look at George Gershwin:
"What is the voice of the American soul? It is jazz developed out of ragtime, jazz that is the plantation song improved and transformed into finer, bigger harmonies... It is a combination that includes the wail, the whine, and the exultant note of the old "mammy" songs of the South. It is black and white. It is all colors and all souls unified in the great melting pot of the world." ("Jazz is the Voice of the American Soul," 1926)

Further, he was also involved in the creation of the "Black" opera Porgy and Bess, and if you read the correspondence between he and his performers of that opera, he treated them with the utmost humanity respect, and reverence for their music and culture.

Even Dvorak saw the significance of African American music when he arrived here in the late 19th centuries. He saw this form of music as the one with the highest potential for musical expression availible in America.

So rock was not the first popular or successful translation of African American music to the wider population.

Further, it even mentions gospel, which is VERY tied to African American music
Last edited by nmitchell076 at Apr 16, 2011,

Join date: Jun 2004
121

IQ
That guy seems kinda stupid.
I'm finding it difficult to comprehend his logic. It sounds to me like he's saying "These dern civul rights laws is takin' away my right to hate blacks n' jews!"