Watch me convert/build/gently caress an amp!
Hi everybodies. I'e been working on this build for a little bit and I've decided to start up a little thread about it since all the parts are slowly coming in.
So a while ago I bought a used fuchs ods modded fender super showman.
Basically Fuchs takes a donner amp, in this case a tweed era fender showman, takes out the guts, and puts the pcb board and all the wiring for the Fuchs ODS 2 channel amp in its place.
It's been my go to cleans amp for a while. Probably one of the best purchases I ever made.
However, I've got the bug. The building bug and I like to kick it old school.
I figured I'd break down the amp, figured out how it worked and rebuild it.
i've never built a reverb circuit or an effects loop circuit before. So, here goes nothing. Hopefully we'll all have fun on my mis-adventures?!?!
Here's patient Zero. He's loaded down with a whole bunch of parts I didn't end up using for size reasons.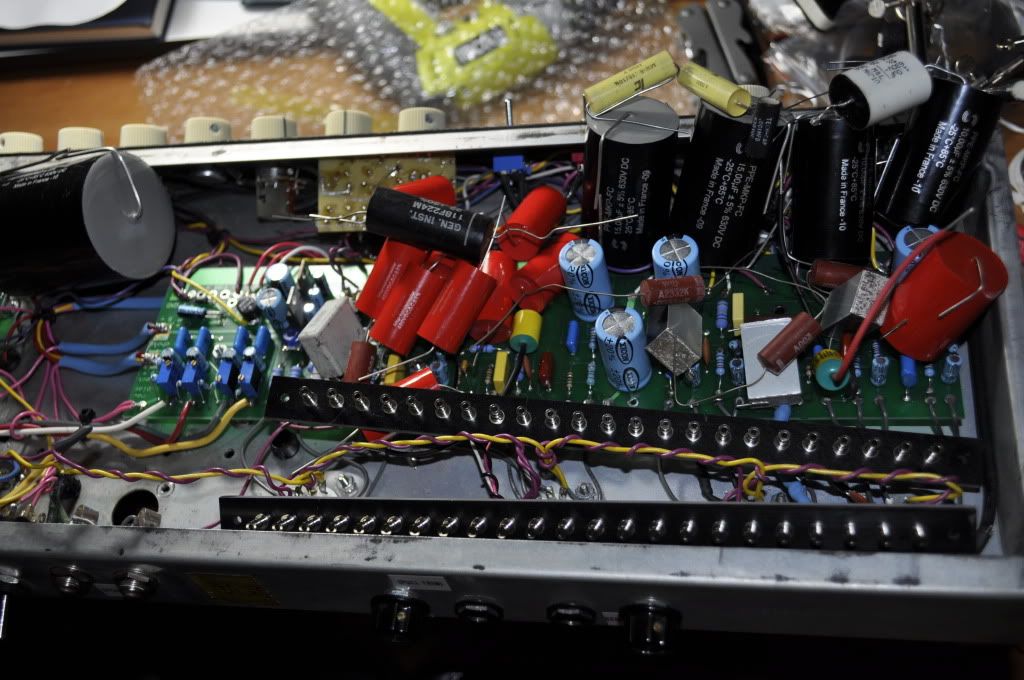 Alright, so of course I'd have to tear out the board and do all that stuff.
But first, stuff porn.
This is the first batch of stuffs I was prototyping with.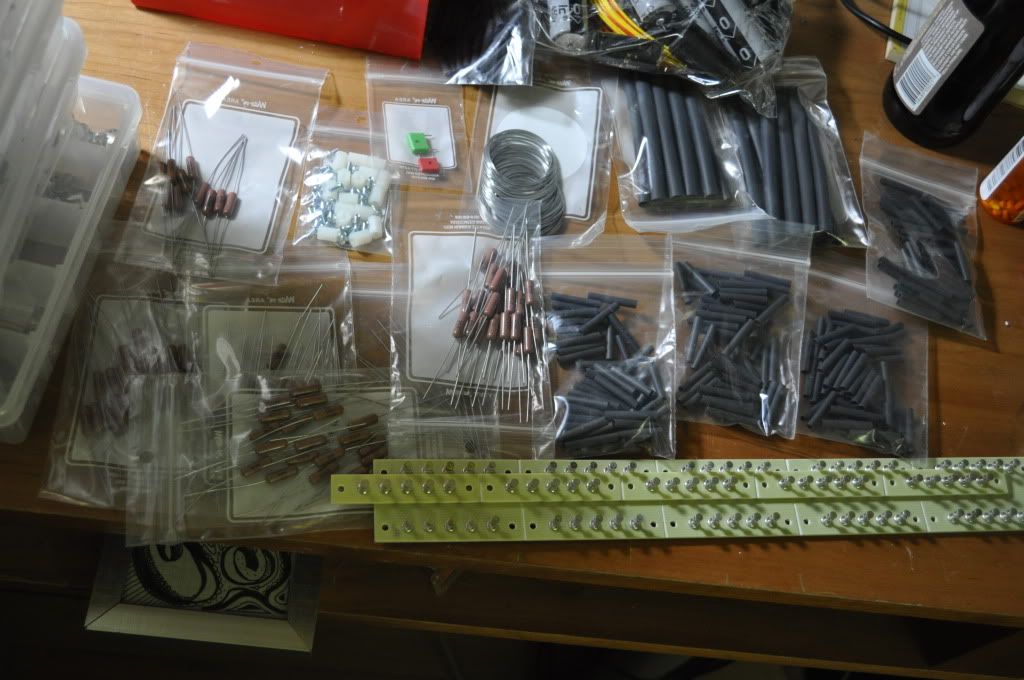 welbourne labs was having a big sale a few months ago and I picked up a stack of resistors. One of my favorites right now the Dale/Vishay RN55s. I actually like the RN70/CMF70 better because it's got thicker leads.
Alrighty then.
So the first thing I did was tear down and read the power amp/power supply. I've never wired up a pentode/triode switch or a half/power/full power switch before so I poked at them to see how they worked.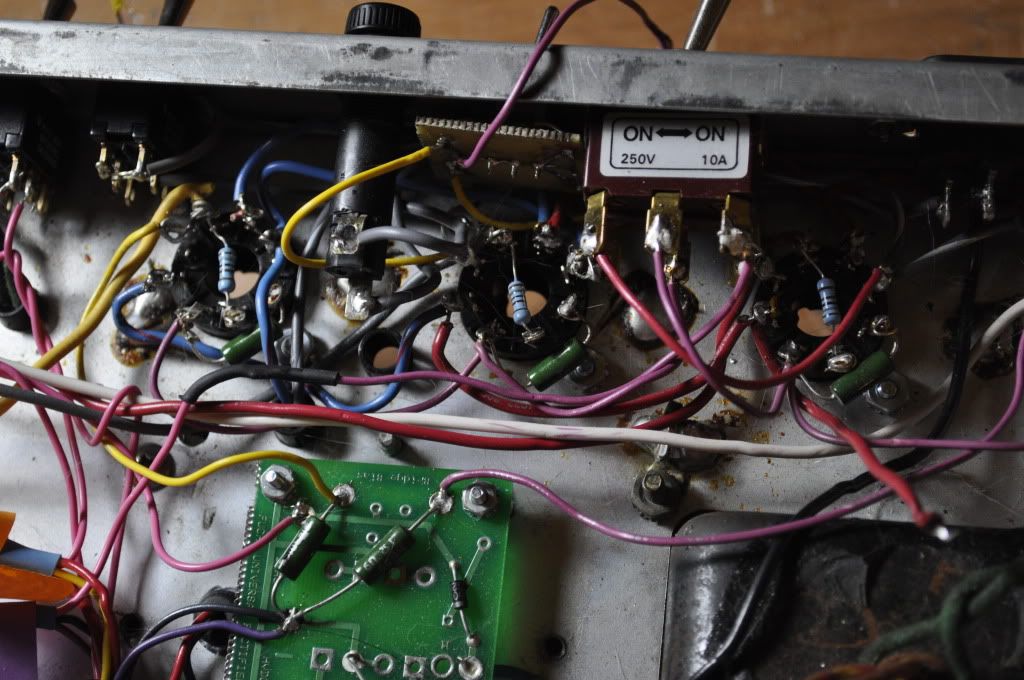 The wiring was a little bit messy to me so I cleaned it up a little bit, twisted all the transformer connections etc etc. I'm eventually going to redo this whole section. I'm just waiting on my hook up wire to arrive.
Next up! metal work. Fact: Metal work is hard.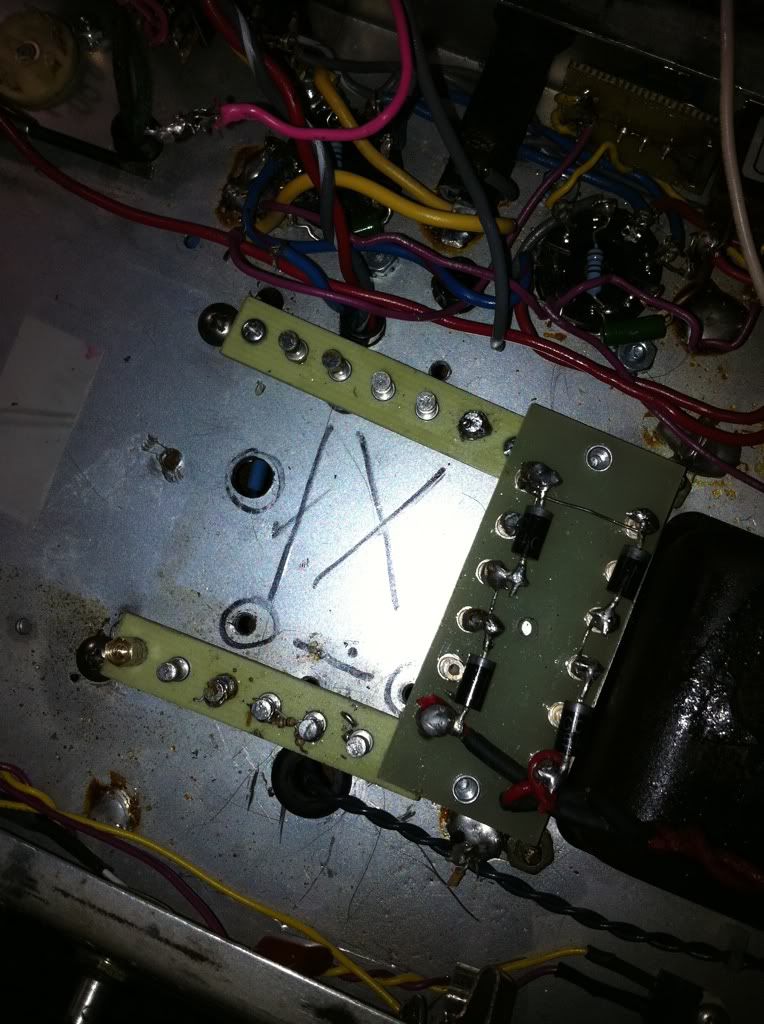 I went crooked on a lot of those holes.
But it's totally cool since if you cover it up with parts you can barely even tell.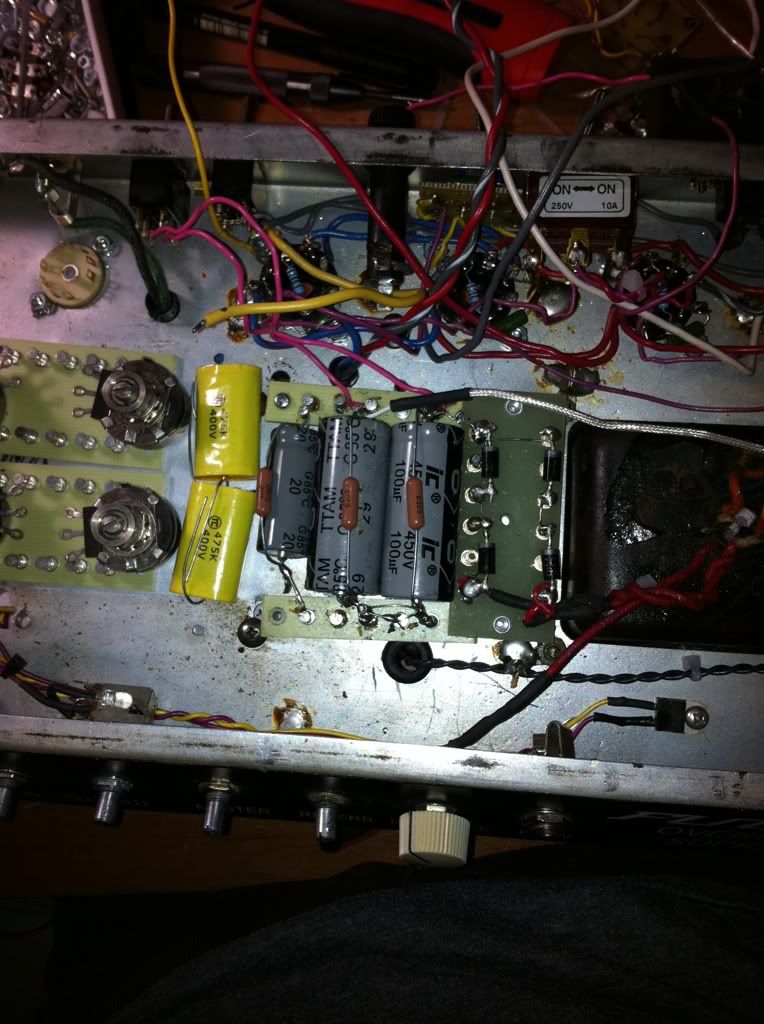 Off to the left is my layout placement for my bias supply. Picked up some NOS Clarostat trim pots for that section. I still need to figure out how to do bias for each tube.
Sometimes it's a good idea to cram a section full of parts to see what's going to fit.
Measure twice cut once and all that.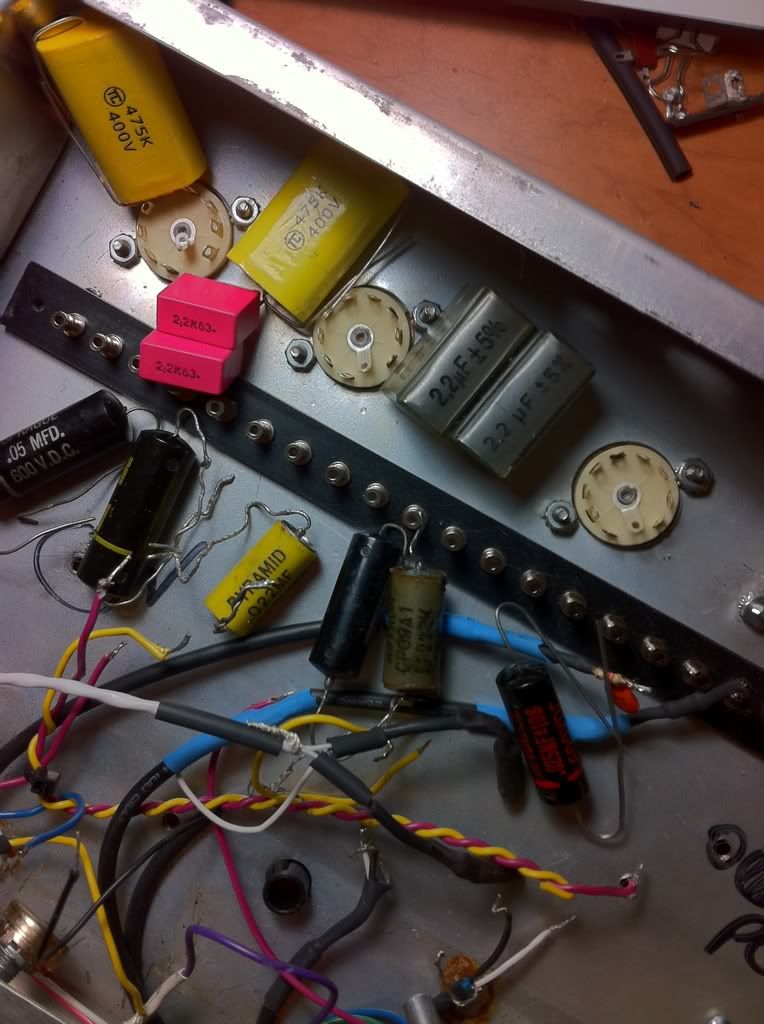 Also doing some layout testing for my terminal strip.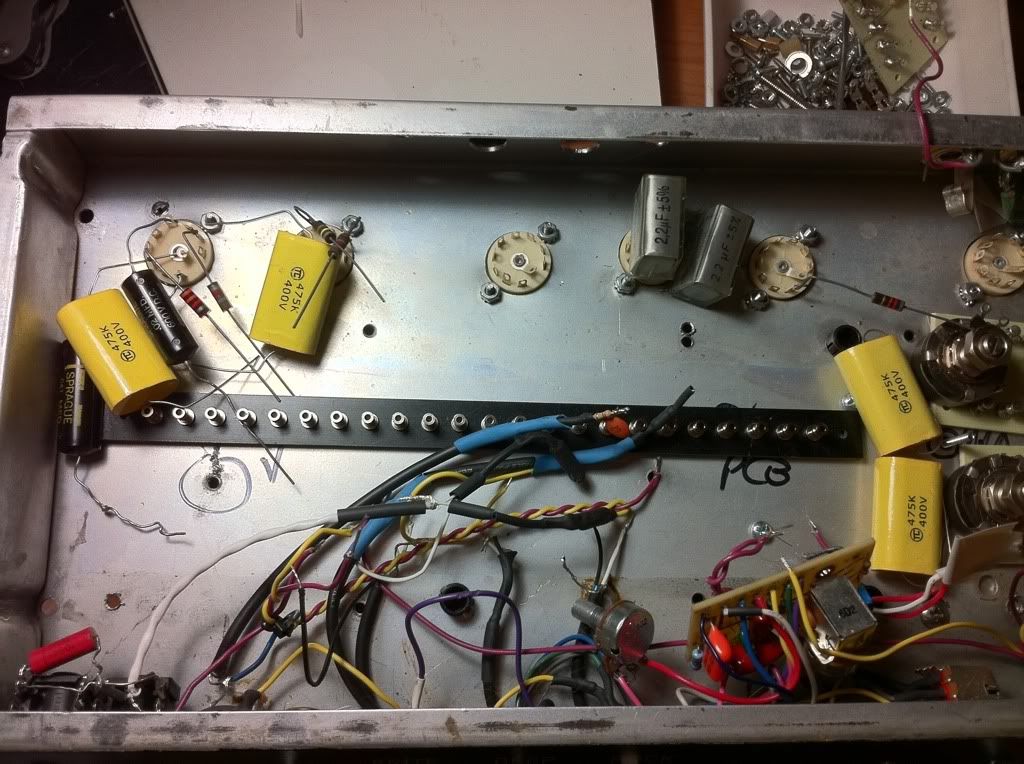 Ba-da-bING!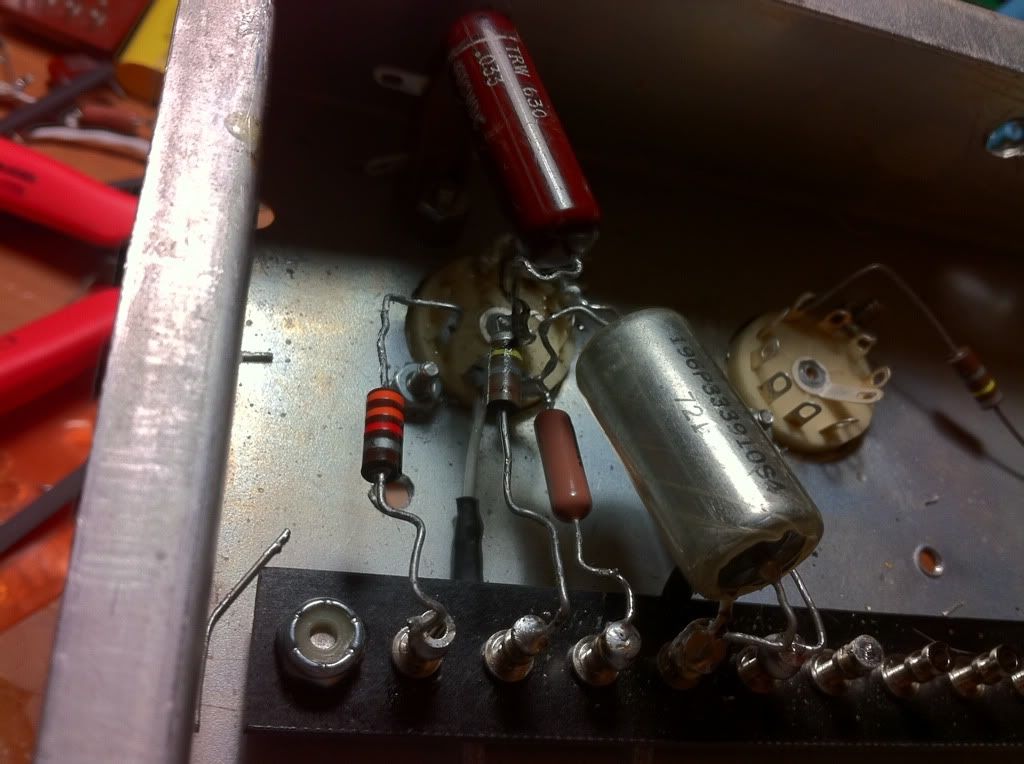 First stage wired. A couple of old carbon comp resistors, a sprague vitamin q, and a trw cap in the back.
That was the last few days.
Tonight I spent the entire night figuring out this thing.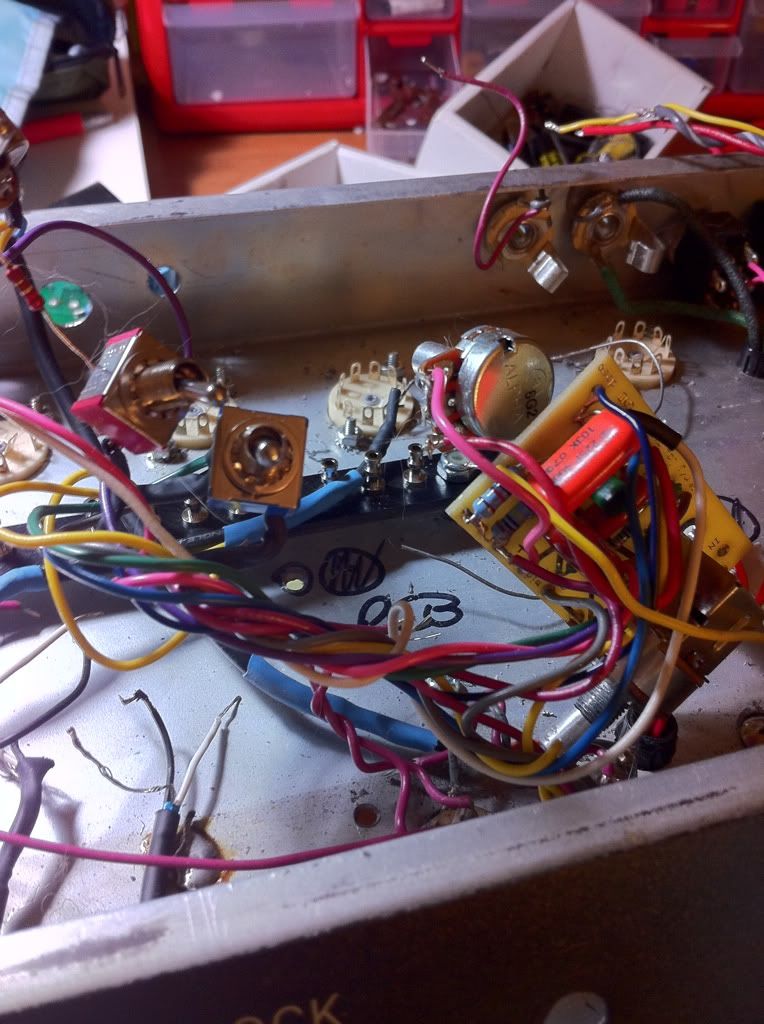 There's a lot of crazy switching going on.
But I totally got it.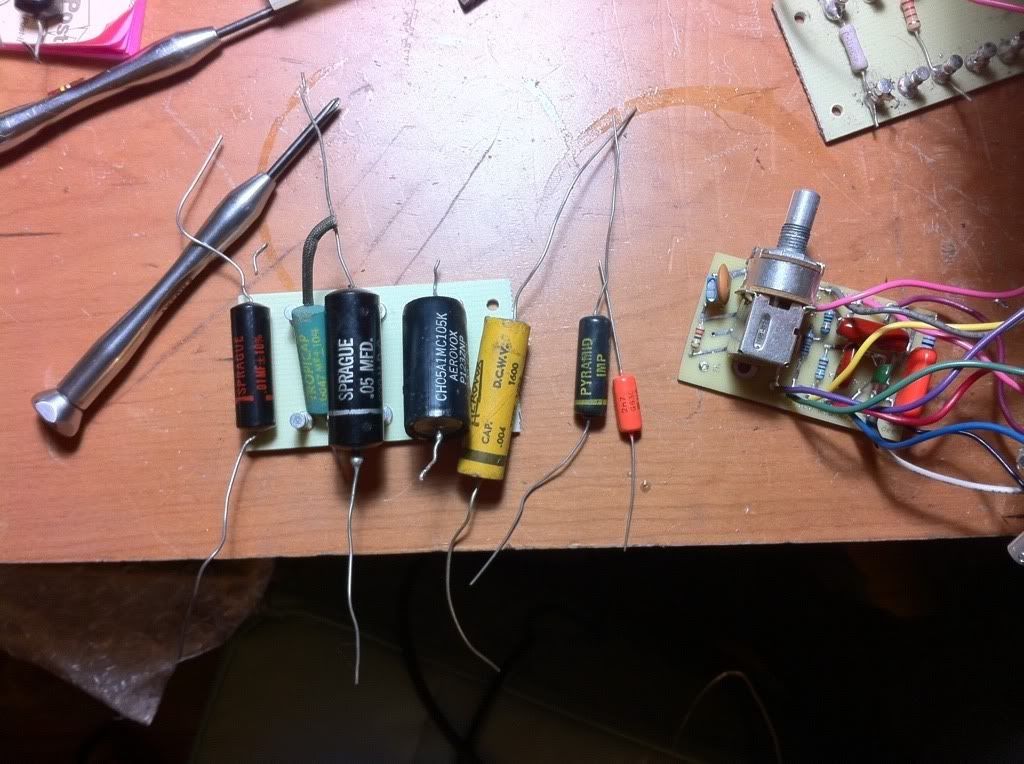 Tomorrow! Wire up the tone stack, wire up the pots, hope the postman brings me mah shiznit.

Join date: Apr 2010
10

IQ
If the gentle caressing photos are too graphic, you can pm them to me.
redid the power supply and wired up the bias supply today. i kinda like the job i did on the transformer wiring. nice and neat. more parts coming tomorrow glee.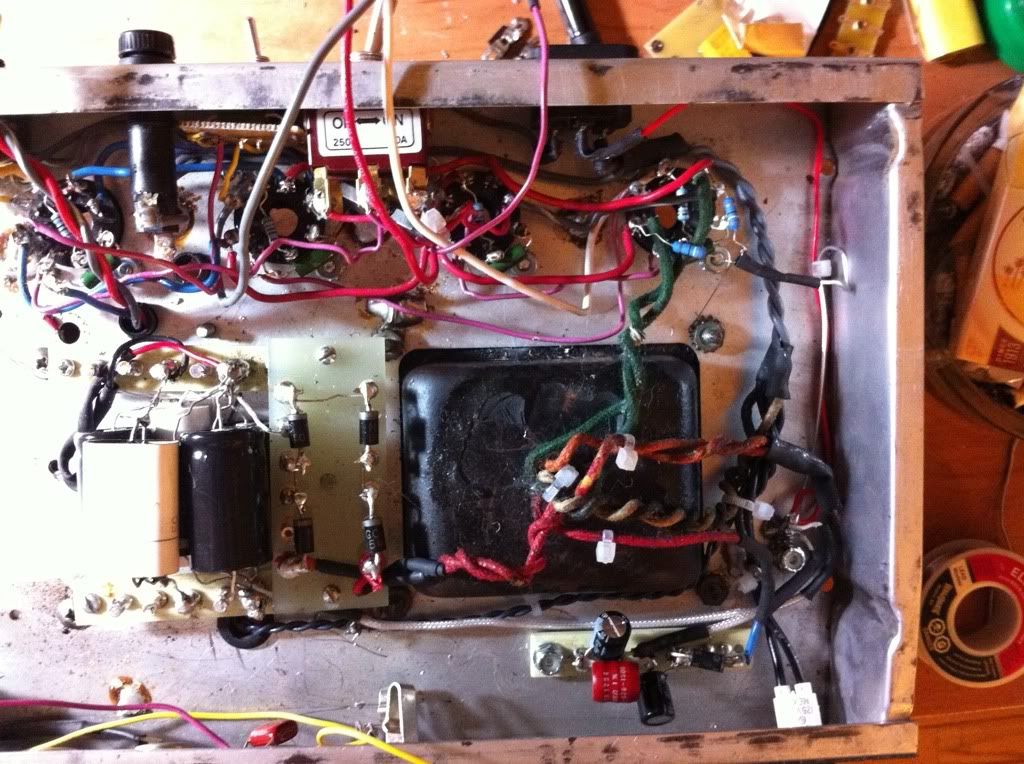 update. broke down the tone stack and rebuilt.
This was a bitch to wire.
Still need to do clean up and wire management.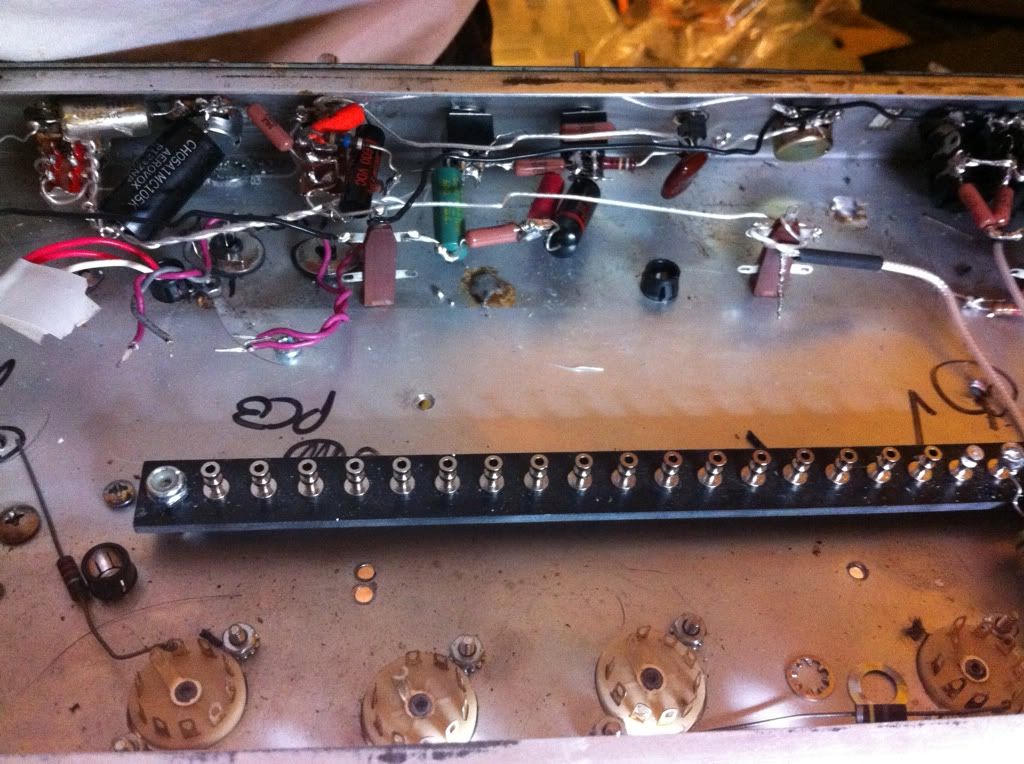 sexy. so gross that its sexy.

u should mount those anti bug blocks to cut down on the spider webs... rat poison as well while ur at it

sexy. so gross that its sexy.

u should mount those anti bug blocks to cut down on the spider webs... rat poison as well while ur at it
you'd prefer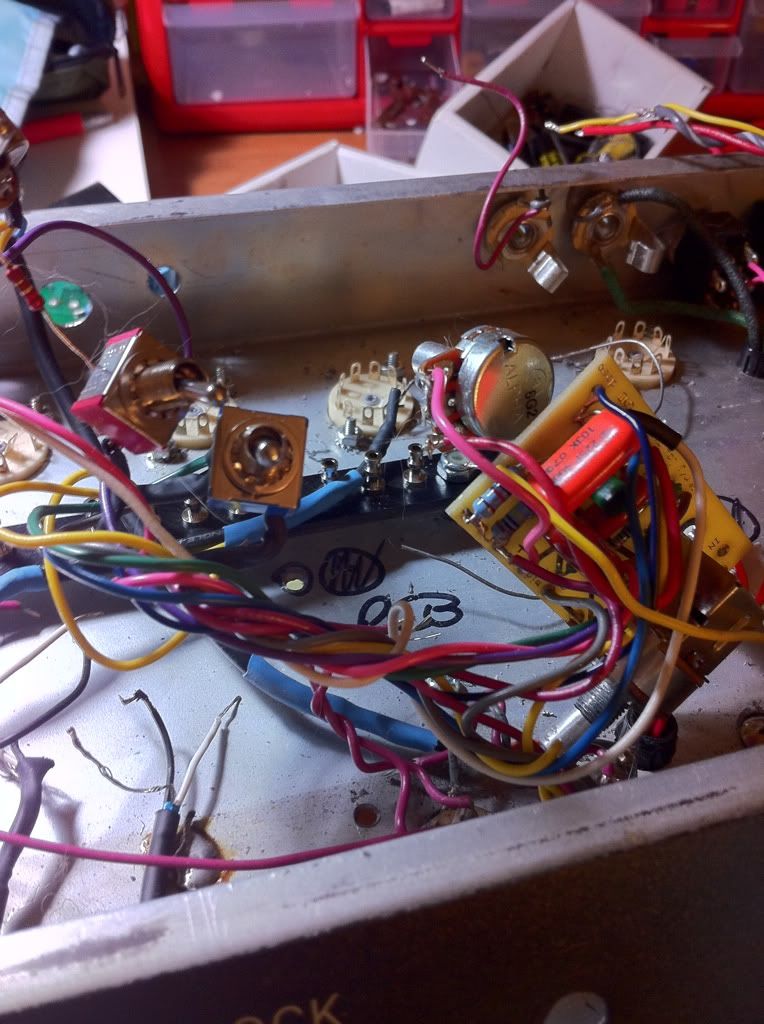 ?

Join date: Feb 2011
170

IQ
Ahhhhhhhhhh To Many Electronics!!!!!!!!!!!!
I hate metal working.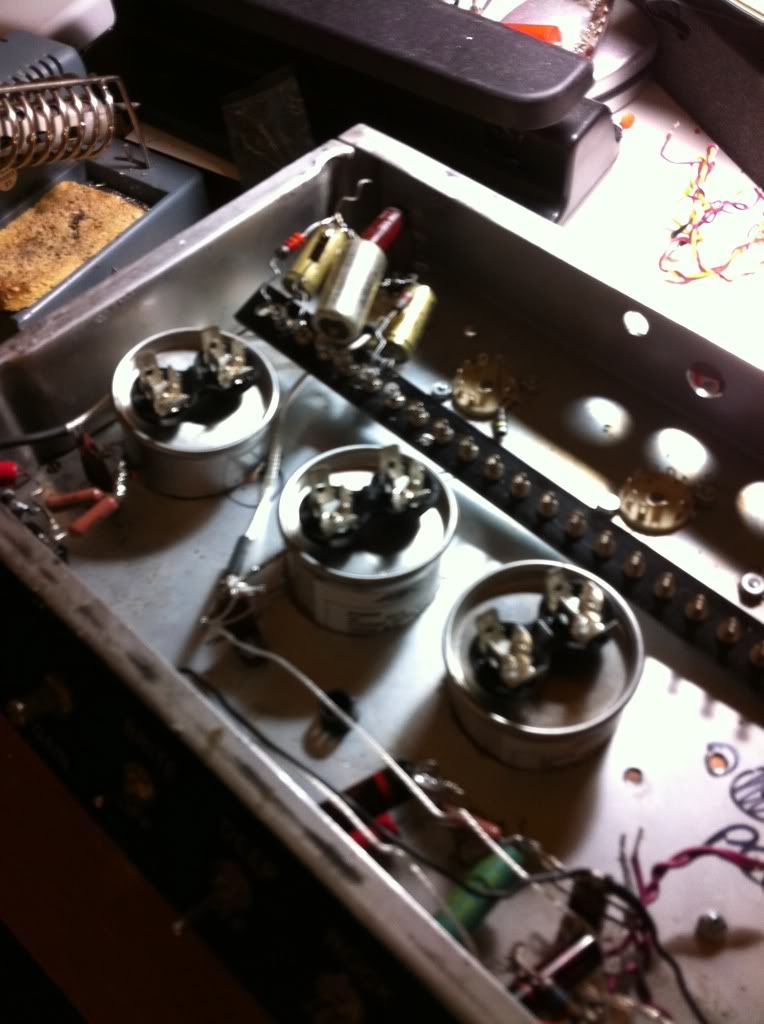 but at least that's done.
whew. got my wire in today.
power amp and heaters done.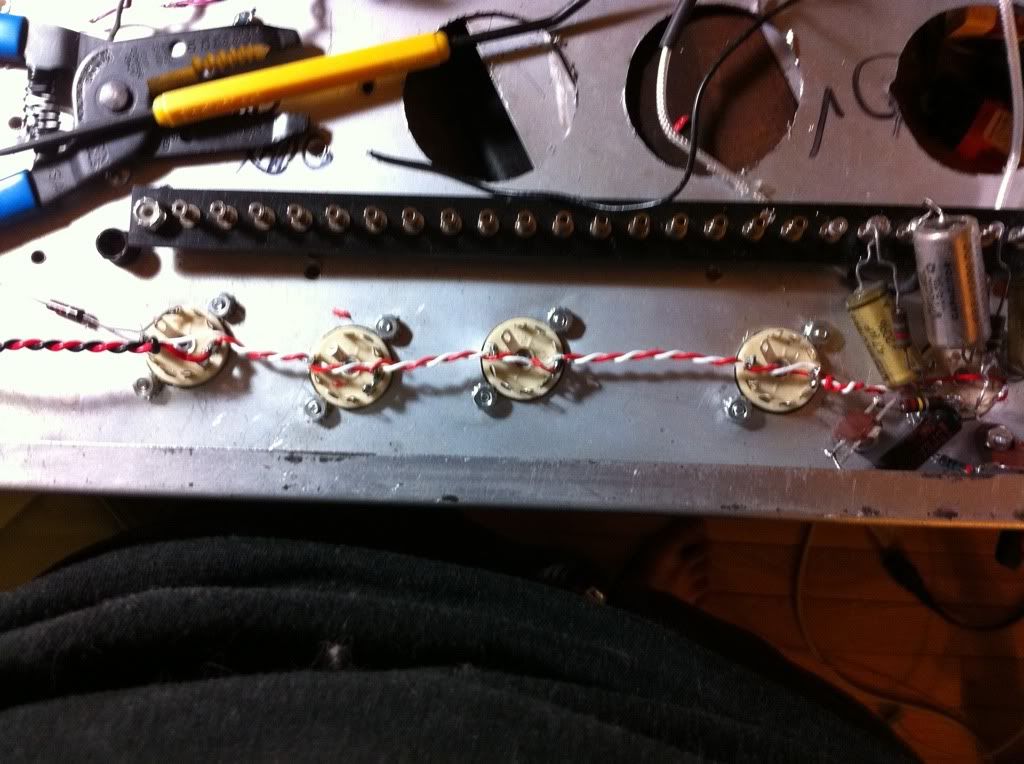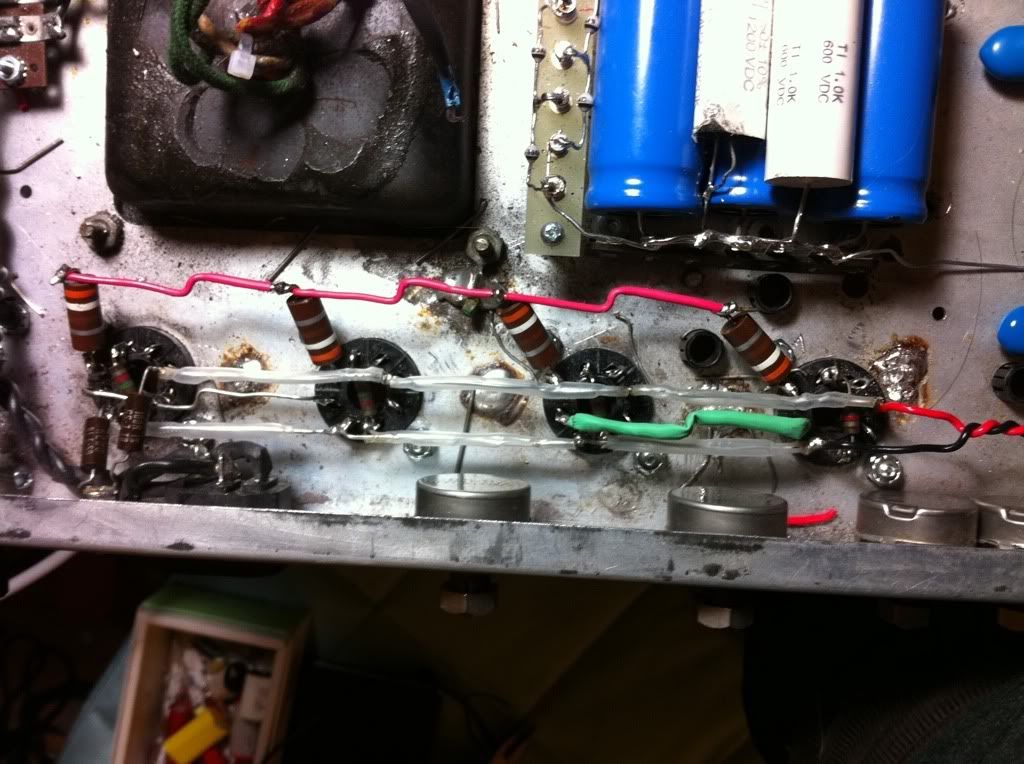 man I really need to buy a hairdryer and shrink all that tubing. buuut
POWER AMP DONE....
except the bias...doh.
I have no idea what i'm looking at, but I like it.
chugging along. placing parts for the od stage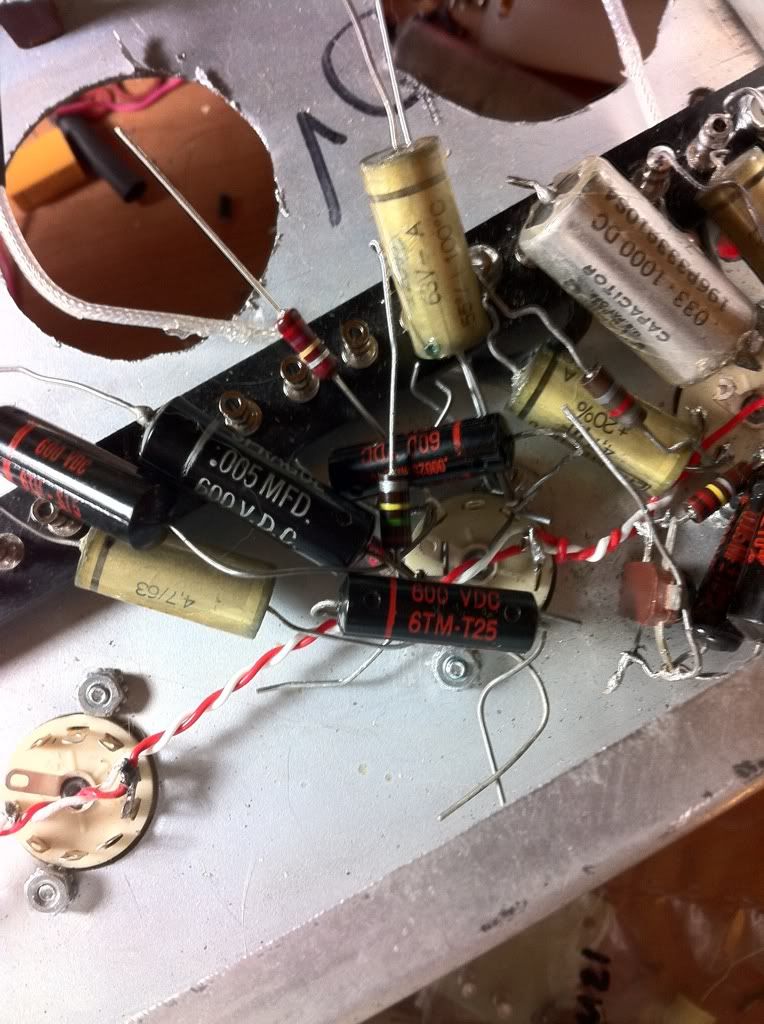 phase inverter completes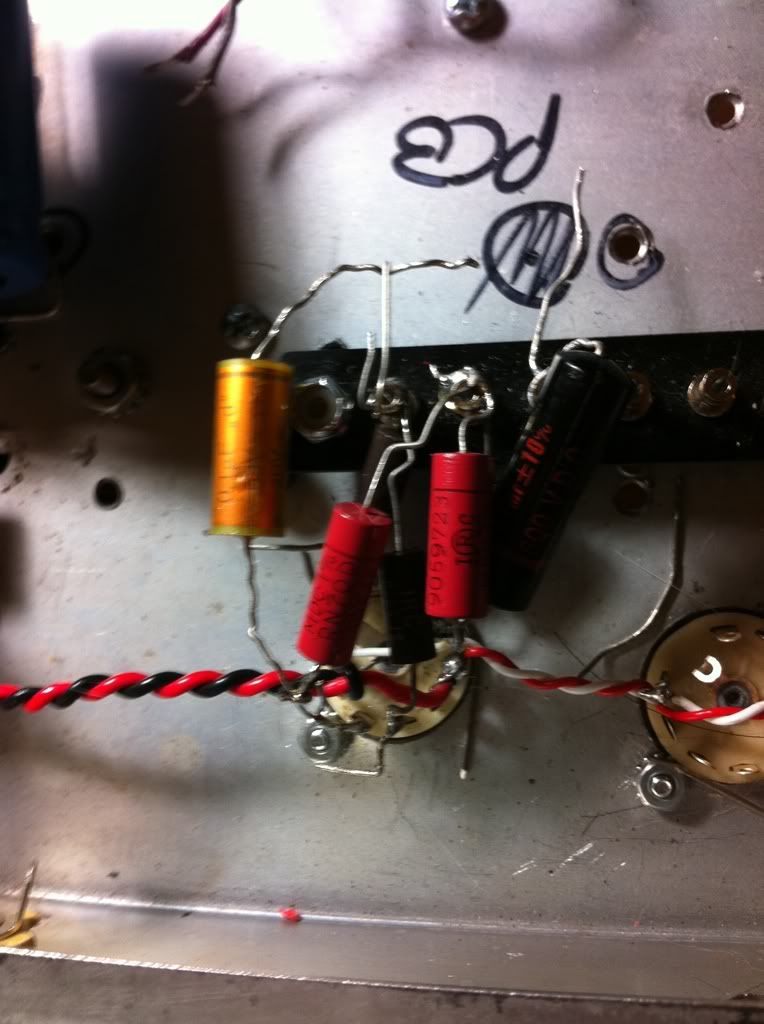 power amp filtering complete.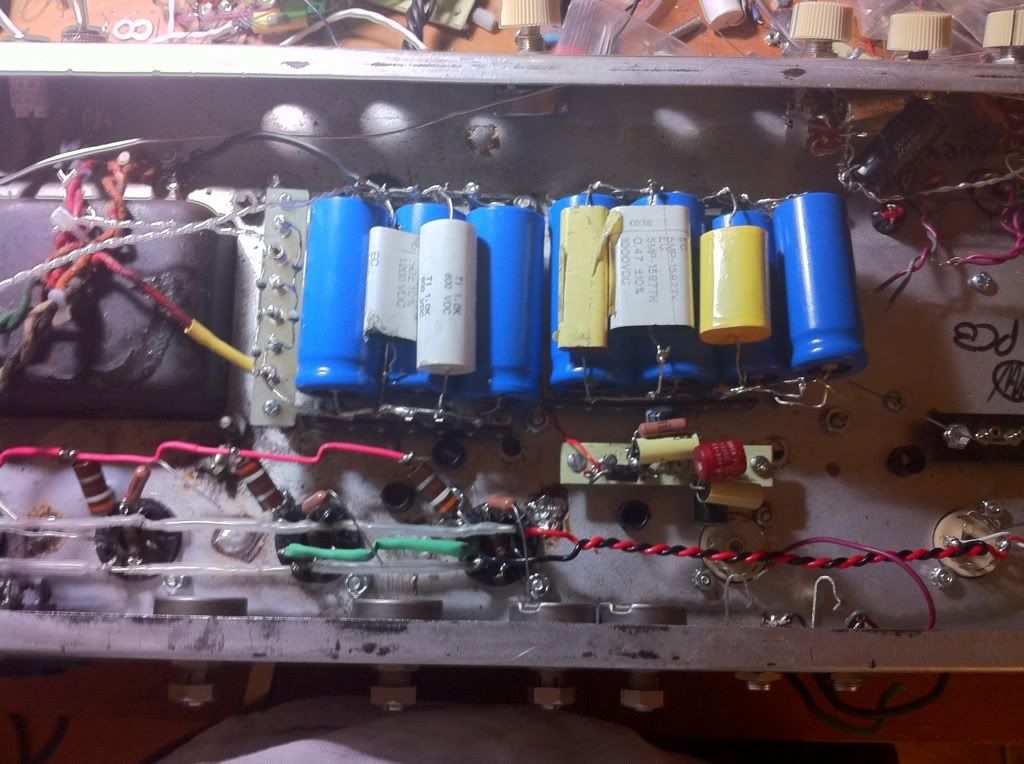 haha nice. i like it! a bit dirty tho. dont burn ur fingers!!! -we kno we all do-


i just need time... i wanna make my amp PTP because working with eyelet boards is such a waste of space. no freedom putting new components in. no freedom trying a new topology haha.
hip hip hooray still grinding along.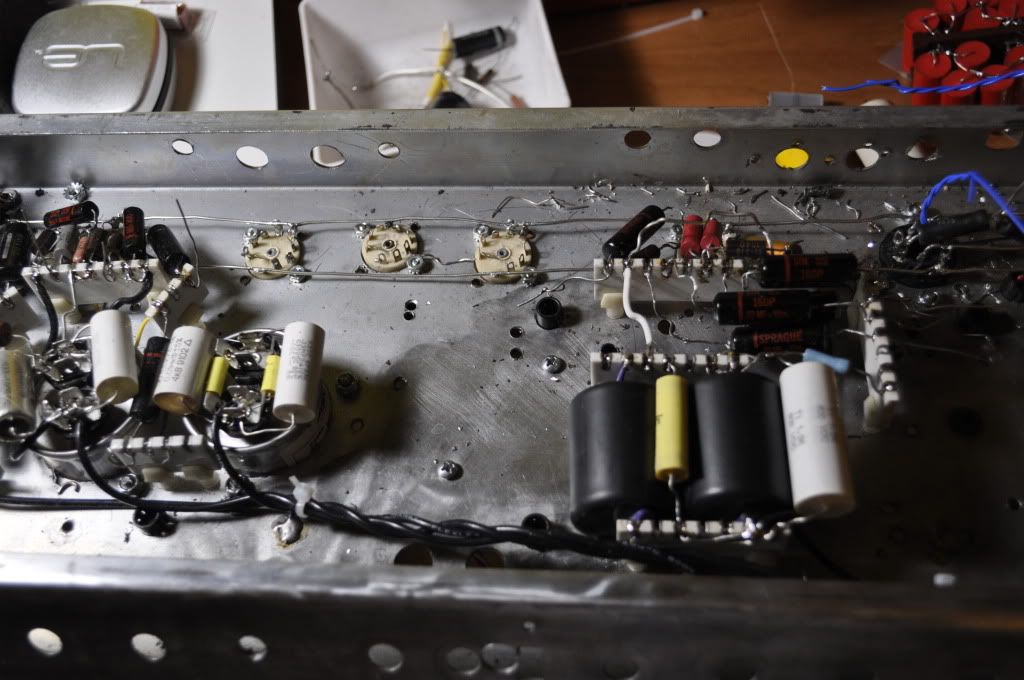 me too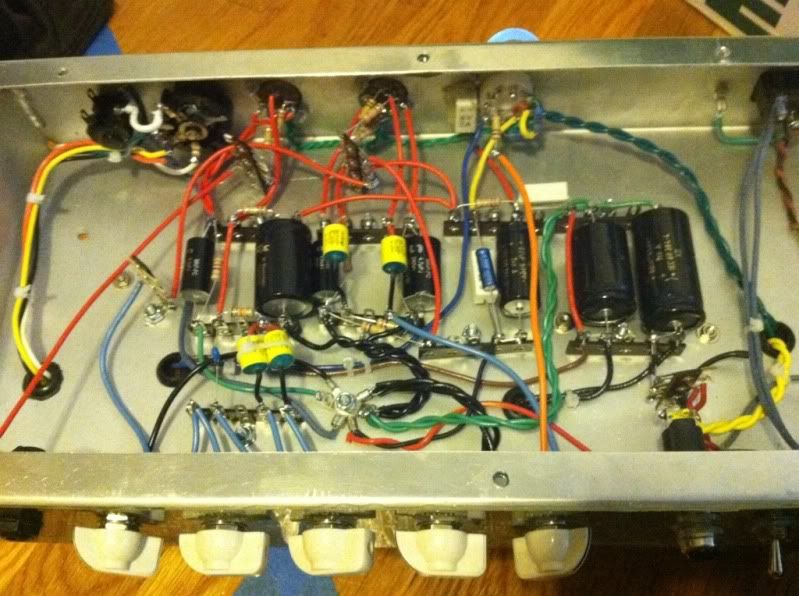 oh ya. terminals are great.

next try a longer screw and a spacer. makes it way easier.
i love looking at these pics, but i think i'd find it much more fascinating if i had any idea what was going on. ahh well, one day i guess. seems its coming along nicely

holy crap that took forever.