Should I buy? - Jackson...
So, I have someone offering me a pretty good deal on a guitar, because he's strapped for cash. He says its a Jackson Chevelle, in great condition. Now, looking it up on google, I don't get any results.

So my question is, anyone ever heard of this guitar? And is it a worthwhile one to check out? Thanks!
perhaps a Jackson Charvel?

we'd need more specific information on it to really hlep you.
pictures, too, if possible
Charvel looks right. I really don't have any other information on it, unfortunately. I plan on going out and looking at it. Any information regarding these guitars, and quality there-of would be awesomely appreciated.
Also- I'm kinda a newbie at buying guitars. What should I look for regarding the purchase? What should I know?
I DO know that neck warping is bad, and to watch out for that. Any thing else?

Join date: Feb 2011
100

IQ
dont buy it unless you know how to humidify and set a neck properly.. thats why he's selling it cheap, not cause he's strapped
lol, no I mean, I know to look out for neck warping. Sorry, I wasn't very clear x.x

I have no idea whether the guitar has a warped neck or not.

Join date: May 2010
130

IQ
Hell Jackson Charvels are good guitars. If it's in decent shape go for it.
What would be a decent price for say, a lower end model?
Last edited by Rautio at Apr 24, 2011,

Join date: May 2010
130

IQ
Depends what model, how much it sold for, condition and how much your willing to pay.

If it were me, I wouldn't pay over a hundred bucks.
Charvels are generally considered to be good guitars, but the model 1 is kinda basic, single pickup, simple trem, so I would pay less than for something with a floyd or three pickups or fancy wiring. But if its in good condition and feels nice, it could be the one you love and that's priceless.

Join date: Nov 2005
40

IQ
Charvels are sweet. I cant help with pricing etc, but if its in nice condition and you like the feel Id say go for it.
Sure its a Charvel?

Not one of the cheap ones, the Charvette? Which although nice, arent worth alot.

Join date: Sep 2010
30

IQ
Charvels and Jacksons are amazing. If there arent any problems then youll love it

Join date: Jan 2009
80

IQ
Well.. this is a Chevelle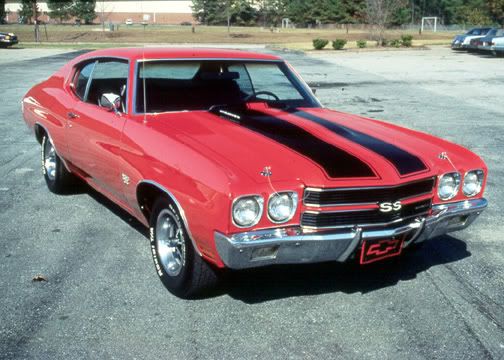 Charvels and Jacksons are amazing. If there arent any problems then youll love it
Well hold on there a minute cowboy..
There are at least three or four different incarnations of the Charvel company and a few more of Jackson. The guitars made by those companies are kind of like Chevys in a way. They range from a few outstanding models to complete and utter crap.
Bottom line if you don't know what your buying or can't tell us don't pay much.