Peavey Millenium BXP 5?
Anyone have one of these? I'm thinking of getting one. Description has it as a basswood body. I know some basswood bodies are light, which I dislike. So anyone having this bass, does it have some good weight to it?

Join date: Jun 2009
70

IQ
a friend of mine has one its a pretty damn good bass go with it man
What I'm aiming for is the jazz pup setup. It's either this or the Squier Active Jazz 5 Deluxe. But the body appears thinner and the neck is thinner than the Squier.

Join date: Jun 2009
70

IQ
i prefer peaveys over squiers quite a bit. and it looks better imo
Bass wood bodies are sub-quality.
The reasons for the popularity of basswood
is the light weight and low cost of the wood.
I got one off Craigs List for $40. All the screw
holes were stripped out. Set-up was almost
beyond saving. Mine is a Bentley. I think of it
as a throw away bass. It looks nice and doesn't
sound half bad and it only weighs 6 and 1/2 lbs.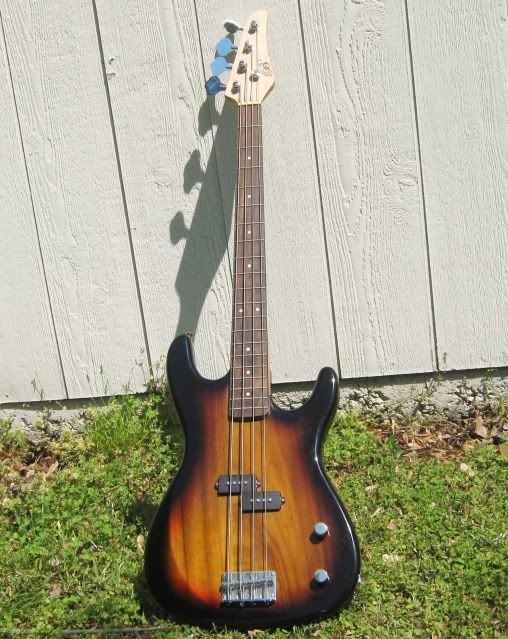 Most Peavies have nice necks. They are low
cost.
It qualifies as a nice beginner's bass or a
backup, if you like it.
That is my opinion, for what it's worth,
Tabdog
Bass wood bodies are sub-quality.

Tell that to Team J Craft.
also
????????????
I know that there are some heavy basswood bodies out there. I like some weight to the axe. If it's the same weight as my SR 405QM then it's good to go. I just got a Squier Deluxe 4 string and fell in love with the jazz bass tone. I tried with no avail on the Ibanez to the same tone. So it's either the Peavey or Squier fivers I'm looking at. And I don't do used at all.
An Ibanez SR weighs nothing at all, the Peavey will probably be heavy compared to it.

Join date: Feb 2010
30

IQ
i have one, it's a great bass, the b string is a bit floppy though, it is quite light, lighter than my fender jazz, but i would definately recommend getting one

Join date: Jun 2010
20

IQ
Have the active model, as the last poster said, B string is pretty floppy, but everything else sounds good. Its a solid bass, well rounded tone, just don't expect to get too much versatility out of it

Join date: Nov 2007
110

IQ
Tell that to Team J Craft.

also

(Invalid img)

????????????

Squier uses Alder in their Affinity series, you think it's the same grade they use in the MIA Custom Shop?
There are crap grades of basswood and there are crap grades of almost every other tone wood too (lets not get into Agathis ok?). Basswood tends to be tonally neutral across all grades/quality, that's why it's used in a lot of lower end instruments.
Last edited by consecutive e at Apr 25, 2011,