For all those who like project pictures :P
Man that guitar looks great, WONDERFUL job!


Join date: Nov 2008
461

IQ
Holy crap, this thread is a gold mine of information and DIY.

That strat is looken good, and hand winding your pickups, that's just pure awesomeness.
By me, 17 years old israeli boy :P
Finally done: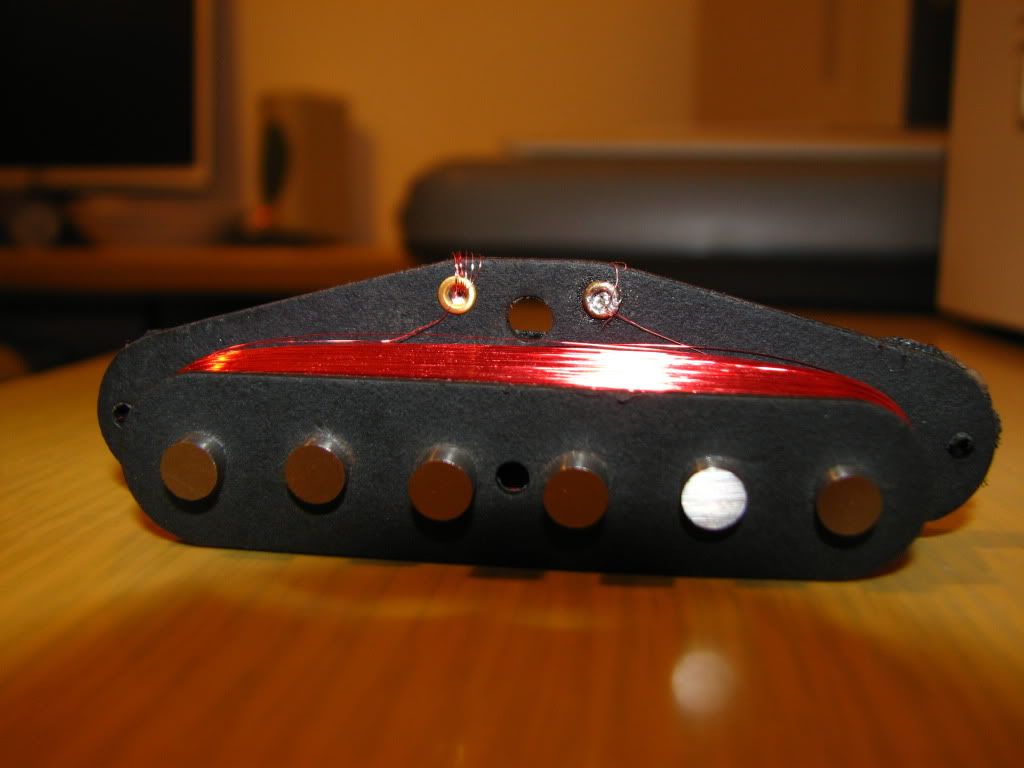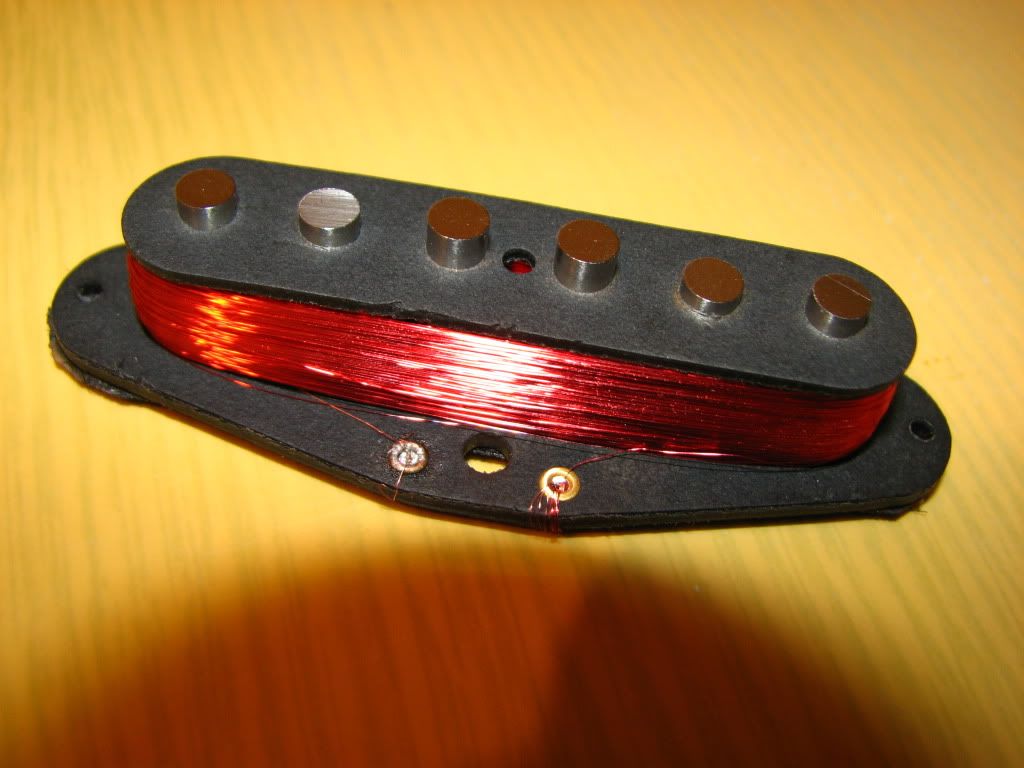 Beauty. That is all. Well done sir!
Nice, it'll be interesting to hear how it sounds. I can see some give in the windings, is that intentional for the sound you want?

Join date: Nov 2008
461

IQ
By me, 17 years old israeli boy :P
I know, which is very surprising, your schooling most of the older guys on these boards.


Keep up the good work.
Join date: Dec 2005
381

IQ
This is extremely sick. Extremely. I love how you are going all the way doing every last part DIY, down to the pickups. Respect!

Join date: Mar 2008
191

IQ
I love how you're just getting out there and doin it! I wound a pickup with some wire I stole from a computer monitor once (used an old dead strat pickup for the bobbin). It worked but I haven't mounted it in a guitar and tried it out yet. Low impedance for sure.
Thanks all!
I do really appreciate it

I'm back!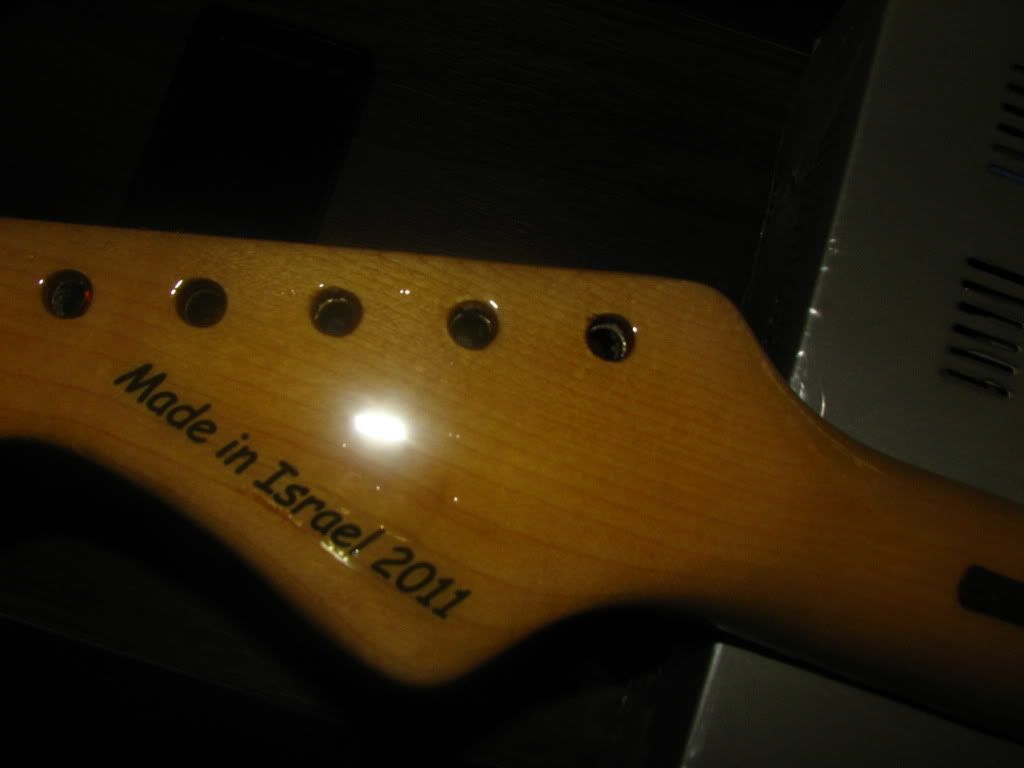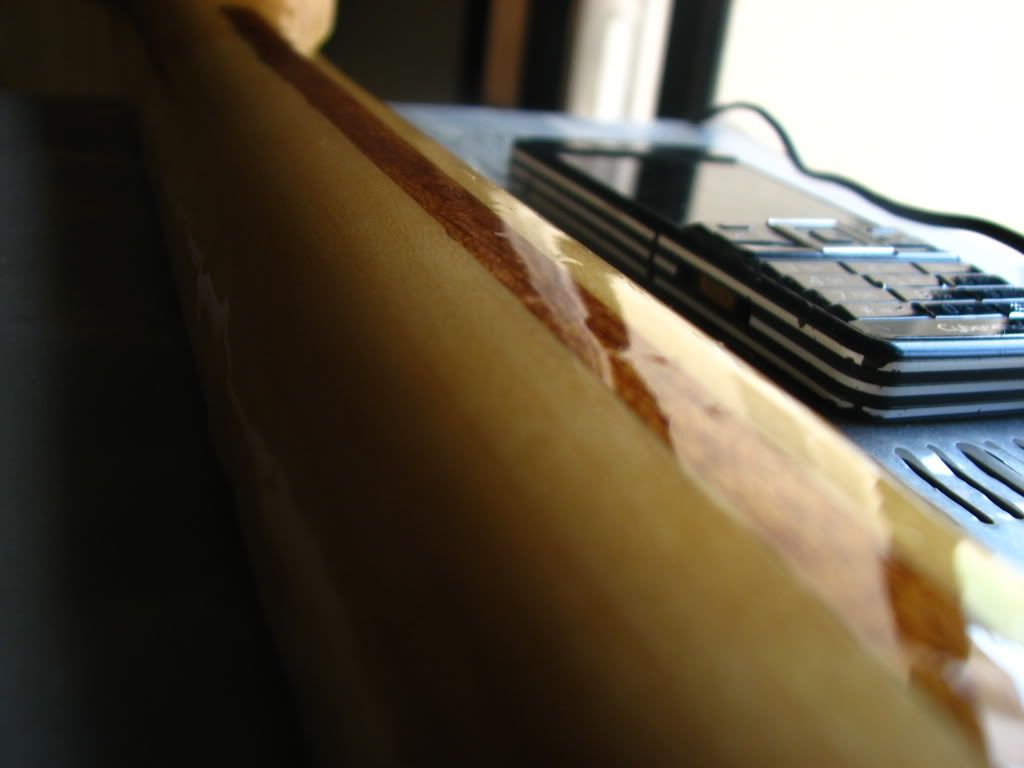 NExt is wet sanding...

i am soo jelly.
good job

and i'm looking forward to the future guide about pickup winding


Join date: Dec 2009
30

IQ
WOW dude! respect!

did you use that clear varnish nr 8 for finishing the neck? cause damn! that looks awesome!
Thanks!

Yes I did use this varnish.
All matriculation exams are over and I'm free to continue...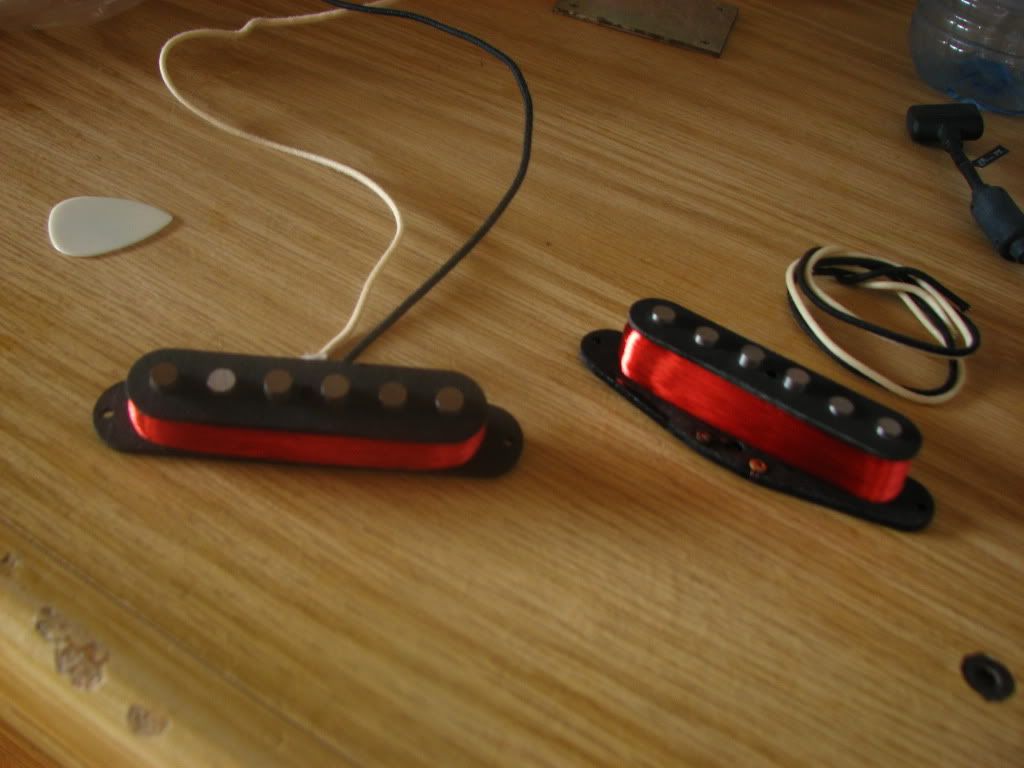 I need your help!
Which tremolo is the best choice in your opinion? Budget is 100 $ (130$ after tax and shipping). If it's a must I'll pay more

Yea indeed.
But I'd prefer a vintage 6 point bridge, maybe the VSVG...
I pledge for the one posted, those things are great quality and just plain awesome.
"Wilkinson/Gotoh VS-100N Tremolo", amigo. I got mine in gold, it doesnt look tacky, its kind of a satin finish.
that sounds good!

has anyone here heard about the vsv-400p?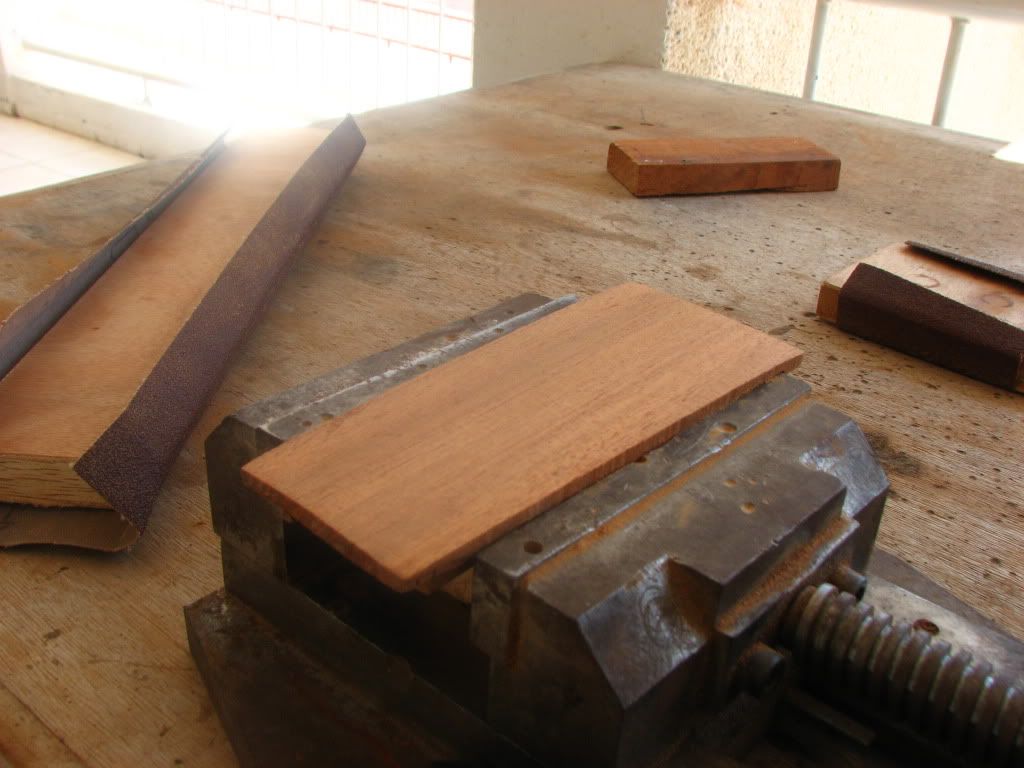 Planing, the hard way: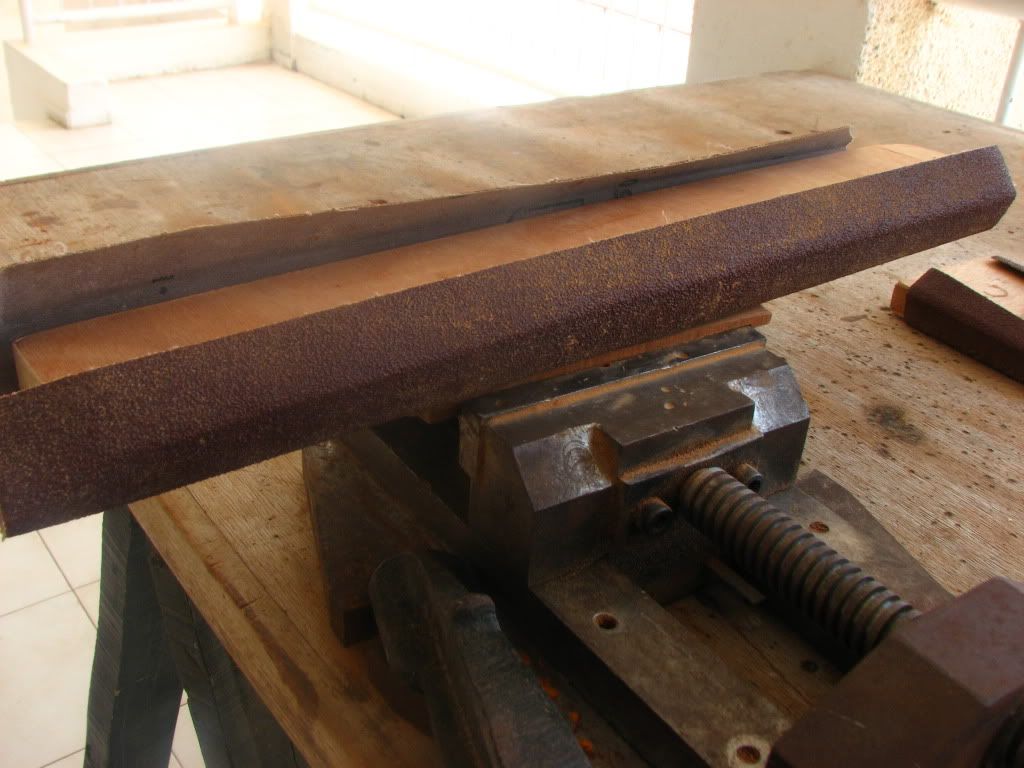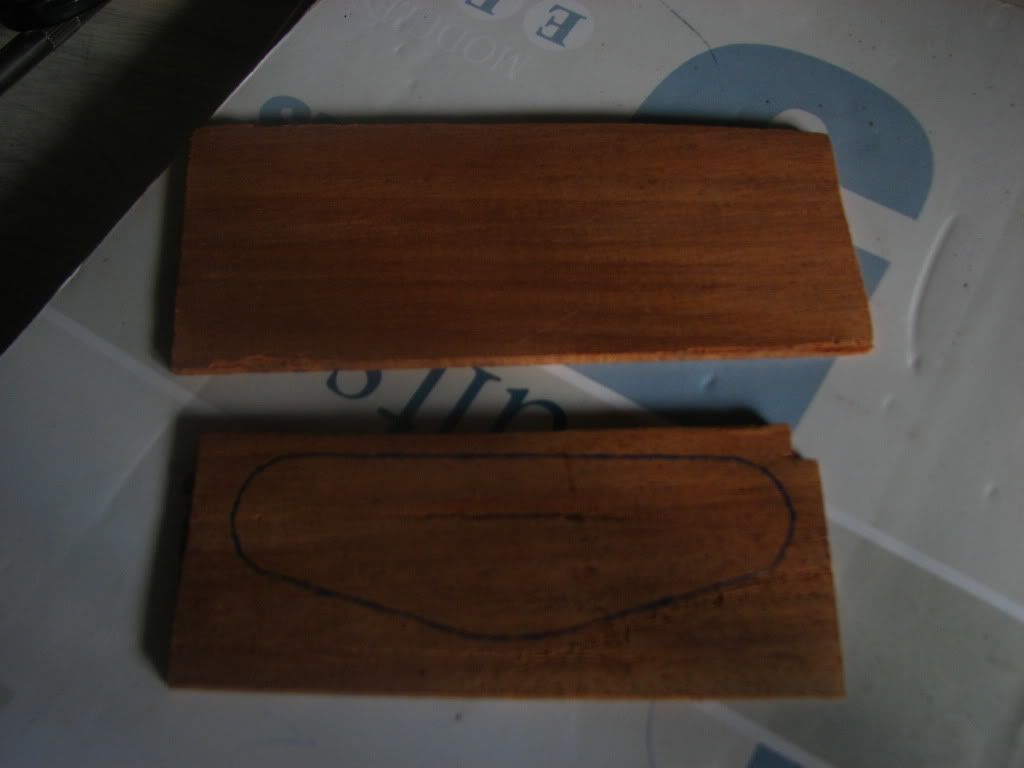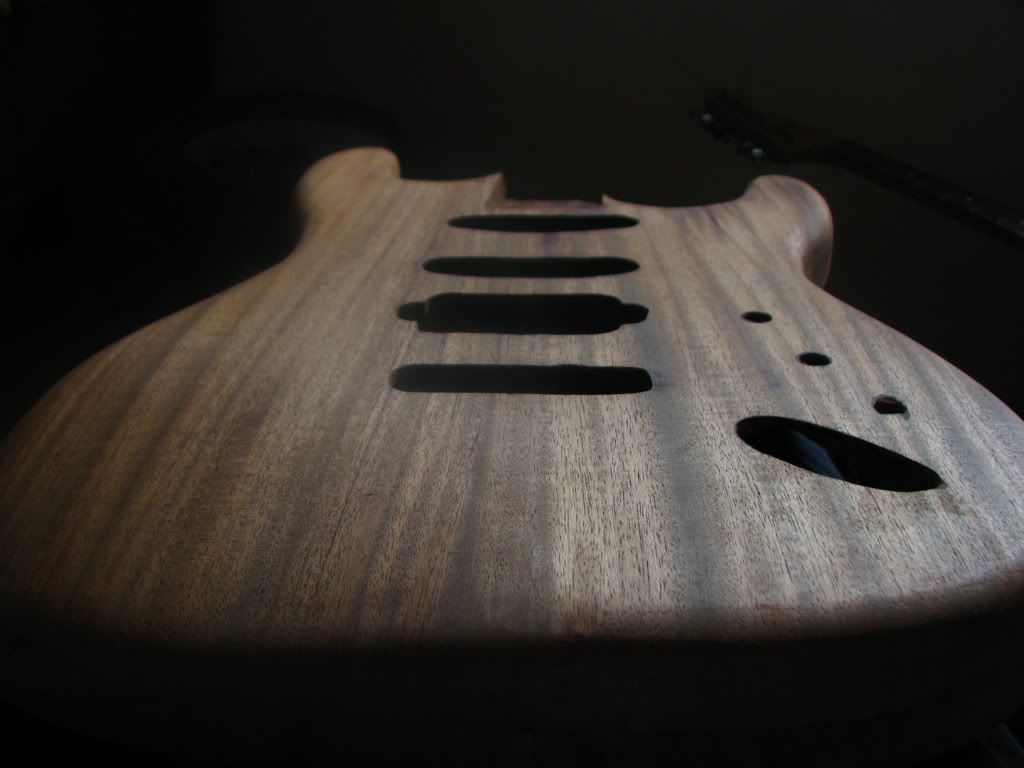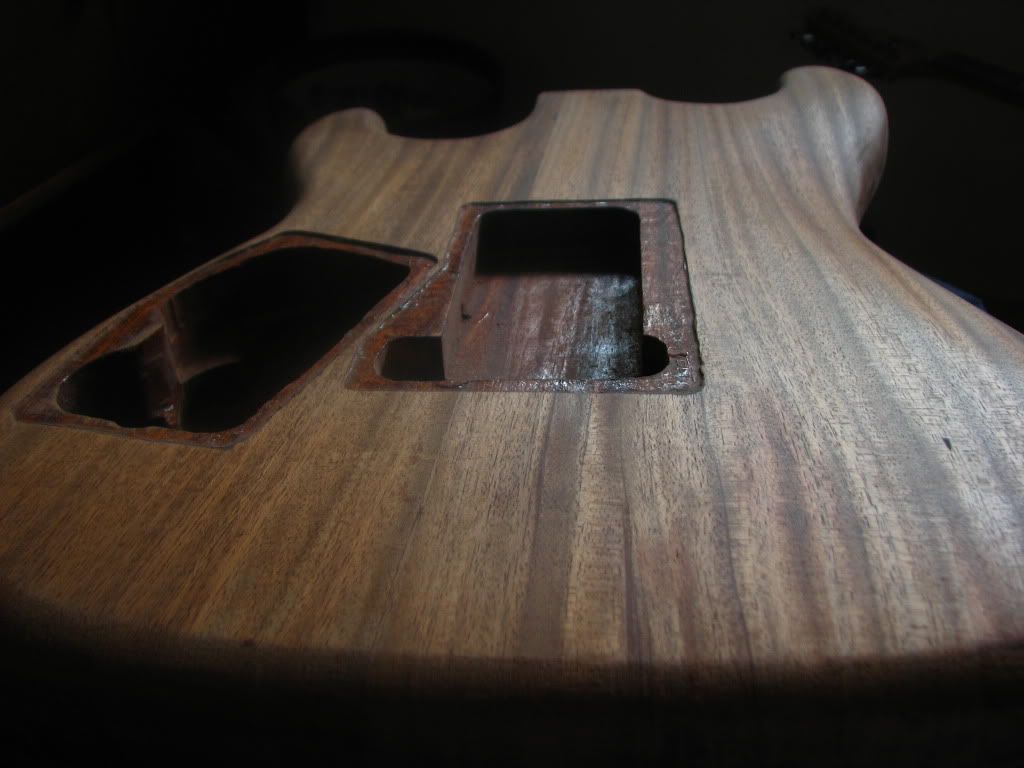 Are you tung oiling that (or any oil really) or does it just look nicer this time?
L0l I forgot to tell I have sanded the varnish off because it looked so bad. I didn't fill the pores too so the finish came out pretty ugly.
Maybe start the finish process this week if I get the right fine sandpapers soon.
Anyhow, I'm trying to achieve a high gloss finish. If you can show me the way... do it

Last edited by guitar-tin at Jul 20, 2011,
it seemed uneven in a spot or two.
I've never pore filled, but Ive acutally yet to finish a mahogany guitar. I heard you can just pour some glue on it, and sand it so the dust fills the pores, or use woodfiller.

What I did was use gloss wipe on poly. Ill put it in jot note
sand body to 320
stain
3 coats of poly
VERY LIGHTLY sanded with 600, a bit damp
4 more coats (and sanding any runs that have happaned with 600)
let dry
wet sand to 1200
polish with course compound from stewmac (just use a cotton rag, old sock, t-shirt, boxers work best imo)
polished with fine compound

If you want it glossier, invest in a wool or foam pad, and chuck it into your drill and buff it with that.
Last edited by nowa90 at Jul 20, 2011,
I heard I can pore fill with epoxy. I'll continue studying the issue.

Thanks for the tips!

Join date: Jan 2011
10

IQ
can most definately fill with epoxy!

you need to add something to it though, I can't remember if its water or a thinner you add to it (its been way to long), and then you just wipe it across the whole body of the guitar and let it dry, sand it back, and bammo, the pores are filled
duh

epoxy is hard enough...
I read ppl use 30 min epoxy and it's thin enough. I've never heard about epoxy thinner.

Join date: Jan 2011
10

IQ
its not an epoxy thinner, i cant quite remember what it was, But some sort of methyl alcohol seems to make the most sense, as it would evaporate the fastest.

Join date: Mar 2009
220

IQ
theres somethign called z-poxy. alot of people use it to grain fill.
But it weakens the epoxy after it dries, doesn't it?
theres somethign called z-poxy. alot of people use it to grain fill.
yea that's right what I was talking about. It's a 30 min Epoxy.
wish i had the patience to build a guitar from scratch, including pickups and the such... instead i just buy guitars and mod them up badly xD
Get the gut and give a slap into your bass's butt.

The meaning of this is... no meaning XD

Building from scratch is much more free and adapted specifically than modded guitars. But I started with some mods too :P
More progress: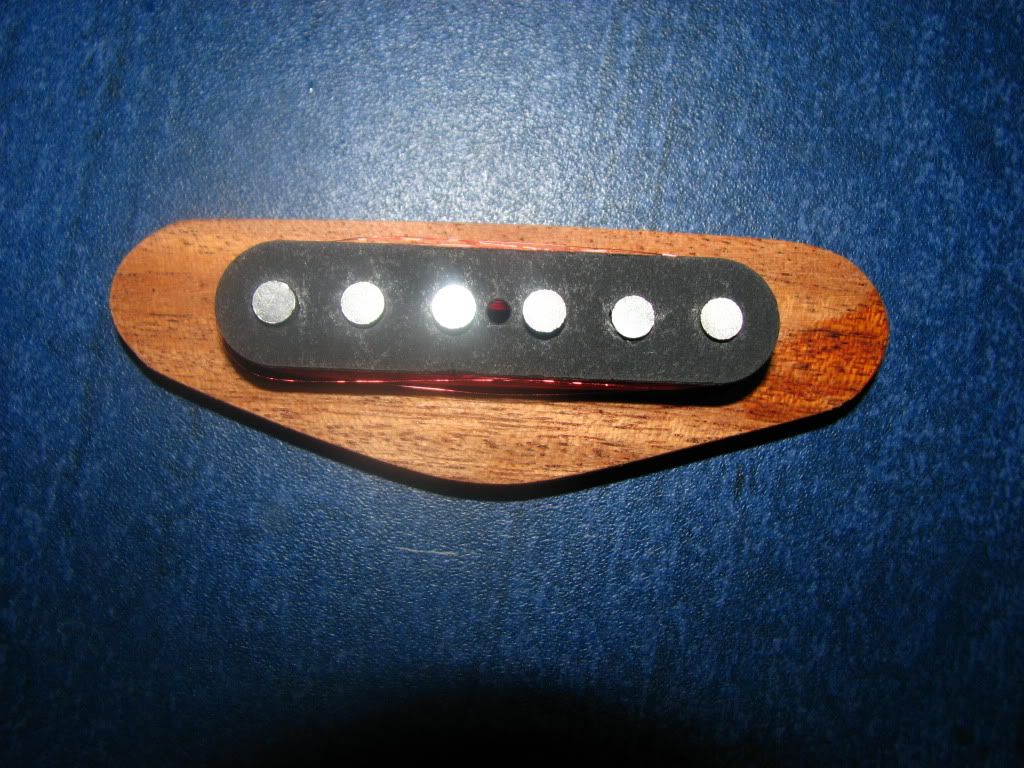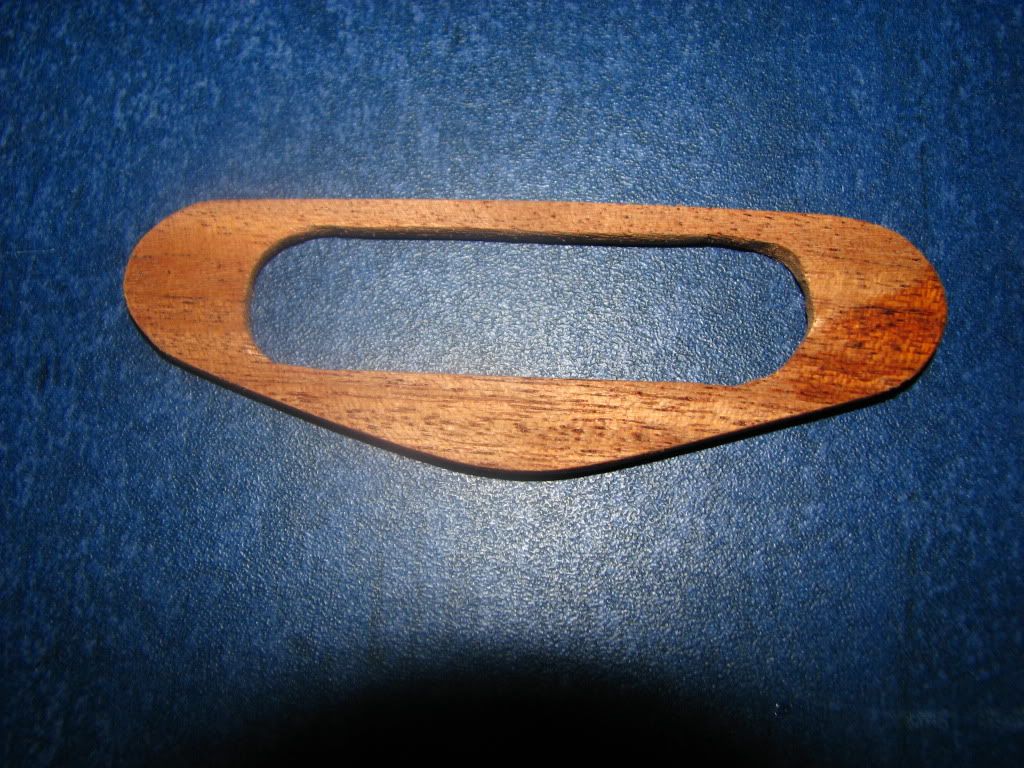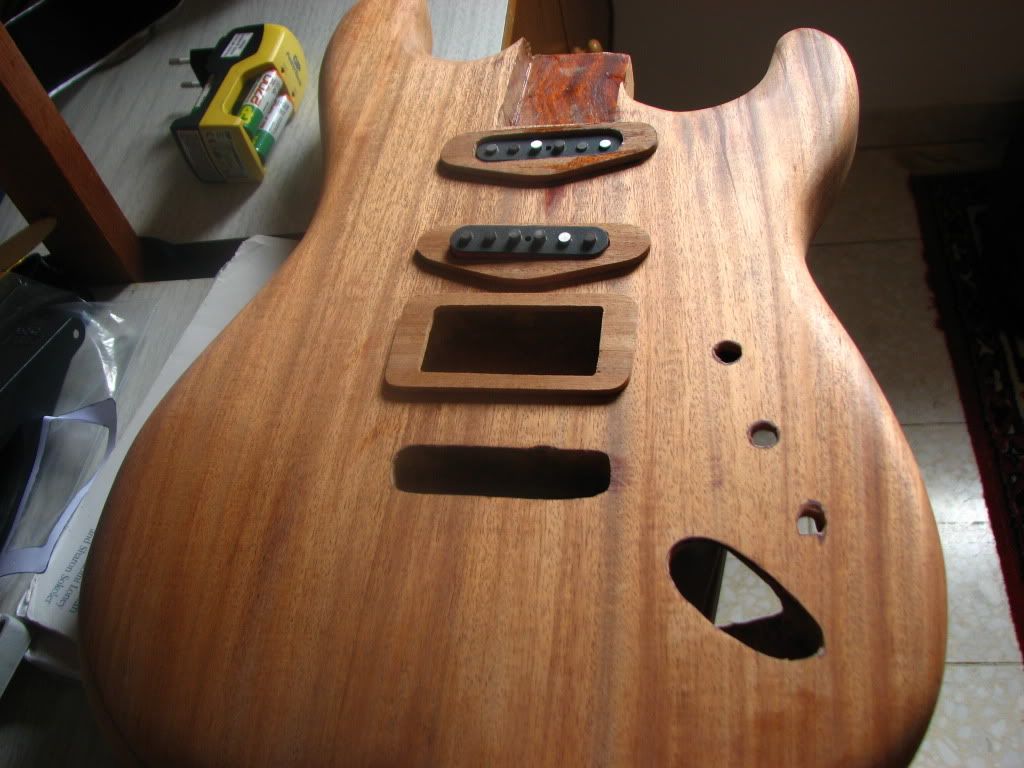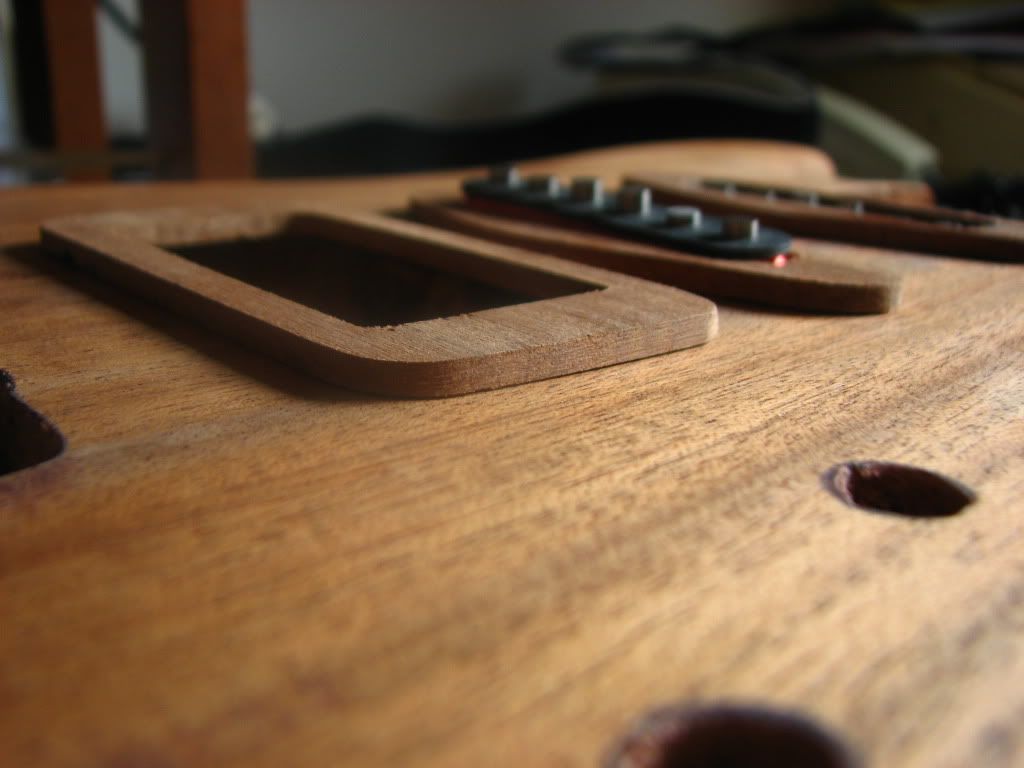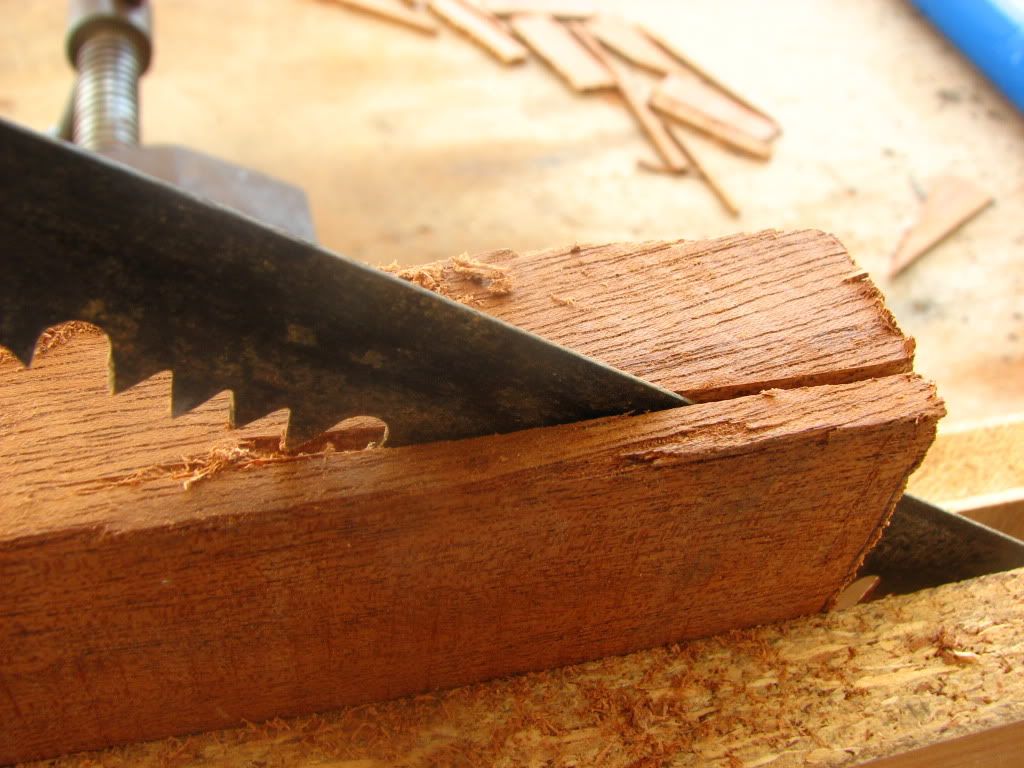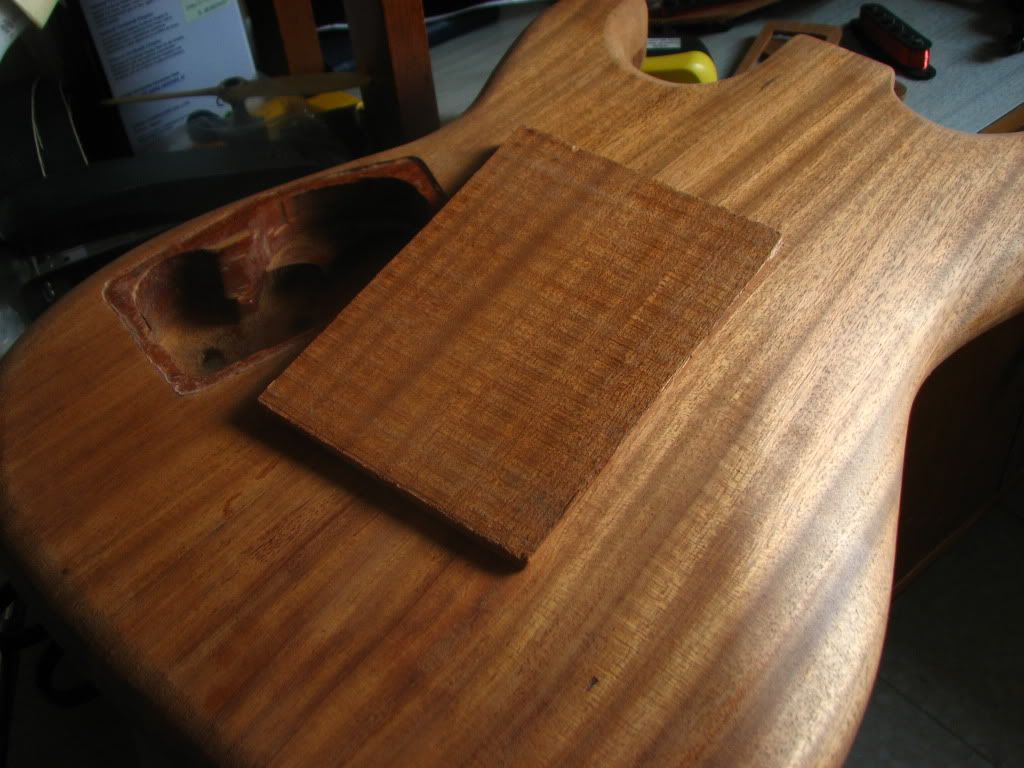 You sure love using that handsaw :P
Good job on the covers. Do you route with a template, or are they freehand?
I'd prefer using a top bearing bit than doing all this work... but I don't have one and I'm too lazy for going to buy one :P
And OH YEA I really like this saw. This is a strong italian made one

Last edited by guitar-tin at Jul 22, 2011,
I like doing that smaller stuff by hand too, so its fine. Sanding is fun/fine when its for less then 10 minutes :P
Is lke like a carpenters saw, or what? All my saws are floppy and suck for cuttng, except for one which has a huge kerf and is almost useless (I kid, I kid)

PS what was your process for winding pikcups, any way to count the rotations? Ive been thinking about it a lot lately.
you can see how the saw looks in the 2nd page of this thread: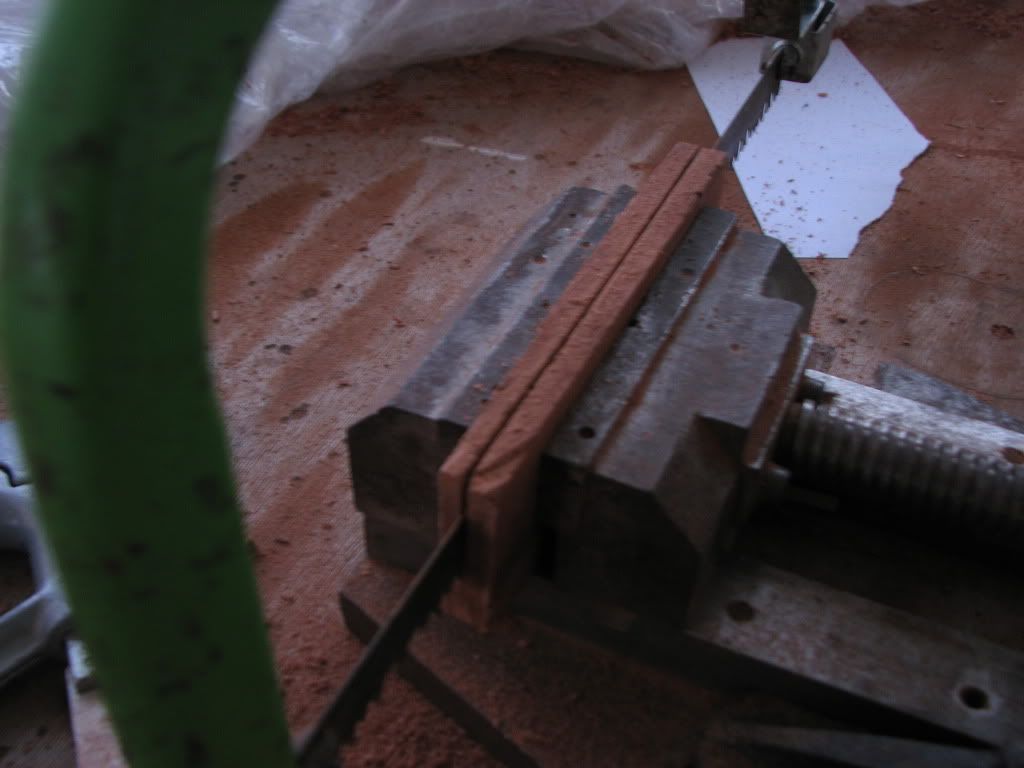 For counding the rotations, I used 2 pieces of aluminium foil so when they touch each other they short the circuit of the computer's mouse so it simply presses the left button of the mouse while it is located on the = button of the calculator on the screen.
That worked very well for the first pickup but it failed whilst the second attempt. It stopped counting.
So my father made an optical device that is located inside the drill's body and every turn the optical device sends a pulse to a special computer that counts the pulses. That is how I can explain it briefly.
Last edited by guitar-tin at Jul 22, 2011,