Gettin' Fuzzy, NPD!

Join date: Jul 2010
50

IQ
My Dad generously purchased me a pedal while he was in New York, it shall be the first of many!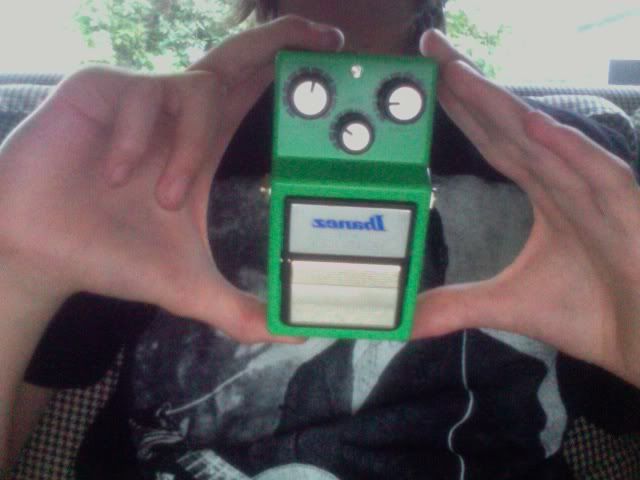 It's an Ibanez Tube Screamer, MIJ, 100$ at GC.
Aesthetics: It's slim, and sharp looking, the green is nice too, note that the texture on the actual pedal is pretty rough.
Tone: It gives you some really nice fuzz, and thick, layered distortion for blues, and Texas style blues, and I'm sure you can get heavier tones out of it as well, haven't really bothered yet.
Hardware: 3 dials for tone, drive, and level, the setup works well, and is easy to use.
Overall, I'm very happy with it, and would recommend It to anyone in need of a good, affordable distortion pedal.
Cool. Maybe it'll make you like that Wilshire better now. What did you decide to do with that?

HNPD!

Join date: Jul 2010
50

IQ
Oh wow, you remember! Yeah, the tone is fantastic, I really don't have a problem with my rig right now, but I was thinking of a pickup swap...
Glad you stuck with it. BTW, you're one lucky SOB getting pedals like that for free :-) Maybe they'll get you some pups next.

Tell them it'll be educational--you can get experience soldering. Maybe turn it into a science fair project--you can run a spectral analysis on the tonal differences and come up with a hypothesis for what will be different. Good excuse to get a recording interface for your computer if you don't have one, and possibly a good mic like an SM-57.