Online Tabs Player - tabsby.net
We've just launched new website for Guitar Pro tabs played online featuring multitrack view and support for mobile devices!
Here are few examples:
The archive of the website includes 54k multitrack tablatures. Also, any Guitar Pro tab can be uploaded to a website in public or private mode.
Might be helpfull for studying the guitar playing.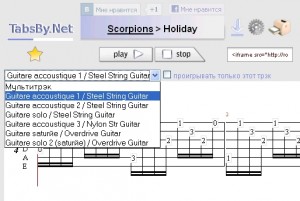 We'd really like to hear your opinion.

Join date: Aug 2007
1,479

IQ
Its a great idea but the midi guitar you use sounds terrible
Are you sure that was a guitar?

Maybe, you mean the background sound of "Syn Brass and Lead" in the behind blue eyes?

Or you just don't like the sound of the "Steel string guitar" in both examples?