sg neck access
i have an epiphone sg-400 and it seems to have bizarre neck access.
i've played some gibson sg's in the shop and they all seem to have the neck bulking up fastly from the 17 fret,and the neck is all leveled in the 19-20 fret allready before it meets the body.
mine is a lot thinner and more accessible, it start to bulk around the 19 fret and only in the 21 fret its leveled (for a total of 1 more fret and then its meets the body, i have 22 frets in total)
i've read that there all all kind of neck shapes in the sg body, is there any name for my neck or is it like... wrong?
Well, at least the Gibson SGs are just like what they are. Now, even if it bulks up from the 17th fret, I think anyone could have a really good reach to the highest fret,22th. I haven't played Epi SGs, but I think that the neck on them could be more like modern?.. Like if it was made for those who want to begin with a good quality SG.
Anyway, I'm more of a LP guy,cause I really like the feel of both 50's and 60's neck. The sound of Gibson LP is like something really amazing. When it comes to SG, I just don't like the look of them, but they have really good playability and the sound is alright.
it's not wrong, it's simply a case of 'epiphone'

Join date: May 2008
80

IQ
The G400 has a 60's neck profile, Gibson don't make the necks on SG's like this anymore apart from on their VOS/Re-issues and the SG3 plus a few other models.
They changed the neck joint where it joins the body, as the old 60's ones were weak and prone to getting broken. I think thats what you mean by bulking up, they are usually all tapered as far as I know.
Edit: see pictures as examples, the first is my SG classic, sorry not a great picture but you can make out where the body extends to the 19th fret.
The next is my '63 SG, there is no extended joint from the body where it joins the neck. This should be how your g400 is.
Hope this helps.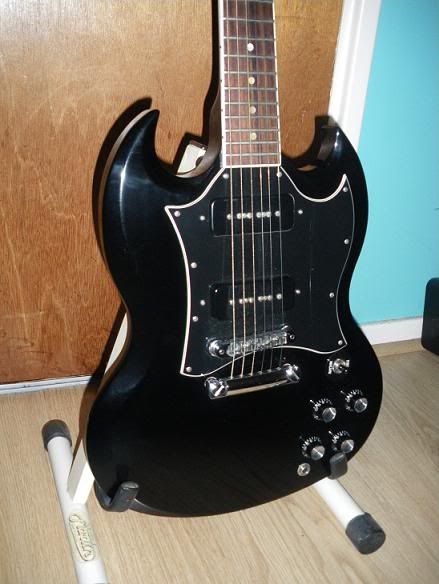 Last edited by Delboyuk_01 at May 11, 2011,