You know what? Just coat me in bubble wrap.

es, from the kid who brought you these threads:
So I just had a 100lb amp dropped on my foot..........
Pit, I'm on my way to becoming a Cyborg!
Ahh!!!!
I bring you another tale of intense unintentional bodily harm.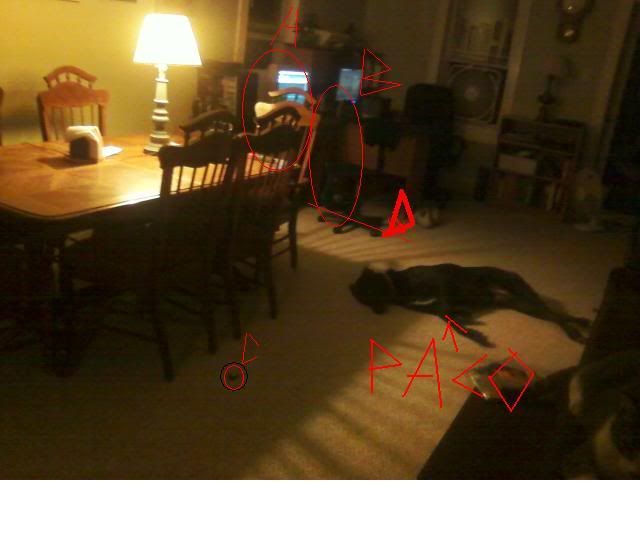 Tuesday, I'm sitting at my computer desk, with my dad on his computer next to me. As you can see above, derived from my Pick Gnome Public Service Announcement, visible are my computer, next to the guitar, and my dad's computer, on the other side of that counter. You can also see the door on the right side. So we're sitting there, and our cat comes running in the door(Which we had propped open) and heads to the kitchen, to perch atop her favorite deep freeze.
Now this particular cat, her name is Penelope, and can be seen below. She's normally a very nice cat, always ready to cuddle and shed on your nice school clothes.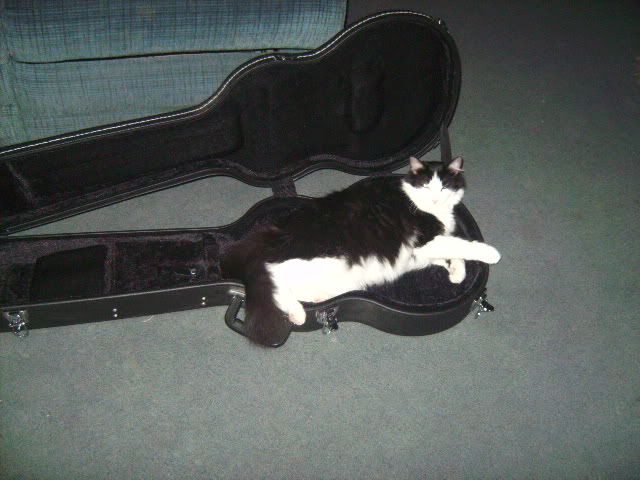 Well, the cats aren't supposed to be in the house. So, doing my duty as a member of the household, I protect her with my life. I run to the deep freeze, and beat my dad to it. When he walks in, I'm protecting her with my arms, locked in an embrace, so maybe he will see that she likes it in the house, and we like her there.
Bad idea.
My dad goes into the kitchen, and grabs her out of my arms, and off her warm perch. She retaliates by driving her claws into the nearest thing to her.
"My eye, my eye, she got my freaking eye!" I shouted, surprised that I didn't blow my parents away with a stream of cursing. "Your eye? Or your eyelid?" My mom screams from across the room. "No, she got my (And again, I'm pleased with my ability to hold backs swears) freaking eye." "Oh shit, Jake, you're bleeding everywhere!" I was in too much agony to notice the blood running down my arm and pooling at my feet.
So into the bathroom we go, getting a wet wash cloth to clean my face with. After a moment of pressure and freaking out, we discovered that it wasn't my eye, somehow. Dearest Penelope had actually split my lower eyelid in half. After a quick call to our doctor-friend, we discovered that, yes, we probably should go to the hospital.
So, we get into our truck and head over to the hospital. And sat there, in the ER, for 4 hours, awaiting treatment. And sat there. And sat there. And sat there. (Repeat ad nausium) But, while there, I realized that I could open my eye. I checked with my parents, and yes, my eye was fine. I also realized that after my contact came out, it didn't hurt at all. If you read this far, ignore the TL;DR.
After that, I got prescribed some powerful antibiotics, and pushed on my way. I got home at 12:30AM. I quickly took a shower and passed out in my bed.
So, here I am, with a horribly painful eyelid. Pain every time I blink. I figured that since you guys all saw my previous injuries, it'd only be right to keep you all updated. Yes, I know, it sounds like a blog. It is a blog. But if I had a blog, nobody'd read it, which defeats the purpose of a blog.
TL;DR: I was walking down the street and stepped in a pile of some glowing green goop. I rinsed it off, but when I woke up the next morning, all the skin on the bottom of my foot had been eaten by something. I went to the hospital, and they immediately cut it off without anesthesia(Something about the injection would only make it worse).
Last edited by Angus_Junior35 at May 13, 2011,