New Uhh.. Everything Day?
yup. This is my first new gear day. I have some nice gear to show off and some of it I have been holding off on you guys. Gotta wait for the right moment right?

Well, here we go: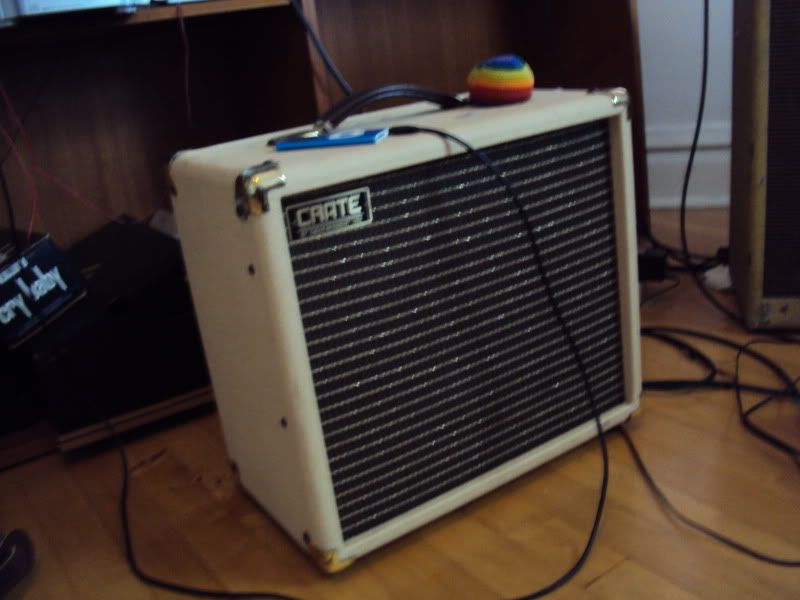 Its a crate Club 15! I bought it at a garage sale for only $35. Its pretty muddy, floppy low end, but through my Les Paul its got some nice crunch as long as you keep it treble-y. Good for that hard rock bite. Through a strat, it has some points missing, it needs more mids, and the thing has next to no headroom. But thats what this thing is for...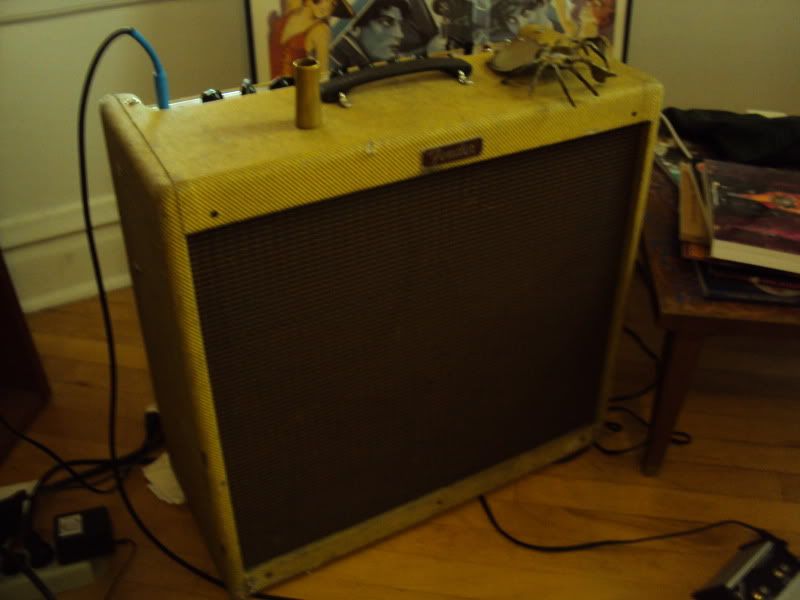 Yeah. Say hello to my new baby. Its a Fender Blues DeVille re-issue. Bought it off of craigslist for $425. Plenty of headroom, clean channel is so crisp and clear its like playing a bazillion church bells. The reverb can last for about 10 seconds if you just dime it. But I keep it low, I dont use huge amounts of reverb. Its also 60 watts, which is waaayyyy too loud for any bedroom playing by normal standards. Good thing im not normal

The overdrive channel is good too, but what is strange to me is I have read reviews saying that its nothing special. Its bland. Well, sure, its nothing special, but that doesnt mean its bad. It sounds quite good to me, and lets me get that Keith Richards light crunch. I like to level it out so that it is just on the brink of break up. This thing is not meant for anything very heavy.
There is more to come, but I like to segment out these things like everyone else. Next post incoming!
Last edited by Saturated Fat at May 15, 2011,
Here is my strat's headstock:
Nothing special, right? Wrong. Those are grovers, which don't come standard on a rondomusic strat SX.
I got these put on because I have to gig with the guitar, and the bad tuning machines I had before just didnt cut it. I would de-tune in the middle of a song. During practice, this is bound to piss off my band mates. Not anymore. These were a great purchase, and they keep me in tune pretty much all the time. I tune my strat less and less it seems. No more cranky drummers to deal with! It cost me $60 to get them put on by a professional, and I got the guitar set up as well. Very tasty.
I got some pedals too, which are coming up.
Let me start by saying that I kind of dislike effect pedals. I have been the plug straight into the amp and just go for it kind of player. But when Im taking a solo, I need a boost. So I got a TS9. You really can't go wrong with a TS9, and it gets the job done. Im sure most of you know what they sound like and how they behave. I just got it yesterday, but so far I like to keep the drive up, level up, and the tone down a bit. It makes my solo tone a lot fatter and cuts through bass and drums(Im in a trio) so i dont get lost in the sound of everyone else. It doesn't unnecessarily distort things, and doesn't compress too much so dynamics can still come into play.
The LPB-1 to the right of the TS9 is a clean boost. No frills. One knob, and it is labeled "Boost." We are trying to be funky in this said trio, and that means clean guitars, with lots of reverb. Repetitive licks that are staccato. This thing can give me just that small bit of volume and fullness you need during a solo, a lead-in, or a finale. it works well with the TS9 too, if they are both on. I haven't really found a use for that yet though. I am very happy with it. it was only $40 too!
So there ya have it. I am very happy with them. I just need to use them in our next gig to christen them worthy. Cheers!
haha I just noticed that in the photo, the TS9's knobs are exactly opposite of what I said I liked. Its a photo from yesterday though, so I was still experimenting with it(and I still am).
dude there is a huge friggin spider on that amp.

nice new rig, i like the old crates, i had that same model.

now show the tele, dammit strat...

Last edited by gregs1020 at May 15, 2011,

Join date: Nov 2010
20

IQ
HNGD! Lots of good stuff today! But isn't that a Blues Deville not a Deluxe? Mine only has one 12in speaker and is 40 watts...
Ha, thats an incense holder I use for holding guitar picks. Its a crab.
And I never bought any Tele?

Here is a picture of the whole family for you: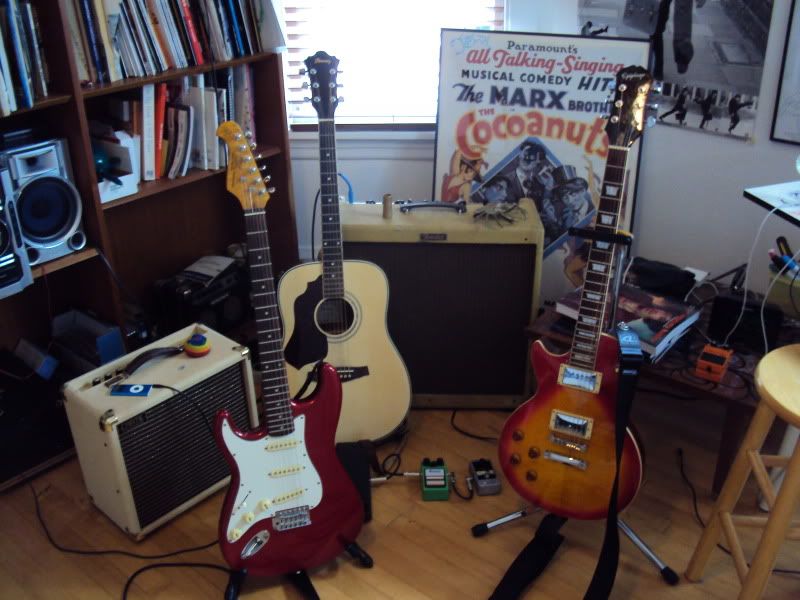 uhhh except for my vox AD50. Thats at my drummers house right now.
Join date: Sep 2010
140

IQ
Nice.

I see your left handed.
Last edited by Robbin'TheHood at May 15, 2011,
holy shit you have my ipod too.

stop stealing my shit!
azianmusician is right, I actually mis- labeled it. I have a habit of doing that. Its a deville, not a deluxe. I get them mixed up cuz I played a deluxe with my old band, although that amp wasn't mine. I was the only one that ever used it though.
But yeah, its a deville, not a deluxe. I will edit the original post.
The ipod is my back-up. I actually have a touch for most uses.

Join date: Jul 2005
1,118

IQ
Happy new gear day!


Join date: Mar 2008
780

IQ
tnx for sharing


Join date: Apr 2010
1,630

IQ
HNGD, i think that a lot of people (especially people more knowledgable about gear) give the deville's a bad rep because they are comparing them to older fender amps, like the blackface amps, or even silverface. that is just my pondering though. for example, i have a 1968 fender ab165 bassman, nothing fender has put out in 20 years compares to it tonally.

hngd!

tubescreamers are a good thing, i am more a straight guitar into the amp type of guy. i was strictly no effects two years ago, started using them, and have more recently wained off of them.

Join date: Nov 2010
10

IQ
Woo, lefty

HNGD, and do I see a DS-1?


Join date: May 2009
80

IQ
You gonna be running both amps at the same time? Crate for crunch fender for cleans?
If you are, take a look at the EHX line-selecter thing. I got one to use with multiple amps/home made talk box and it works wonders. Dirt cheap and doesn't require a power supply.
Anywho... Happy New STUFF Day

I should really do one of these... Literally EVERYTHING I'm running at the moment I've acquired in the past year or so...
Regarding running both at the same time, I wont be doing that with the Crate, since it just doesn't cut it volume wise, the Deville overpowers it easily.
However, I do have a Vox AD50, which can get nice and loud, maybe not as loud as the Deville, but definitely loud enough to still make it possible to AB/Y them together. If done correctly, I could sound like 2 guitars at once

And Yeah, just like every new guitar player, when I started out I bought a DS-1. Dont really have a need for it though. What I hated about it was the feeling that it was sucking the tone out of my signal when it WASNT being used. It could have been just me though.
What Im really digging about these 2 pedals is there versatility. For instance, on the clean channel of the deville, I can use the LPB-1 to give me a little more volume and mids when I need it, and then engage the TS9 for a light crunch/creamy solo tone, that isnt heavily overdriven. I can combine the two as well.
However, if I am in the overdrive channel of the amp, the same thing can be done, and it really just gives me more "Gain stages(if thats the right word)." No effects for bare chord use, maybe for a verse in a song. then the boost for some more punch, and the TS9 to go really heavily into overdrive, for a solo.
Im pretty happy so far.

Join date: Nov 2010
10

IQ
And Yeah, just like every new guitar player, when I started out I bought a DS-1. Dont really have a need for it though. What I hated about it was the feeling that it was sucking the tone out of my signal when it WASNT being used. It could have been just me though.
Fair enough I like mine, it gives a decent crunch. And I don't notice mine sucking the tone but that's just me