Any ebony body guitars?

Join date: Nov 2009
300

IQ
Is there any ebony body guitars? And if there are which ones are the least costly?

Join date: Jan 2011
196

IQ
that would be superrrr spendy! but pretty sweet
I've only seen custom ebony builds but they were extremely heavy.

EDIT:Ebony is infamous for dulling cutting tools since it's a dense wood.
Last edited by dark Mass at May 24, 2011,

Join date: Dec 2008
80

IQ
I suppose it's possible, but:

- Really expensive
- Probably would have to be a laminate body
- Really heavy
- Very bright sounding
Big blocks of high-quality ebony are rare and expensive, so it's not a regular production material. You could track a slab down, but you're probably looking at spending at least $500 on the wood alone. Then you have to pay a luthier to make it, and ebony is tough to work, so you'd be paying extra. But you could always have an ebony veneer stuck on top of something else.

Join date: Dec 2009
70

IQ
i've seem some custom made ones. incredibly expensive. but they looked beyond sexy.

all the ones i've seen were chambered bodies to keep the weight low. i've yet to see a solid ebony guitar.

Join date: Oct 2009
170

IQ
Alembic will make you one if you take out a second mortgage on your house. Beyond that, I've seen only guitars and basses with ebony tops. It would be as heavy as hell and it would be susceptible to checking around the edges, but it might be pretty cool.

Join date: Oct 2004
170

IQ
Ebony top: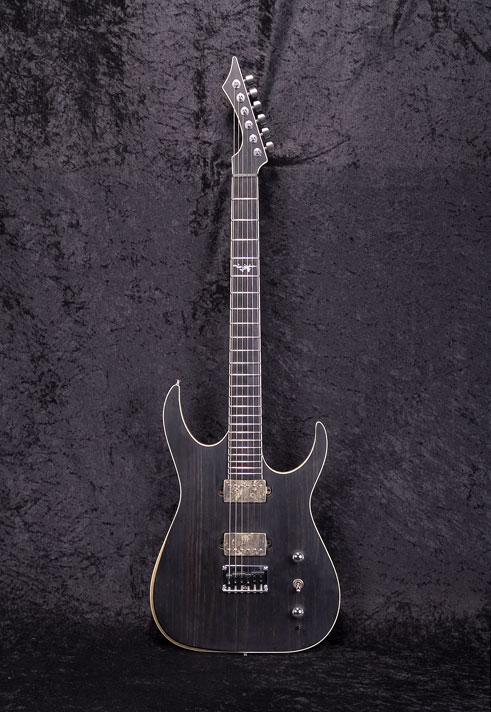 Join date: Mar 2011
20

IQ