I have great nads.
Well it's only my second ever one on here but meh, doesn't matter.
So the postman came yesterday, he left this: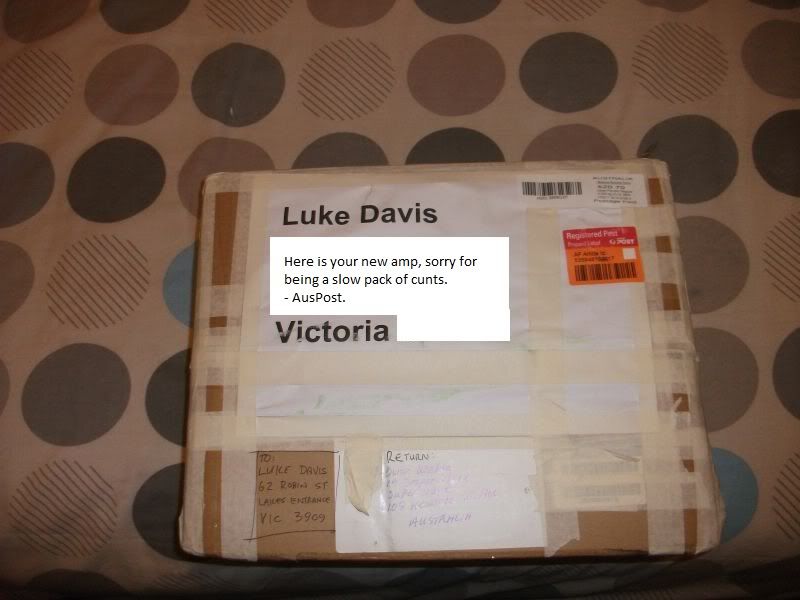 Awwww, how considerate! Maybe I'll give them another chance? .... Like I have a choice.

Ah well. GK make some pretty nice stuff. 240 volts as well, I can plug it into my wall! That's always a plus.
Yay! A MB200! My mini rig is half complete! I've had a lot of interest in these little guys for a while and this one popped up for $200 on eBay, it was fate. I had to have it! Haven't had a chance to plug it into a cab yet and with the band on a little bit of a break and my 610 being kept at the rehearsal studio I probably wont get a chance for another couple of weeks. I'm gonna plug the headphones in when I finish writing this though just to like, see if it works and stuff.
Size Comparison!
And the back panel for anyone who's interested in that stuff.
Stay tuned for a new cab day within the next month....

Join date: Mar 2007
170

IQ
No volume control...?

Happy nad
Yeah I only noticed that just then too when I plugged the headphones in, weird. Oh well. Sounds awesome so far. The "Contour" switch is pretty cool it's like an "insta-punch" switch. Probably going to leave it on most of the time.

Join date: Sep 2009
170

IQ
that thing is tiny. also congrats on being able to plug it in the wall. HNAD
HNAD!

What kind of cab are you looking at for it?
'IS BABY HEAD!
Happy NAD

Might get me a teeny bass amp and 112 cab at some point.
Cheers guys. Seeing as no one down here wants to stock the GK MBE 112 and 115 cabs that go with this thing I'll probably go with an Eden EX112. An Aggy or Bergantino 112 would be sweet but they're hard to find in 4 ohms and they're a tad on the pricey side.
The amp's pure funky awesome with my Corvette, I just wish it had an effects loop. =/
I was about get the same amp but the lack of the volume control is a turn off.

Anyways HNAD!
Aw! look at the 'ickle baby!

Sound clips when you get a cabinet hooked up?

Join date: Feb 2006
60

IQ
Welcome to the GK MB family! That lil baby is teeny tiny! When I get some time (after my pile of uni assignments get completed -_-) I'll finally do up a VBNRD (Very Belated New Rig Day) and do a comparison in size with xbox controllers

When I saw the title of the thread, I thought you were drunk again

Anyway, nice find, HNAD! I'll get one of these when im old and retired and I can't lift more than 50 pounds anymore.
I just got an MB200 as well, I am nearly finished building a cab for it, It's a Peavey Rage 158 cab retrofitted to hold a neo 1x10 speaker. will post a pic soon and a weight :p I will be using it as my only amp, if you gig with it let me know how it holds up

Join date: Jan 2010
170

IQ
The Xbox 360 controller has a little table to be put on.

Join date: Nov 2007
60

IQ
Don't lose it!

weird thing to say about an amp