HR Giger Iceman
ok so, I need to sell off most of my things to make a car purchase possible.
This and my "Machine" (the rust LP I built myself) are my number 1s. This was my first real guitar purchase and I always thought I would keep it for my lifetime or as long as I could. im a big Giger fan (the artist that made the alien from the movie "Alien") and I love Iceman guitars so this was a natural fit for me. I loved the artwork and the one on the guitar is New York City VI. i thought it was really good in pictures but wow is it at another level when you see it in person. I never had more people turn their heads to look at my guitar then when holding this one.
This was a limited run with all the info that ive seen saying only 150 were made. which i can believe seeing it took me a loooong time to track one down. I have all the receipts, case candy, the included silk poster, and the special case itself. Some of the plastics still were never taken off.
sorry about the low light but ill get better pictures, and ill do a final set up and buff of everything. I really want this one to go off to the best place possible and really be a gem in someone collection.
I also never played it out and always took my belt off before playing.
some pictures:
This is the ONLY wear on the guitar, its from me resting my hand on there.
this is the artwork that is on the guitar, one of my favorite HR Giger prints.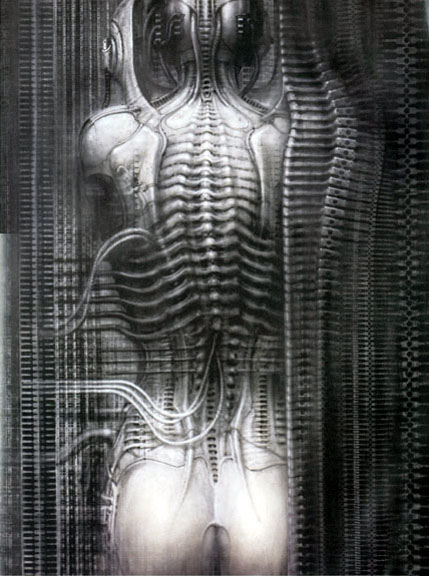 more on giger himself:
http://hrgiger.com/
I wish he still had a museum in NYC but now its only in sweden.
specs and pricing below.
ok down to the nitty gritty.

from the listing when I bought it:


not the neck binding is black mop-ish, and the inlays are black mopish with an abalone stripe at the 12th fret. it really cant be picked up in pictures but like I said in person it is just unreal.

This guitar is extremely versatile. i used it fro everything from clean acoustic sounding stuff to real heavy metal and it handled everything between. The neck is very comfy too and I feel as if it makes me play better. I will probably have my next guitar's neck carved to these specs.
Also to be noted this is a set neck when at the time most of the ibanez's were bolt ons. it really helps the guitar and the guitar itself is probably the tops they made. I cant say they used better wood or anything but comparing it to even other high end icemans (icemen?) it just has something extra to it.

A few years ago I saw this rising in price but I never took a serious note since I didnt want to sell. I just looked around today and I only found very few and They were around $2000 for a mint model, most likely NOS (new old stock)

so price.
Im going to set it at $2000 OBO
now I know it has some wear on that one pup ring, but it does have the original special case, all the case candy, and all the other items that were included with the guitar or had to paid extra to complete the set.
once again it is $2000 OBO
sorry the specs:
This is a 2005 Ibanez Iceman ICHRG2, from the H.R. Giger Signature Series. It features Giger's famous "NY City VI" painting, and combined with the radical body shape of the Iceman this guitar is a definite head-turner. Other features include a
mahogany body,
maple neck,
rosewood fretboard,
22 medium frets,
parallelogram inlays,
BR-EG fixed and quick change tailpiece,
Ibanez Axis AH1 and AH2 humbuckers,
master volume and tone controls,
3-way pickup selector switch,
and 24-3/4" scale length.

Join date: May 2005
30

IQ
Celtic Frosttt!

haha just had to say it.
Hope she finds a good home
same. this is my number 1 and one i had for the longest and a hard one to part with. but its time to move on in the car world and thats more important to getting back and forth to work.
this will be on the bay soon.
dont make me bay it guys.
***Edited by emad***
# 220796332439
but i will take it down for members.
I am selling my HR Giger Iceman guitar. Since I need the money fast, I have changed the price to *BEST OFFER*. It is in excellent condition and is a great guitar. It plays like a high end Ibanez and the stock pickups are actually perfect for the model. It has a brand new set of Elixer strings on it (11 gauge). I am selling it to acquire a seven-string, which is what I'd be willing to trade it for. The only knock on the condition is right above the bridge pickup, where the palm rests, the finish is smoothed out. I reside in the Albany, NY area and would be willing to drive a maximum of 3 hours to deliver it in person. Comes with the coffin case pictured here. I accept Pay Pal. I'll take more pictures upon request. This guitar is difficult to photograph.
umm can someone delete the above post for trying to hijack this.
ONLY ONE HOUR LEFT!!!
Its going for much than im asking here. CURRENTLY JUST MET THE RESERVE AT $1150!!!
put
220796332439
in the search if it doesnt go straight to it.
Time left: 4h 53m 26s (Jun 14, 2011 20:34:12 PDT) thats 17:34 EST
for those interested only 1 day left
****