Clear Coating - Lay Flat?
About to get into the clear coating processes. I have vinyl sealer and then a clear lacquer to finish.

My question is if I can go about this with the guitar laying flat or if I will need to hang. My concerns with hanging it are if it falls, that's no good. If I lay it flat, how do I deal with overlapping where one side ends and the other begins? Should I spray half of the side from the top and the other half from the bottom?

Thanks!
I hang mine from a metal coat hanger by the hook end through one of the heel joint bolt screws or if its a set neck through one of the headstock screws. The very rare occasion were the guitar is to heavy for a coat hanger i use a bunjy chord and have both hooks through 2 difrent holes. hasnt failed me yet.

hope this helps.
What do you do about the spot that is blocked by the hanger? Do you move it around to spray?
I do the same coat hanger approach


if the hook goes through the body from the top side in the neck pocket, only a small part is blocked by the hook on the bottom of the body, which is easy enough to spray around at an angle. I haven't found I've missed any spots this way

Join date: Jan 2009
260

IQ
I made a hanger using three utility hooks for hanging ladders, bikes and the like put into a piece of wood with galvanized steel wire on the bottom hook so it can turn.
I hang it on the rain troughs behind my garage. Works for me and it's held two guitars so far. One was a solid oak Telecaster.
My rain troughs are one piece troughs though so they are stronger.

This also works for trees as well.
Gotta say I was really hoping for responses saying to spray it flat. Seems like it would be a lot easier.
imo spraying while it's hanging is the easier option. one solid coat over the entire body as opposed to a half and half sort of thing with the body laying flat

as long as you have a good area to spray in it's not too difficult at all
Ok. So it's a bolt on neck. Am I better off spraying them hanging separately or attach them and hanging the whole thing by the tuning peg hole?

Join date: Jun 2006
401

IQ
Ok. So it's a bolt on neck. Am I better off spraying them hanging separately or attach them and hanging the whole thing by the tuning peg hole?
you don't want to have it lying flat. Really you run the risk of ruining your finish if you try to do it half and half. I would do the neck and body seperately, but tape up the neck pocket on the body.

Join date: Aug 2007
30

IQ
The problem I found with laying it flat was dripping down the sides. There's really no good way to get the sides by laying it flat. So I hung it up with a coat hanger and then had to deal with vertical drips. I guess I just suck at spraying, and therefore my advice is hang it through the neck bolts and do light coats to start. I'm still having trouble with the final sanding though.


Join date: Dec 2009
50

IQ
Junior hacksaw. Pull an old one out of your tool box (or buy a cheap one), take the blade off and bend it to form a rather large and solid hook.
And make one of these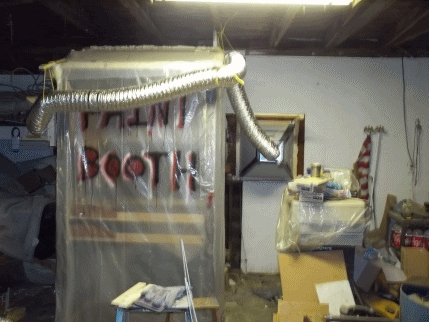 The vent goes out where a window used to be.
If u wanna do it flat you can make a rotisserie type deal with steel rods on either end that go into the hole for the strap button on the bottom end and a hold drilled into the neck pocket. I've seen it done this way to. you can spray the faace and rotate it like a roast pig to do the other faces

I bit the bullet and hung it from the garage rafters, running bent coat hangers through the neck bolt hole and the tuning peg hole. Should be ok, so long as it doesn't plummet at any point!