What to get to replicate Dave Grohl's tone?

Join date: Feb 2011
40

IQ
I want to exactly replicate Dave Grohls tone. What amps, etc does he use?

Join date: Sep 2006
71

IQ
Not to be a dick, but why?

Dave is a very talented guy, but you really should develop your own tone...unless you're forming a Foo Fighters tribute band or something...

Join date: Dec 2009
240

IQ
oh boy...

major artists use an arsenal of guitars, amps, effects and studio processes to get their tones. as a result, they have many tones and its tough to figure out exactly what was used to get them.

that being said, he does use gibson 335 type guitars through mesa boogie roadsters...

Join date: Dec 2009
190

IQ
Gibson Trini Lopez through Mesa Boogies.
Electrics:
A Trini Lopez from the mid-late '60s.
A Gibson Les Paul Standard – 1960 reissue model.
A Fender Telecaster – (US Standard and an original 1972 Custom)
A Gibson DG-335.

Acoustics:
Gibson J45
Gibson Elvis Presley Dove
Martin D18

Amps:
Vox AC30
Mesa Boogie Dual Rectifier
Mesa Boogie Roadking
Mesa Boogie Roadster
Mesa Boogie Stiletto
Fender ToneMaster
Fender Twin
HiWatt Custom 100
Marshall JCM 900
Custom Audio Amplification (not sure of the model)

Pedals and Effects:
ProCo Rat
MXR Phase 90
Fulltone OCD
Electro Harmonic POG2
Electro Harmonix Small Clone
Boss BF-2 Flanger
Boss DL-2 Delay
Boss DD-3 Delay
Dunlop Heil Talkbox

That should get you in the ball park.
And lighten your bank balance….

Join date: Sep 2009
243

IQ
Gibson Trini Lopez through Mesa Boogies.
A
Blue
Trini Lopez. The paint slightly affects the tone. Also, you have to use D'Adarrio EXL115 (with a .42 for the A and a .60 for the E), 100ft long Planet Waves cables, Dunlop Gator Grip picks and use Duracell batteries in your stompboxes, which should be a Boss Delay, a MXR Phase 90 (non-script version), RAT Distortion, Dunlop Uni-vibe, EHX Memory Man, and an EHX Q-Tron. Also, from now on, you can only play at Studio 606 or live in front of preferably small clubs, or huge arenas. Oh, and this will only sound kind of like Dave Grohl. You can use his exact equipment, but you'll never "exactly replicate" his tone.
He doesn't play a Blue Trini. He owns a couple (out of a reported 11 ever made), but favours his original '60s red one for recording or DG-335s for live work - Pelham Blue in standard tuning and Black in drop D.
And a custom built (Pelham/aqua) Gibson Firebird Studio for Drop A.

Join date: Sep 2009
243

IQ
He doesn't play a Blue Trini.
Suuuuuuuuuuurrrrrrrreeeeeeeeee........
Suuuuuuuuuuurrrrrrrreeeeeeeeee........
That's the DG-335.
This is his blue Trini -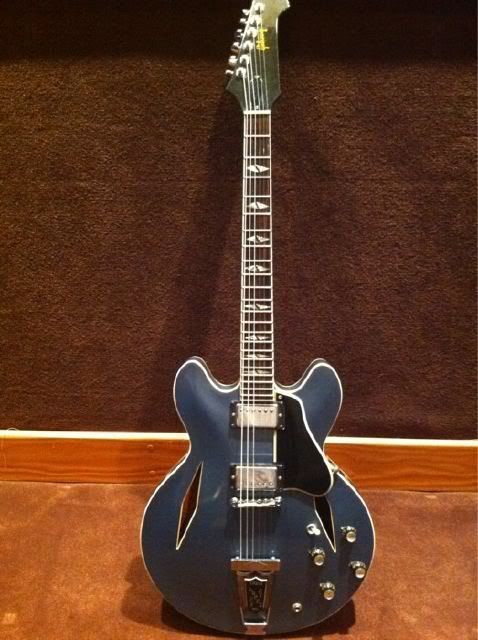 Gibson approached Grohl to design a signature guitar to which he replied something along the lines of "wouldn't know where to start, I'm a drummer - my main guitar I really like is a Trini Lopez model. Something like that....?" The result was the DG-335, part of the Gibson Inspired By..." range.
For a start it's got a different bridge and Burstbuckers in it....