WTTS: Ibanez RG550XX-R 20th Anniversary

Join date: Feb 2008
10

IQ
FS/FT Ibanez RG550XX-R 20th Anniversary Reissue - price/trade value: $800-$950 depending on options.
On ebay all day these go for $700 for black ones shipped. This one, however, has stainless steel frets on it, so I'm going to ask $800 for the stock guitar and OHSC/RG20th Strap/Picks. Included in that price is a brass sustain block (as well as the stock pot metal Ibanez sustain block).
For an additional $50 of value, I'll include the Tremol-No currently installed on it. Not everybody's thing I realize but they're easy enough to flip parted out.
For an additional $100 of value, I'll leave in the DiMarzio CrunchLab and LiquiFire pickups and include the stock pickups. Pickups are highly personal preference and easy enough to unload on their own. I don't think there is a better pickup combo for Basswood body'd guitars (for metal, anyways).
All the paperwork is included. There are a few slight chips in the paint around the bottom edge of the guitar (extremely common to solid color RGs), and a couple scratches near the armrest on the upper edge, none very noticable. Neck is fine, last pro setup was back in februrary. Frets are stainless steel, so nigh indestructible (installed 12/10). This guitar has not seen much play time since about March.
Ideally, I'd like to trade for a Gibson Les Paul Studio, Flying V, SG Standard(!) or Explorer. If you have a white one in any of those I will happily leave everything as is and we both cover our own shipping. No interest in Faded SG's or SG Specials. Faded V's we can work something out. Not interested in faded LPs that do not have the maple cap or humbuckers (not a P90 guy).
Pics: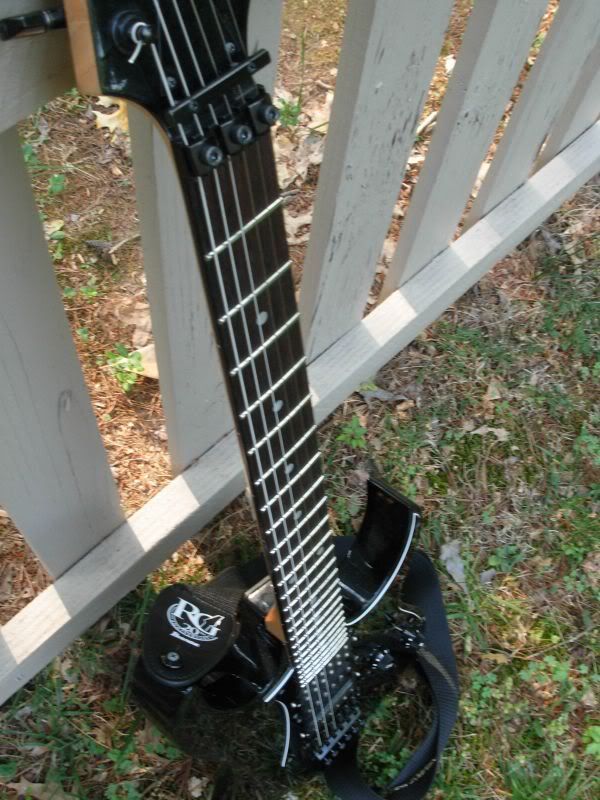 The cavity cover is included, as is the trem arm.
Lots of references available upon request. Several guitars sold on sevenstring.org (userID: RenegadeDave) and ebay.com (GoliathGT)

Join date: Feb 2008
10

IQ
Forgot to mention: Stock spring claw/anchor is included if you want the tremol-no.