NGD & SNGD (sorta new guitar day)!!!

Join date: Feb 2005
240

IQ
Went out to Baltimore the other day to pick up some tickets for a show my bands playing and on the way back stopped by Guitar Center. Saw this thing sitting in the corner and picked it up.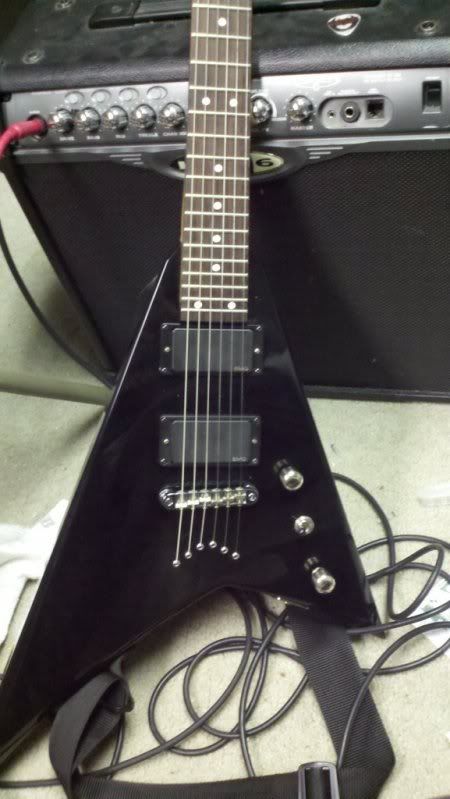 Its a Jackson JS30RR, looks to be made in 2006, pretty decent guitar for what I bought it for ($150)
Review
Stock pickups were ok, I have since replaced them with EMG's (81/85 bought for cheap, may get 81x/60x combo in gold later)
Really thin neck, thinner than my LTD and Schecter
Sounds good with the EMG's in it, plays pretty well, although it could use a nice setup to get some of the fret buzz out of the first three frets.
Overall, I got what I paid for, a cheap beater guitar, but I've always wanted a Rhoads shape. I am going to get gold hardware for it in the near future, and possibly put on some gold pinstripes to make it look a little more one of a kind and less stock, but for right now, I am happy with it.
My other guitar is an Ibanez I stole the neck off of a few years ago, and the body has been sitting around my house doing nothing since then. I found an old Squier neck and chopped it up to make it look a little more metal and threw it on there, along with a new coat of paint on the guitar.
Before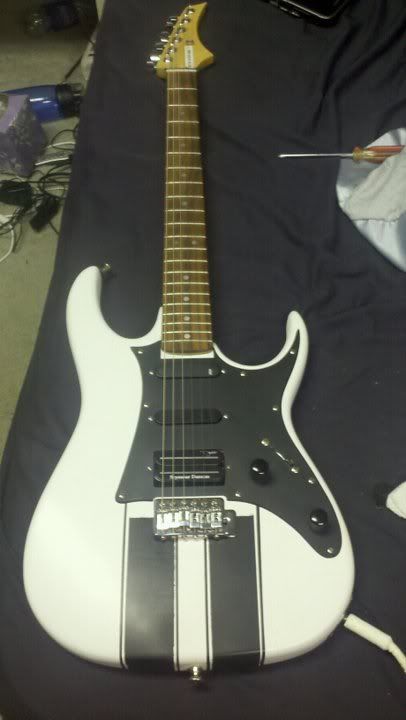 After
It is an Ibanez RX body with a Squier neck, 2 no-name single coil pickups and a Dimebucker I had laying around.
The guitar actually plays pretty well, low action, no buzz, tuners need replacing though. I have this as my alternate tuning guitar, and it sounds pretty good for just playing around with, I wouldnt record anything professionally with it, but its another good beater guitar.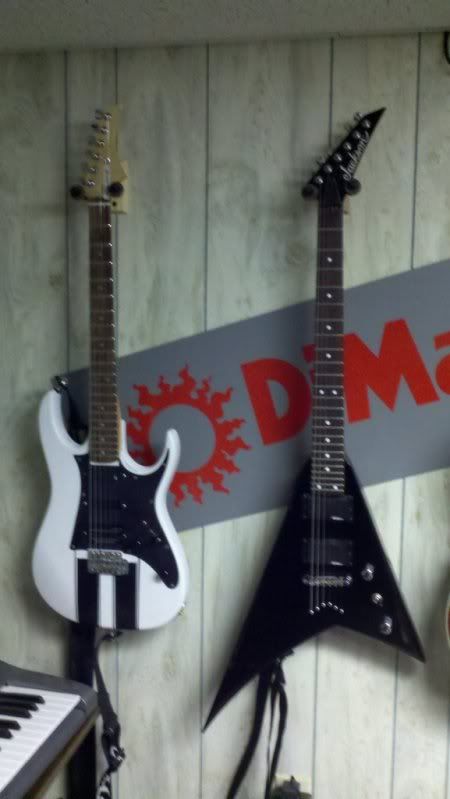 Here are the 2 guitars together
Overall I am happy with them, they both sound good and play decently for what they are- just cheap guitars I picked up to have some fun with!
Last edited by thetoastinator at Jun 11, 2011,
ooh very nice, i particularly like the strat with the stripe! Hngd


Join date: Feb 2005
240

IQ
Thanks man, it was a bitch to paint on, but it looks cool. Kinda sloppy up close but at a distance it doesnt look too bad.
nice job on the strat. it looks badass.