I think I may have destroyed my friend's first guitar

Join date: Jun 2011
20

IQ
Friendly greetings,
this is my first post here. I know next to nothing about guitars, yet I could always string them as a kid. Despite not having touched a guitar for many years, I decided to help my friend put new strings on her first guitar. As you may have guessed from the title, things did not go according to plan.
I will do my best to explain the problem and provide pictures. From what I've gathered, the bridge of the guitar rises to a worrying angle as I tune the guitar. I think this is happening because of something wrong inside(?) the guitar, a problem which I caused by dropping it and resulting in a large spring popping out. I can't remember which way the spring sat originally, but I shall provide photos in hopes of any advice.
Another problem is that the nut is loose and falls out slightly over the side of the neck. While this doesn't seem to pose much of a problem for some strings, the first string (thickest) falls out a little over the neck, just like the nut.
I hope it doesn't seem too rude of me to make this my first post without any contribution of my own. I really do need any help though, and will seriously appreciate any given. Below are the best shots I could take:
First, the bridge issue. As you can see, it sits flat to the body. It is like this when the strings are tuned so low that they are loose and flimsy.
Below is when the strings are tuned tight and it elevates. I guess the strings are pulling it upwards:
Below is how the inside(?) looks, where the bridges connects in to. All the strings are tuned so low that they are extremely loose at this stage:
Now below is how it looks when I tune the strings up. As you can see, the other end of the bridge becomes thrown off slightly to the right, and this is when the bridge on the outside rises with it:
Now for the nut, which is hanging over the neck to the left: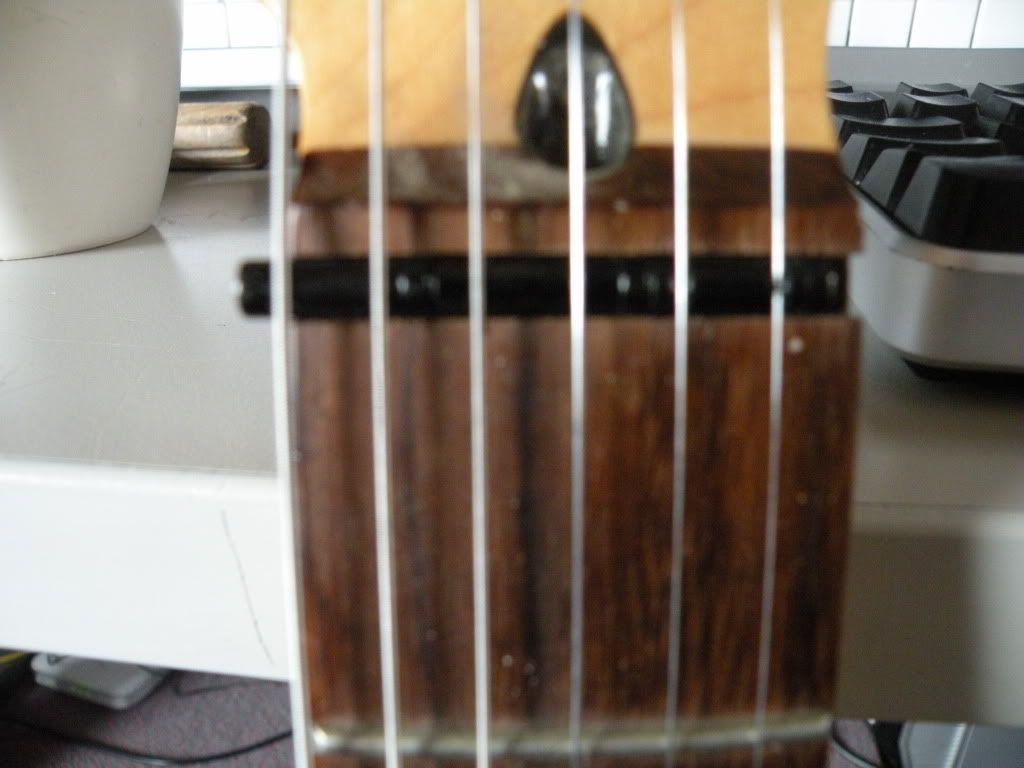 Head stock:
I hope all the pictures aren't too much of a pain. Again, any enlightment shed from the revered would be truly excellent. Thank you!