Should I get a Cube 20X?
Hello,

I've been playing guitar for about a year now, and as I get better, I start to wish my stuff would sound better and that I had more effects (I don't like the idea of having to cart around 8 effect pedals with my guitar) I've been looking at upgrading my Marshall MG10 amplified for something that can go a bit louder, as well as something with some effects. I've had my eye on the Roland Cube 20 for a while, but I think it's now time to seriously consider an upgrade.

I play metal / hard rock, which is why I think the Cube will be good for me as it has plenty of distortion and reverb options.

On ebay, there's a Cube 20 going for £70 (pretty much new) Would it be worth getting one to replace my MG10? I'm not too interested in anything louder than 20w really, as I'm in a very small room, which also limits the actual size of the amp.

So, should I go for the Cube 20, or is there something else I should consider?
Last edited by BigSmokeDawg at Jun 19, 2011,
I have the cube 30x which is very similar and I absolutely love it. You can get some nice tones and the built in effects are really handy. The clean channel isn't amazing on its own, but with a little bit of chorus it too sounds really nice.

Join date: May 2011
190

IQ
If you can try it out, I'd say do that and judge yourself if the amp is what you're looking for. I have a Cube 30X in my bedroom, and it's loud.
The one I'm looking at is the Cube 20X. Are there any difference between the 20X and the 20XL that justify the extra £60 I'd have to pay?
I would just get a mfx unit, not a modeling amp.
Roland Cubes are amazing things for the price.
Get one.
Get a nice amp,(not a modeling amp), and get a mfx unit to go with it.
Got a 30x myself, and it's amazing.
Not too heavy to carry around, and it can still go loud and has several nice effects built in it.
First amp I bought, so I don't have much to compare it too, but I think it's great!
20x can't be much different, but I suggest you to try it out on a guitar center and cross your fingers that nothing is wrong with the amp you get over eBay.
What's the difference between the X and the XL amps?

Join date: May 2007
153

IQ
X: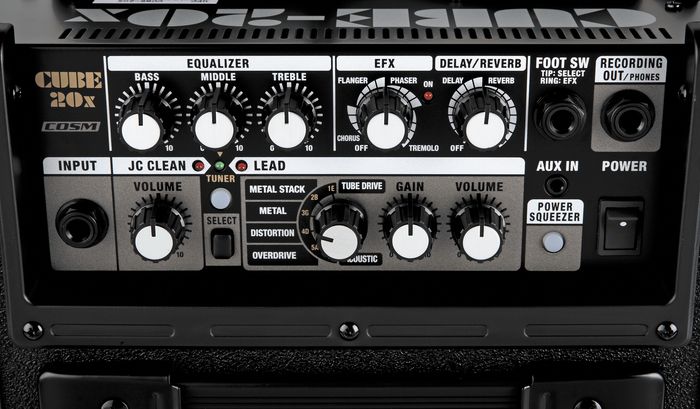 XL: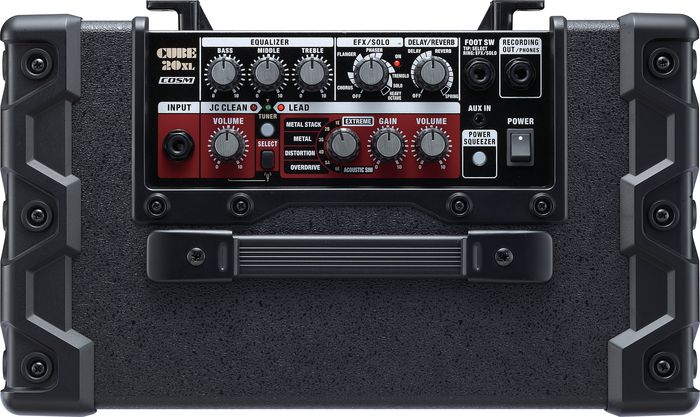 So they're the exact same aside from the XL having Extreme instead of Tube Drive?

Join date: Jun 2009
300

IQ
If you want something for less than 100 then go for it, if you have a larger budget then there is better out there
If you like your MG10, just get a mfx unit. You get waaaaay more effects and distortions for the same price as the 20x. 10 watts is plenty loud for a small room.
try to get up to the 30x (or the 40 as it is now, i guess).

everyone saying the 20 and 30/40 are basically the same is WRONG.

Go check the specs on the roland site if you don't believe me. the 30x has actual amp models (which are pretty decent, certainly the higher gain ones) while the 20x has stompbox models, by and large, which are rubbish (and it's not like most of the pedals they're modelled on are that great either).

Join date: Sep 2010
20

IQ
Take a look at the VOX VT 20+, I liked it much more than the cube!

Join date: Sep 2010
10

IQ
I ordered the Cube 20X. Get whatever amp you like and play the hell out of it. I am going to bash it around, drop it and spill beer on it while my tube amp and pedals are home and dry.

Join date: Dec 2011
50

IQ
I have Cube 20X, i really like it much better than 40XL. however i got 20X for about 3 years now.. the ****ing bad thing that happened is that plastic input jack somehow fall inside the amp. well, i repair it. i opened the front of amp and get the speaker out, so i attached the input back again, but something isn't right about that plastic input. well at least it's working, but.. when i unscrew the speaker i done damage with screwdriver and that 3 short cuts above the speaker. but it's still working