Peavey 6505 - Noisegate in FX Loop
Hey guys


This is my setup:
Boss TU-3 Chromatic Tuner
Maxon OD808
Boss NS-2 Noise Suppressor

Guitar > Boss TU-3 > Maxon OD808 > Boss NS-2 > Peavey 6505

I however have feeback when playing a break of breakdown. Some told me to put an Boss NS-2 in de FX loop of the 6505 as well...so:

Guitar > Boss TU-3 > Maxon OD808 > Boss NS-2 > Peavey 6505
+
6505 FX out > Boss NS-2 > 6505 FX in

would this work and perhaps kill the feedback?

And what do y'all think about a MXR Smart Gate? Better or worse than NS-2?

thx alot!
ISP decimator g string.

Sorted
and drop the NS-2?

so just:
Guitar > Boss TU-3 > Maxon OD808 > ISP Decimator G String > Peavey 6505

Will the cheaper ISP Decimator sort it out as well?
Yeah, i've never tried the ns-2 but i've been told the decimator g string is in another league.

The g string can be connected infront of and after the fx loop at the same time. Whereas you would need to buy 2 standard decimator pedals, have a read up about it, it's a little pricey but definetly worth it.
Putting the NS-2 in the loop will solve the pre-amp hiss but not the feedback. Turn the threshold up a bit maybe and just actually practice better muting. I run like the exact same setup and as long as I'm good with muting with BOTH hands, there's barely any feedback (only when I want it). Also, google "NS-2 X-pattern". It's a way to run the NS-2 in front AND in the loop, that's what I do.
Hmm, the NS-2 is already set to the max. treshhold. And I've tried the X patern before but didn't work for me...

Join date: Oct 2008
222

IQ
I have the X-pattern being used on my 5150 and it cuts all my noise while still retaining minimal tone loss. Make sure you connected everything properly, because if you didn't the NS2 won't really help much.
Hmm, the NS-2 is already set to the max. treshhold. And I've tried the X patern before but didn't work for me...
How close are you standing to the amp? I usually have Thresh at like halfway, 3/4 tops.

Join date: Jan 2010
140

IQ
remember that some of the noise is created after the loop so you will never probably achieve dead silence.
During rehearsal I am pretty close to the amp. But depending on the show-venue I stand close or far away. Playing small venues I do have feed back but when we play big (like festivals) there's no problem...

I'm gonna give the X-pattern another go. My local guitarshop is gonna lend me another NS-2 so I can experiment with 2 noise gates. Like:

guitar > NS-2 > Maxon > NS-2 > 6505


and


guitar > maxon > NS-2 > 6505
+
6505 FX out > NS-2 > 6505 FX in


If none of these things work I don't really see what else I can try...
i have the 6505+ combo, and like you have an overdrive pedal up front and this was causing feedback issues, despite me using an ns2! i've now got a completely silent rig by doing the following:
guitar > wah > tu2 tuner > mxr wylde overdrive > ROCKTRON HUSH > 6505
6505 effects send > ns2 input > ns2 output > 6505 effects return
ns2 send > boss ge7 > boss chorus ensemble > ns2 return.

doing it this way, uses the rocktron hush to quieten everything up front and control the overdrive and feedback issues, whilst the ns2 kills the amp noise and has the eq and chorus in it's own effects loop on the pedal.
having 2 pedals means i can individually make adjustments to battle either type of noise i may have been getting.
i bagged the rocktron for £30 used as well, so it was a bargain solution to the noise!!
:-)

Join date: Nov 2009
660

IQ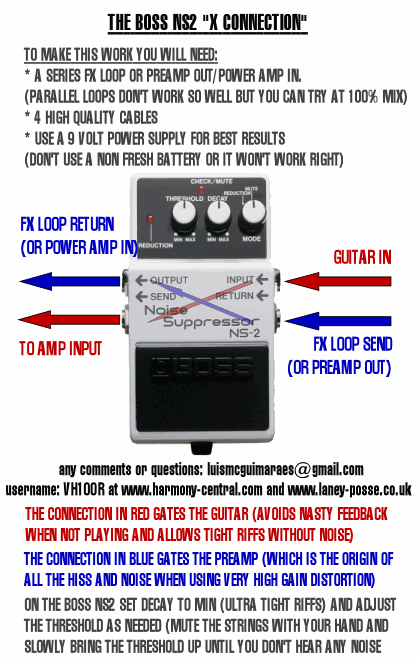 /thread. Make sure to put all of your pedals before the NS-2. (Unless you're running time based effects, those go after.)
awesome guys! thx for the tips! I'll be sure to check it out tomorrow (amp is at rehearsal-place)
thx!