Guitar BUZZ/CRACKING Please help me
I need help, my guitar is buzzing ALOT i cant play over it, The amp is new( vypyr 30) and so is the cable. I think its my guitar because if i move it the amount of buzzing stops or the if i turn on distortion its even worse, im usin a squier bullet. Is there anything i can do to fix this? my guitar is old btw 3 yrs
you have to remove the jack and see if the two wires are still secure.
Last edited by jj1565 at Jun 21, 2011,
I hope i dont fuk somthing up

Join date: Aug 2006
40

IQ
its pretty hard to, this has happened to me a lot. worst case is youll need to buy a new jack ($3 part) and solder it on
The wires are just fine
well, if the cable is good and the wires are secure, then
insert the cable into the jack and make sure it's connecting in the
right way.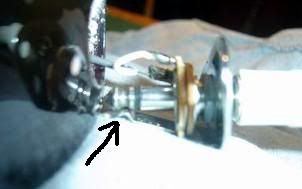 cable goes in just fine, the whole input seems fine. FFFFUUUUUUUU its probably some bullshit with pick ups
ok flick the switch back and forth.
check the individual pups one at a time.

and the integrity of the switch itself.

and it still might be the jack.
a lot of times it's hard to tell if the wires
are on ok.
all pick ups give me buzz just some give me less FFFFUUUUUU I GET NEW AMP AND I CANT FUKIN ENJOY IT
when you touch the bridge or other metal on the guitar, does the buzz lessen?
No it doesn't stop. but if i keep the guitar straight, the neck point straight(horizontal) the buzzing completely stops
keep the guitar straight and wiggle the cable gently. if it makes the same noise then you have located where your problem may be. im willing to bet its the jack.

but....

have you tried a different cable?
Join date: Nov 2008
461

IQ
Sounds like you have a faulty ground wire. Take the plate off the back of the guitar, you'll see some springs attached to a claw, and a wire soldered to that claw, yank on that wire and if it comes out then you have a loose ground.
wen i plug guitar to a tuner and switch to neck or bridge pick up the tuner picks up a Bb note. yes i tried multiple cables, and a diff guitar just to make sure it wasnt the amp. and as for moving cable it the buzz does stop.
check that ground wire and get back to us.
if that is intact and in working order and you are sure all the connections are soldered correctly on the input jack then you may have a bad solder point somewhere in your wire harness. and for a squire bullet it is under the pick guard.

if you are feeling ambitious then take the strings off the fiddle and remove the pick guard screws and have a look. but be careful as the jack will still be connected. also pictures for us might help. if you are worried about breaking something we can help u fix it but remember
1. to learn about your gear some fiddling may be required
2. if you are worried about messing it up that bad take it in to a tech.
3. see step 1
the ground wire is fine. i removed the pick gaurd earlier looked inside everything looked fin, no loose wires and everything seemed to solderd just fine, im starting to think its the pick ups. as for pictures ill see if i can get tomorrow, its getting late now
Last edited by Grimnak27 at Jun 22, 2011,
and you tried opening the rear trem cavity to see if the wire is still connected in there?

if it's a sometime noise, it's most likely a loose wires someplace like said.
Loose ground wire to the bridge sounds like your problem, there should be a slight buzz when you arent touching metal, when you are touching the strings or bridge it should stop, if it doesnt its deffinately a problem with the ground.
There should be a wire to the trem claw, take the cover plate off the back and check.
Honestly, its reallly unlikely its your pickups, pickups dont tend to break unless you've been attacking the coils with a knife or sitting inside a supernova with your guitar. Theyre just magnets and wire.
Check the pickups are still magnetized, if you have a multimeter check the DC resistance reading from them. Theyre probably fine.
Lot of advice already, but this just sounds like a dud cable to me. This happens to every cable i have ever owned eventually.

Also, it IS an instrument cable.. and not a speaker cable right? (i have seen many people that don't realize the difference and buy the wrong one)

A speaker cable is not shielded and will pick up a lot of interference and sound just like you are describing.
Last edited by ToXyN at Jun 22, 2011,