What did I buy?? :)
I assume a Teisco E-110...Paint stripped? Or is it one of the other many brands these guitars were produced under? Any way to determine? No markings anywhere.

Bought it at a Pawn for $100...Neck is great, just needs a new jack.
terrible cellphone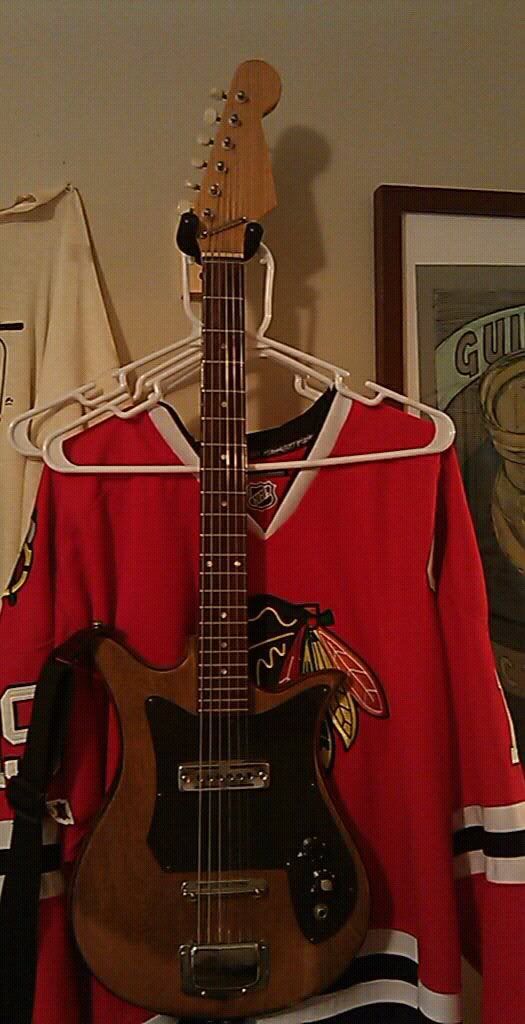 I've seen one of these not too far from here. Actually two of them. What are they exactly? I was going to buy them but I was with my friend and his MILF that day
60's Japanese guitars, kinda twangy...Hook a fuzz to it and it spits fire
It sounds delicious. I need to go buy them

. Maybe I'll have enough money...
I love the Blackhawks jersey.
I love the Blackhawks jersey.

great guitar, very good buy!

Join date: Jan 2011
196

IQ
et 110 or 100, im not sure the difference...

Join date: Jan 2011
196

IQ
actually et means trem, e is without
Last edited by xadioriderx at Jun 25, 2011,
If I hold still I can get it to play for a bit...Sounded just as I expected...cool. Can't wait to put a new jack in it.

Join date: Jul 2007
40

IQ
I have one. E-110 it says on the back plate. Body appears to be plywood though.

Join date: Aug 2008
386

IQ
You got ripped off.
A little true. Ones on my craigslist go for around $80-$90, if not less, but are usually in worse shape.
It is a pretty cool find, and a novelty nonetheless.
You got ripped off.
A few bucks for one that has a straight neck...Not complaining
And I'm not worried about its originality, I'm gonna paint the hell out of it