Soloist build.
The plan
Maple neck through with D shaped profile based on my Brian May replica
Eggle style headstock
Volute on neck
Basswood wings
Ebony fretboard
25.5 inch scale
Extra amazingly high jumbo frets
Dot markers
White with black and gold hardware
Iron Gear Single coil in the neck
Iron Gear Hot Slag in the bridge
Recessed TOM with brass plate for strings
Straight string pull
Enlarged electrics cavity
Strat style input jack on rear of guitar, directly into the electrics cavity
OK, so pictures. The guitar started as a project of mine with a basswood body that was going to go with a bolt on guitar neck.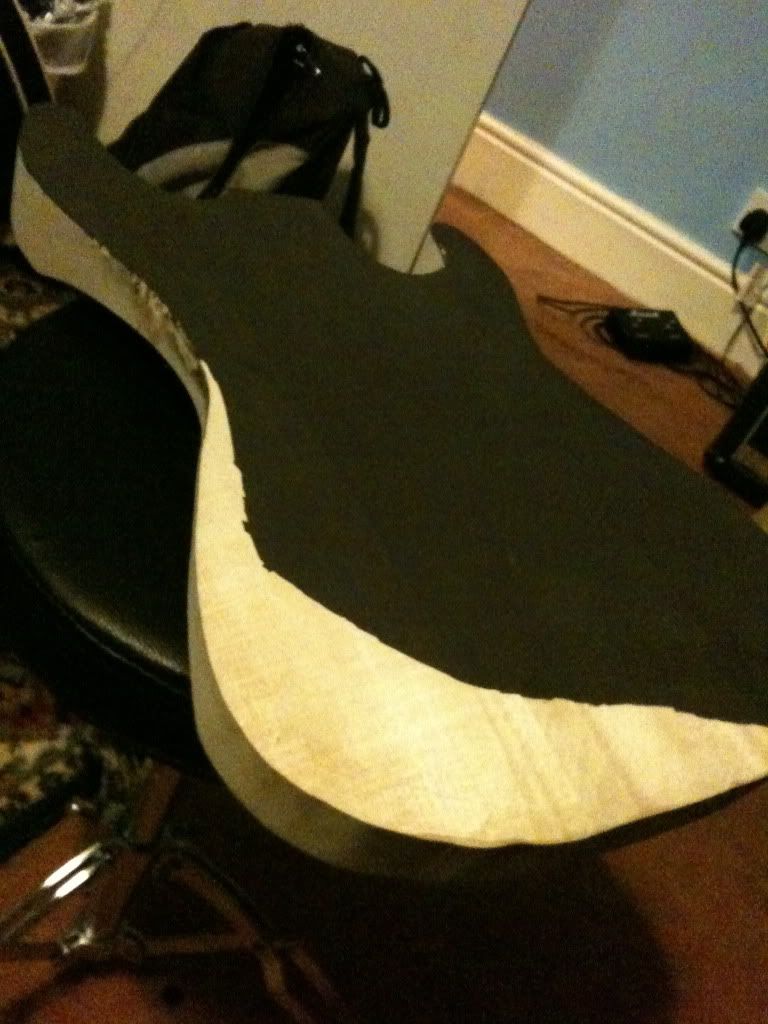 I did the original cutting with a jigsaw and then slimmed the body down with spokeshaves, saws, knives and anything else I could get my hands on at 3 in the morning when I decided I was in the mood for trimming the body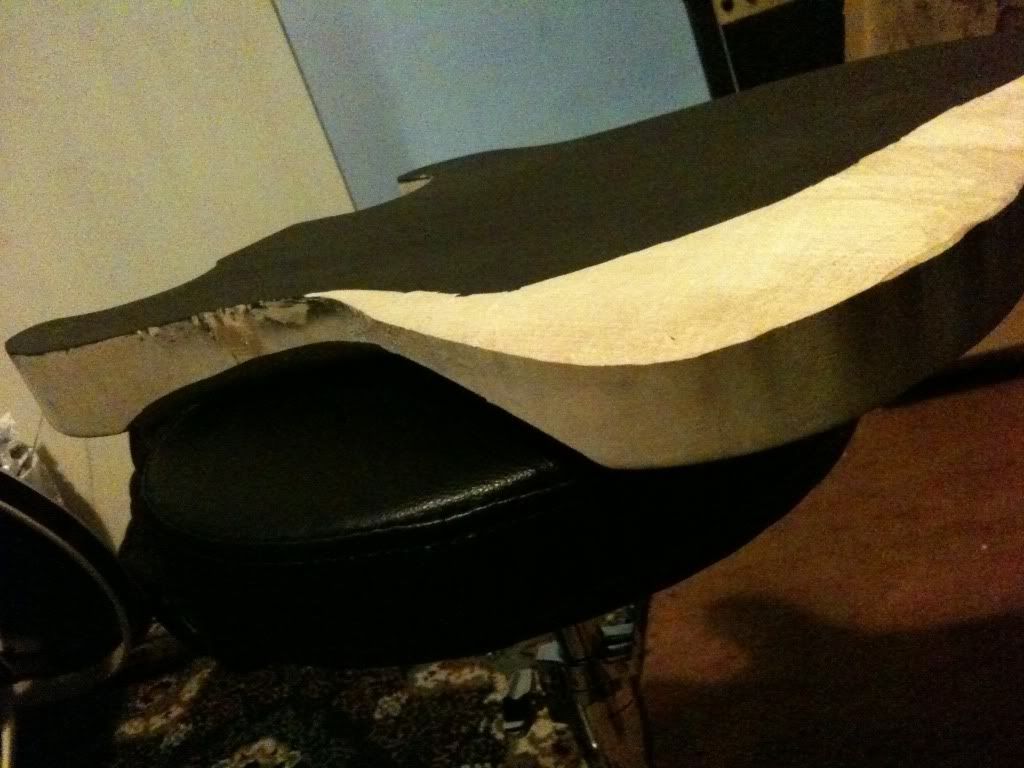 The project then sat in a cupboard for a year when I realised I was really bad at building guitars. I took my guitar to Eastwood luthiers, who cut the centre out of the guitar and used the wings that I had trimmed and made a core of maple for it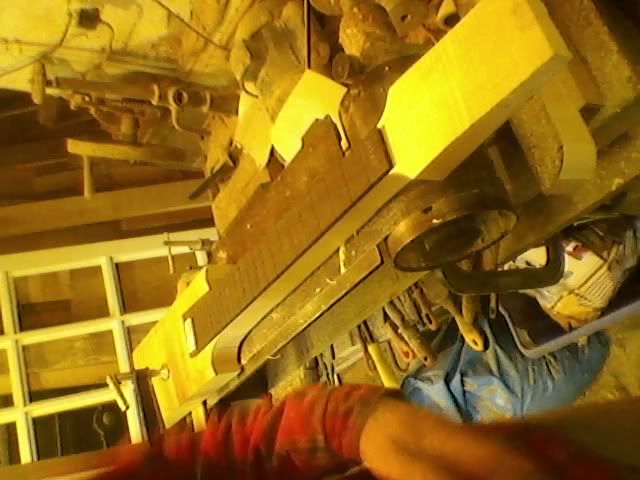 And shaped the headstock
They then finished my carve, attached the body to the neck and routed the truss rod cavity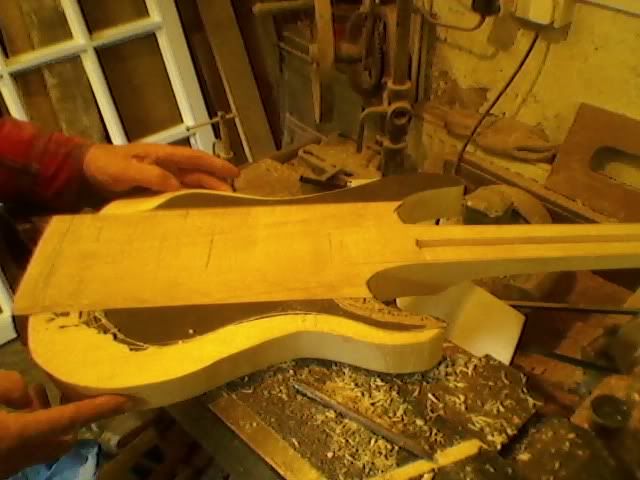 The neck was then rough cut, and things were marked on the body. =D
More pictures to be added soon. This guitar will be finished within the next two weeks. I will also be making a slide show once it's all done, with each stage of the build and some tips and comments from my friend. =D
So when we left our story we were around this sort of stage . . .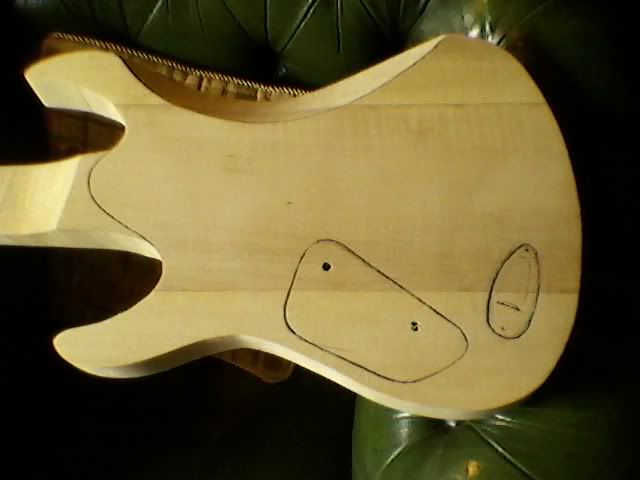 next logical step seems to be the routing so let's get on it!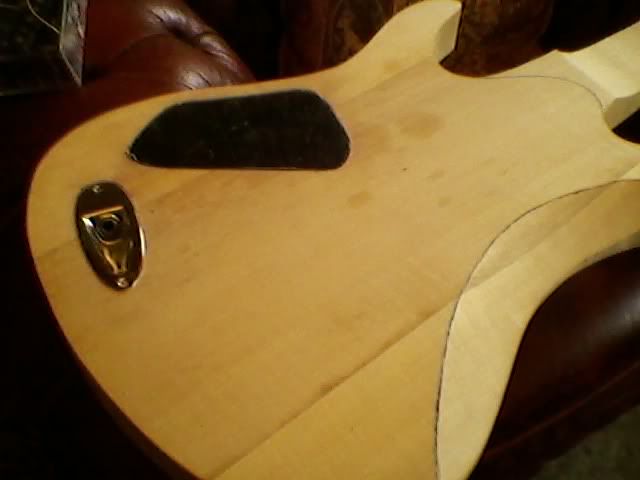 need somewhere to put the pickups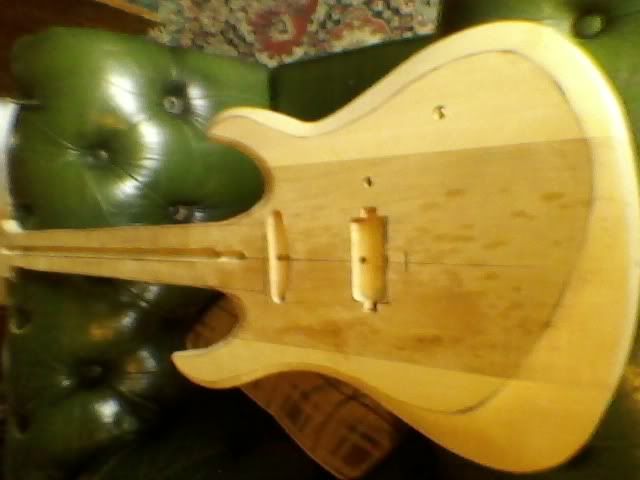 Since we've got an electronics cavity now we might as well drill some holes too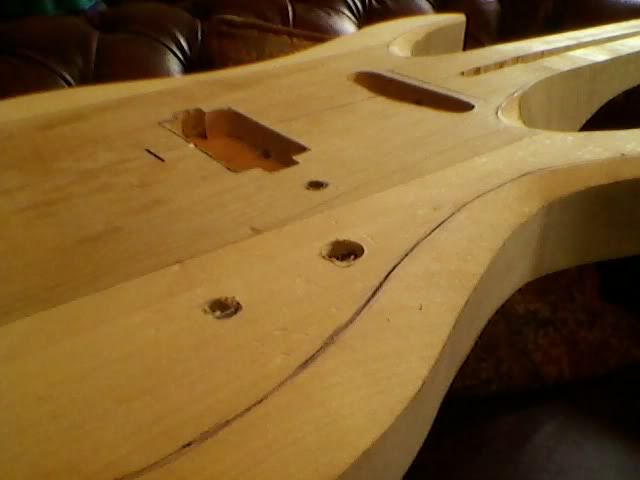 Hmmm . . . Let's tape the neck on and see how it looks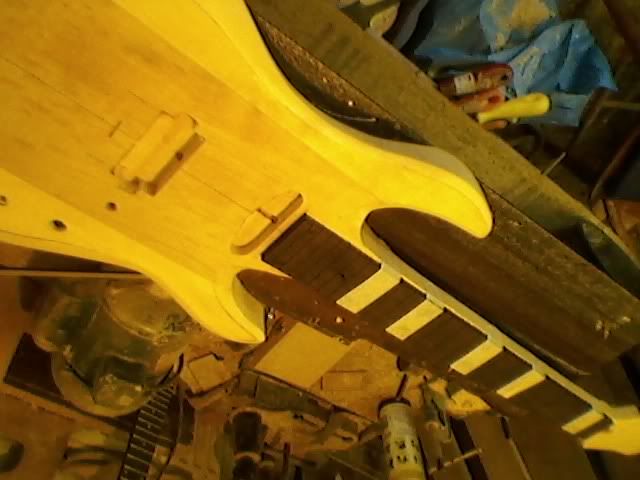 Looks sweet . . . glue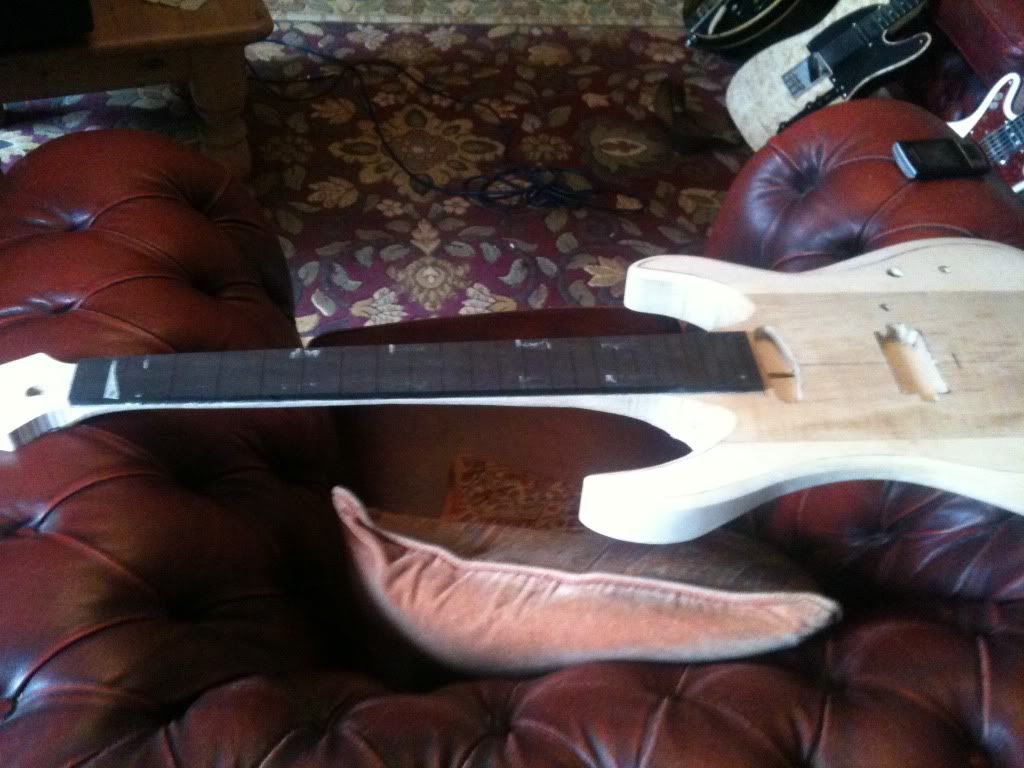 same shot from the other side - the neck has been whittled down a little more, but is still waiting on it's final dimensions, which are thick, but flat in the middle; based on my favourite neck.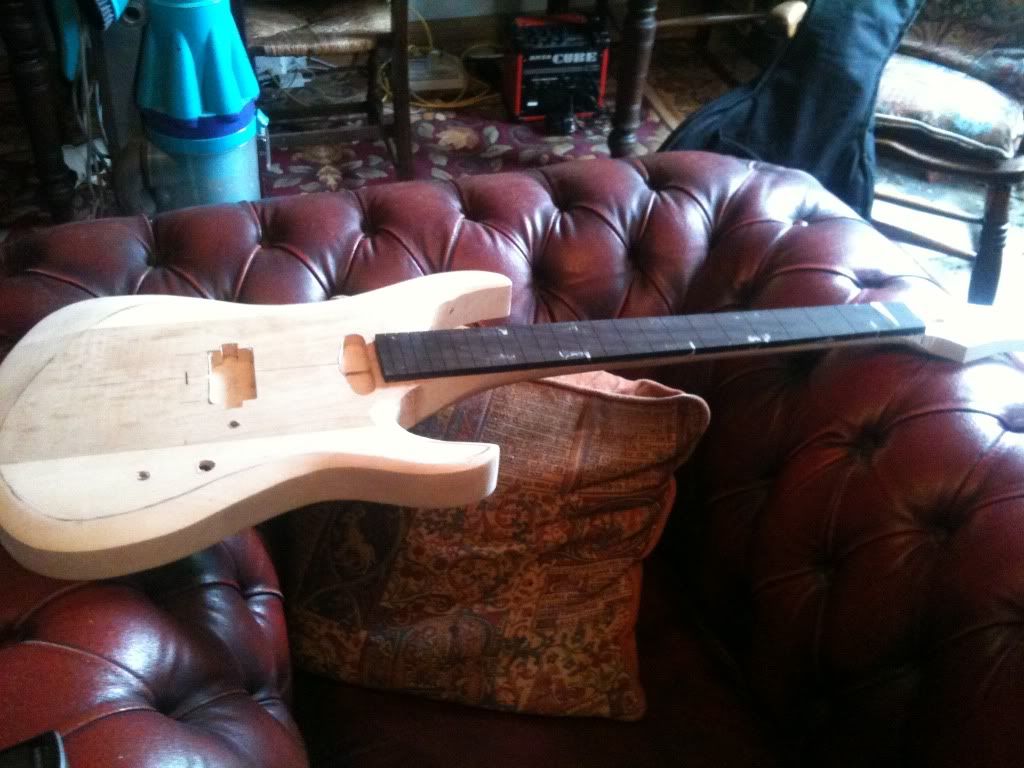 I see a lot of amazing builds on this site with unusual body shapes, woods, paint finishes and switching combinations and in comparison this guitar probably looks fairly boring. The point of this guitar from start to finish though was always to be a bit zen in a way. Simple, but well built with just enough changes to merit a custom rather than a standard guitar with a few mods. It's looking like that's what's coming together so I've been really happy so far =D
More pictures tomorrow.
Dude, I stickied this at the first pic

looks good bro
I'll be watching this one for sure

Okey dokey, time for more updates!
We left the guitar like this . . .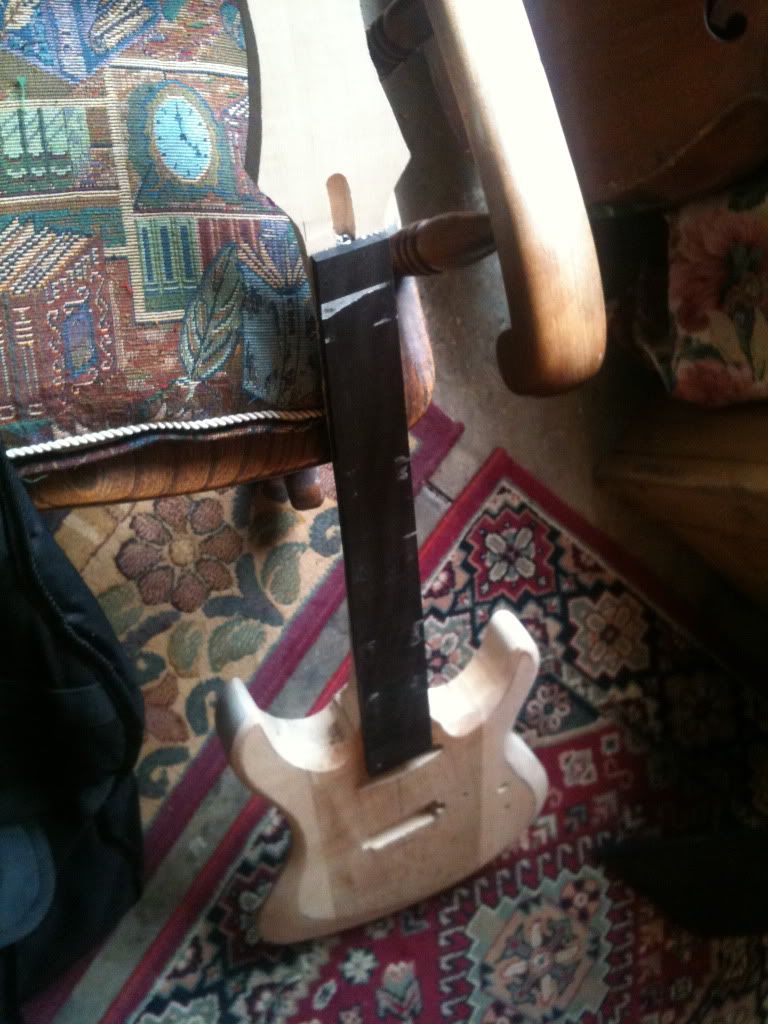 The fretboard was attached, all the routing had been done (we thought) so next we sprayed it silver to look for scratches and then started sanding away!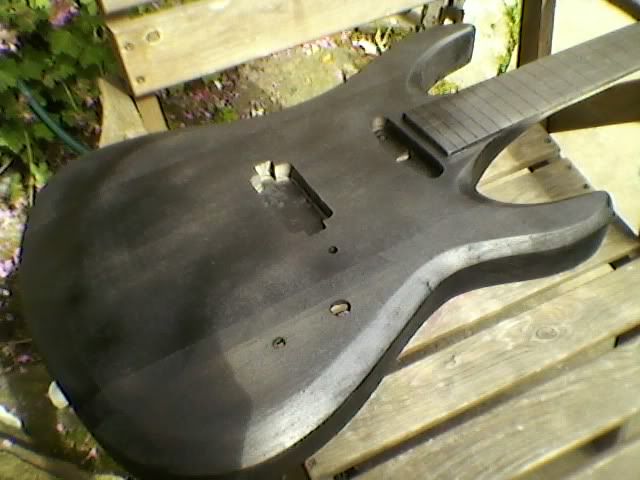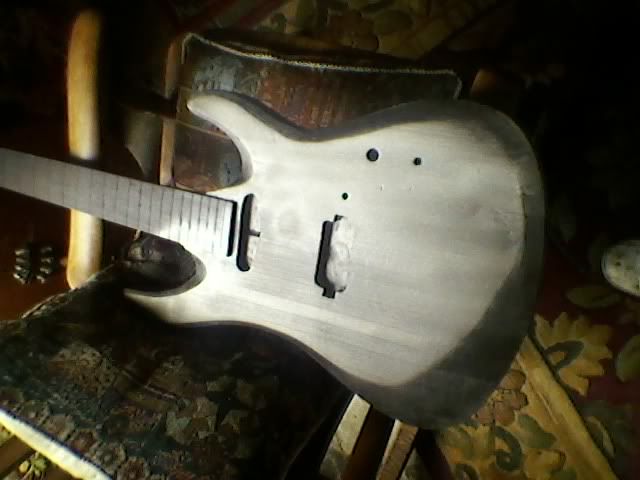 Sanded back and looked pretty good, felt pretty smooth. So we had a look at the bridge . . . might be a little high. So we routed out a channel to recess it into. While we were there, we also fretted her and added some fretmarkers.
Nearly finished now, so we started getting her all prepped. Front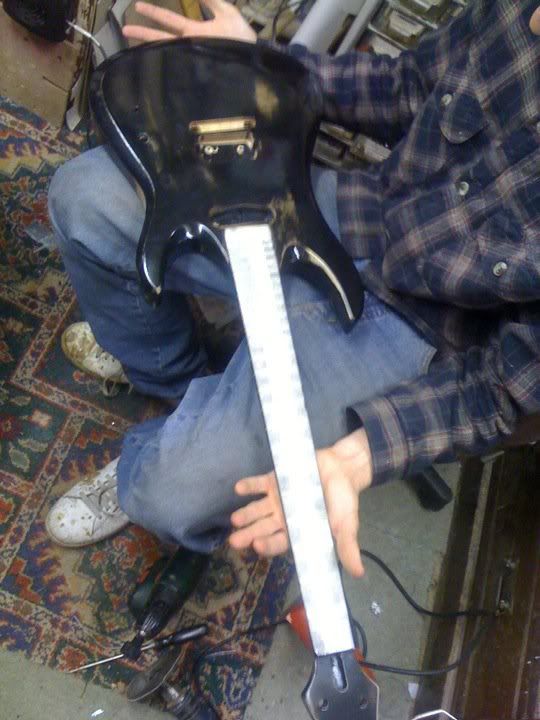 and back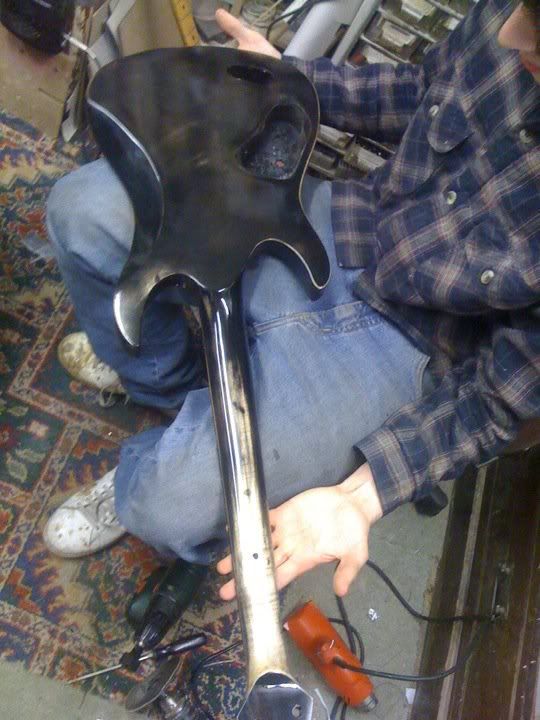 and then sanded back again ready for final spraying. This is the final mock up. Bear in mind, the guitar will actually be white when she is finished.
The carve at the bottom is pretty radically sloped. I like thin bodies and this one has some thickness to it, but because of the sloped sides, it feels thin. The neck feels perfect for me as it's based off my favourite neck, just with higher frets.
The paint has been applied to this guitar, we're just waiting on it setting and being wet sanded so we can put everything on it. The final pictures should be higher quality than the phone pics we've used til now.
EDIT: Forgot to mention that pickups are going to be hardmounted. Not for more sustain or whatever reason people normally give, I just like the clean look. Plus no matter how well you keep a guitar, pickup rings always seem to snap and look terrible.
I've also just realised how bright this guitar will probably be, considering its a very big chunk of maple in the neck and body, its all one piece and the fretboard is ebony. I like bright guitars though so I'm quite happy so far =D
Last edited by CobenBlack at Jul 6, 2011,
Top coat redone for better quality as the first one didn't come out as well as planned. Being redone today and then hopefully have it all strung up soon =D
Gone through the clear coat again. Not happy with it, going to redo the final coat. Should still be finished soon though, just need to spray, cure and then wire =D

beautiful

Join date: Dec 2009
40

IQ
i like!

can't wait to see this one finished!

thanks guys. It's at 90% right now. Really really close, it'd just be a shame to get this far and not do it justice by settling with the finish. Not that I won't have banged it up within a couple of years, but still =D

Pictures and videos await!

Join date: Jun 2007
200

IQ
i love that jack! i might consider doing that haha ive never seen a guitar with that kind of jack placement. sick dude.
Is this guitar based on something? I need this guitar in my life.
Thanks guys =D

This guitar is sort of based on a lot of different ideas that I've collected over the last couple of years. I've always been planning a build and this is the first point at which having the guitar built seemed viable.

The body is sort of inspired by my friends esp horizon, because it's gorgeous. I have deeper cuts on mine though which you can't really see from these pictures, but you'll be able to in the final ones when I take high quality shots.

The pickup config is based on an some older charvels and an esp page hamilton. I always thought the middle pickup was a little bit surplus to requirements. Certainly for me at least. Since I like to keep everything to just stuff that I use, it made sense to cut out the middle pickup =D

As for the rear mounted jack, I can't remember where I saw the idea first. I thought it was an ormsby model, but now I'm not so sure, because I can't find it, but it was certainly another luthier. I think its great because it gives the front a really clean look, and the problem with the side mounted is that I always seem to end up leaning on the cable when I'm sat down. I wanted something either like a vai jack so it was out of the way on the side or the back and we decided the back was more interesting. It's been angled so that the input jack would flow directly over the strap button when playing stood up.

The hardmounting is an idea I got from Van Halen. It's just a simple way to mount, and in keeping with the clean simple look it means I don't need any screws, or pickup rings, which I think a lot of the time just make guitars look a little too 'busy.' I would have gone with a single volume, and no tone control, but I just recently started to find an application for the tone control which I'd previously never really bothered with, so we ended up with that on there.

So yeah, its sort of based on the best things of every guitar I've liked over the years. I've always been looking for cool features to put on a build that I knew was inevitable and this has sort of been it. I promise pictures soon =D It should be no more than a couple of days . . . I hope. We've got this far. =D
Ok, we're about to drop in the electrics and then we'll be getting those final pictures up. Does anyone know how we could wire the 3 way selector so that the middle position goes out of phase? I'm going to make a separate thread for it anyway, but if anyone wants to contribute to the build then you're more than welcome. =D

Originally it was going to be a standard 3 way, but I've just realised how useful my out of phase switches are on my brian may. If I get that then I'll have a really simple guitar, but with lots of useable tonal options for when we go back into the studio.
Sorry, I'm useless at wiring

Join date: Nov 2009
246

IQ
I'm sure you'd just wire the neck pickup backwards on the selector (IE switch the - and + ) Although i could be wrong.
Might try the old peter green mod =D Could be good to have a nice different sound in the middle. I never really use the middle position anyway.

Join date: Oct 2008
222

IQ
I would've put some carbon fiber rods in that neck if I were you, just to provide some extra strength.
Hmmm . . . I've heard a few people mentioning strengthening the neck by various methods, but I'm not overly sure it's going to be necessary. I think a lot of scaremongering is done about 'oh the neck might warp' but it's a thick neck, maple is strong and the fretboard is thick ebony, which is a pretty damn strong wood.

In truth, for all the talk that people do about strengthening necks, I haven't seen many necks that needed something more than a truss rod could sort. My worst worry was the headstock snapping off gibson style =D

All the same, thanks for the advice though man. I hope you'll understand that I hope your wrong though. =D I also checked out your build man - it looks awesome =D I wish I could get pieces of any wood as big as that walnut to make a one piece body. It's sexy as hell too.

Join date: Oct 2008
222

IQ
Haha I understand what you're trying to say man, and thanks! Lots of hard work, but it's slowly coming together - I'll have more pictures this week. And I'm not sure where I got that slab of walnut as my dad got it a couple years back... Just check around your local lumber mills occasionally and maybe you'll stumble upon something really nice!
i did the same jack mounting in my build in my sig. i saw it on some site too.. but cant remember either!
i dont play with a strap often so it wasnt really that useful, but i figured id do something a little different =D
anyways, its looking good!

as for the out of phase thing. you will have to install them, and you have a 50-50 chance of it being in or out of phase lol. if its in phase, switch the wires on your single coil. the single coil will sound the same then, but will be out of phase with the humbucker, simple as that
Last edited by xadioriderx at Jul 11, 2011,
Haha, I'll work it out sooner or later. Pretty sure it was a fairly easy to ind site.

I will definitely have to try and do an out of phase thing though. It's got a great sound to it on my Brian may =]

Join date: Feb 2009
30

IQ
i found where i got the idea for mine:

http://www.iguitar.com/iguitar/iguitar.asp

brian moore guitars. you kept talking about your brian may and i was like DANGIT isnt that the one?! knew it was brian something
We should Hijack this thread and talk about golf

/kindofinsidejoke
On topic: this build has some potential, can't wait to see it finished.
We should Hijack this thread and talk about golf

/kindofinsidejoke

On topic: this build has some potential, can't wait to see it finished.
yeah the other day i was out playing 9, and i hit into this bunker, and...

i was a little skeptical when i got to the "i started hacking at it with a knife" part, but that changed rapidly =p
Yeah that's it!

The hack and slash thing usually works out eventually though. Just means you take the long route, unless your friend and his dad are luthiers =] it helps =]

Edit: I have just realised I've been promising finished pictures for the last couple of days. The final day was meant to be today, but there have been even more issues with the 2 pack. Just minor ones; when removing the masking tape there was a bit of a ridge. That's being sorted and then hopefully . . . Hopefully nothing more will go wrong and we'll be all strung up very very soon. Unfortunately if it's not done by Thursday morning then I'll have to wait a couple of weeks because I'm heading away and its in the care of my friend.

I really hope it's done. =] I have a gig on Saturday and I really wanna use it for that.
Last edited by CobenBlack at Jul 12, 2011,
i call bs, you didnt make a guitar

Damn it! He's realised it's a sponge cake in all the other pictures . . . Emmmm . . .
Ok this is finally finished. Theres a NGD thread for it, but for anyone following this who doesn't follow NGD's I figured I better update. There were some big issues painting which meant this took . . . a lot longer than planned. =D But she's done now =D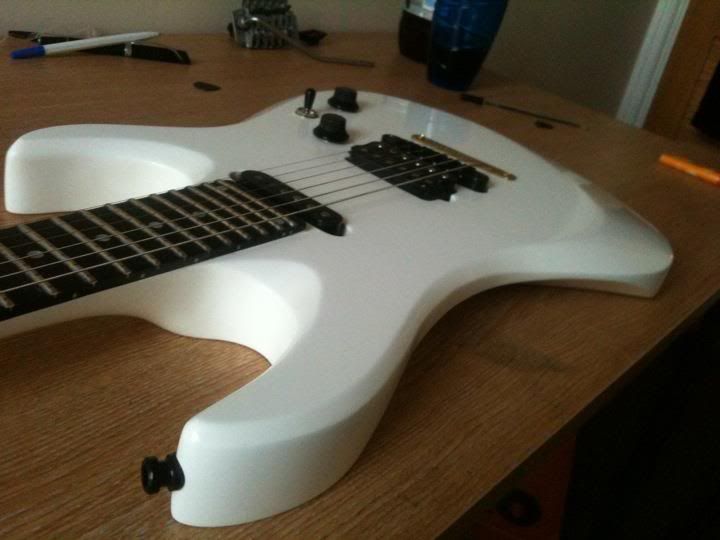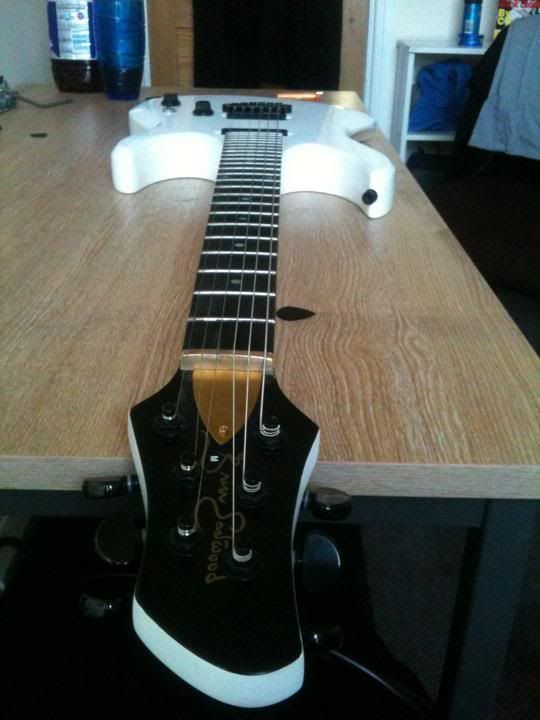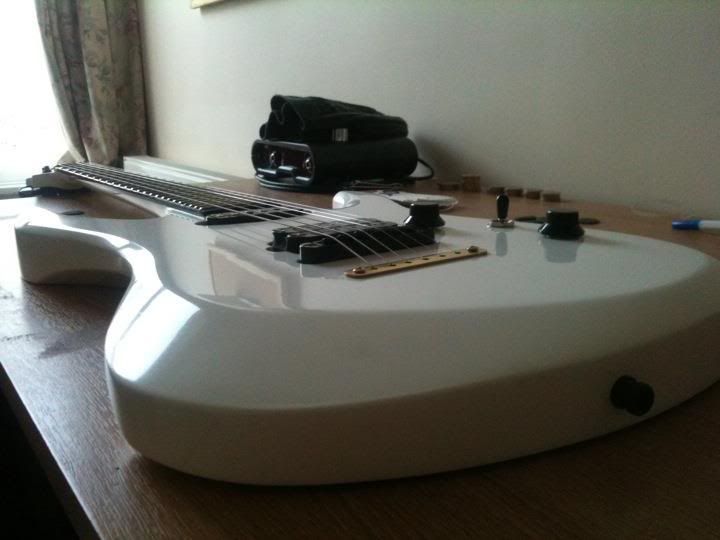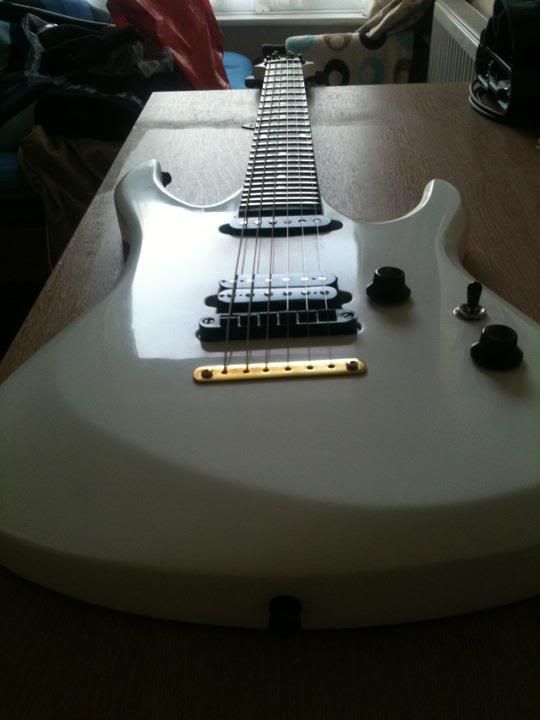 a group shot!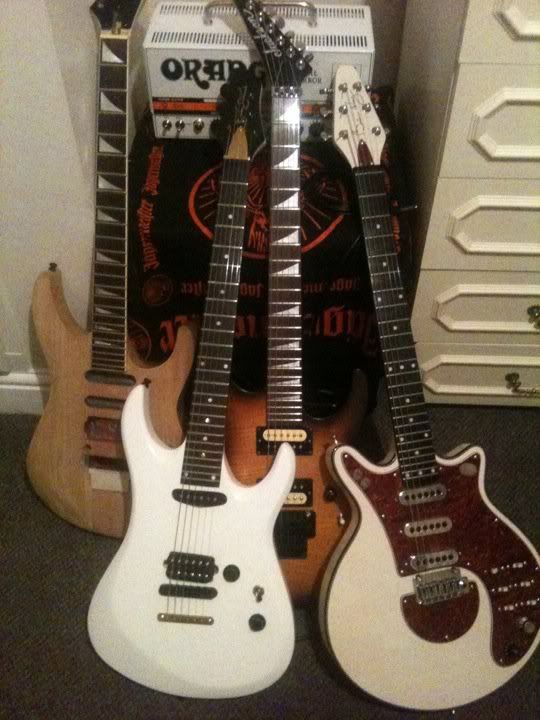 i gotta ask, how did you do your headstock? is it a decal? doesnt look inlayed, but it looks really good!
Decal. Originally the headstock was white, but the decal showed up too much so the colour was changed to black. Made it blend in very nicely and you can't see any lines or anything. =D
how did you make it? im gonna have to do mine that way =D
Join date: Jul 2011
10

IQ
ohh yeah ive seen those. didnt realize they could look that good! unfortunately my headstock is going to be white =/ i may have to rethink it some and to white and black so i have black to put the decal on. thanks!
Join date: Jul 2011
10

IQ
never had a problem using a waterslide on a white head... just make sure all air bubbles are squeezed out and the decal is dry before clear coating.
Yeah, it's not to say it doesn't work on white. We just had some problems that it looked like a decal when it was on a white background and when it was on a black background it worked better. =D
does that jack plate feel uncomfortable where it is?
does that jack plate feel uncomfortable where it is?
he and i both about the same time decided to mount them there. on mine at least its far enough over you dont even notice it. and its nice and hidden. i dont play standing up enough to really utilize it, but no its not uncomfortable at all! perfect for wrapping over the strap pin
Agreed. It's not uncomfortable at all. Even when sitting down there is a large section of the guitar that doesn't lie flat against your body. Takes some getting used to finding it, but it works just fine =]