DoTM July: Ray Luzier - A real live drummer
(English is my second language. Please bear with me)
I'm really sorry for the lateness. I apologize.
Now, before you read on, I must warn you that this article is oriented differently than the preview DoTM threads.
For this month, I chose to present one of my favourite drummers. While I do recognize the importance of technichalitie on your music, personally I think that how you play doesn't cut it at the moment of playing live. That's why I always think so good of musicians (specially drummers) who make a good show. If you just play the song you have recorded, it's not a show. It's a playback. People go to shows to hear AND see their musicians. Let's give them something good to watch.
Enter Ray Luzier.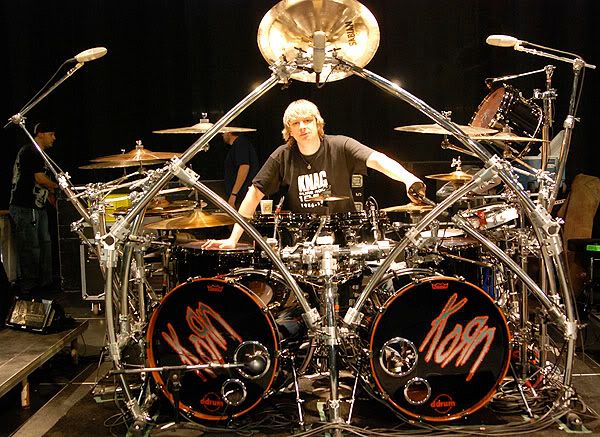 Yes, I know many people bash Korn up and down, but this is my article. Suck it. If it does any good to you, this fella played with David Lee Roth. Carry on!
Playing since he's five (now 41) this guy has his fair share of experience. Ranging from Jazz to marching-band's, he fits. He has a very precious skill to every drummer: adaptation capacity. Changing his drumset periodically to fit the musicians he plays with, it's weird to see him use the same one twice. And he doesn't overkill with the set.
Allegedly, when Korn was looking for a new drummer, Ray flew to Seattle and learnt 30 of their songs (he was requested to learn 5) and he obviously got the audition. His first clinic as the official Korn drummer can be found here:
(I apologize for the quality. I know it's not the best.)
http://www.youtube.com/watch?v=yufohNAD4dU
Mixing songs and playing with enormous dexterity, this guy mixes the visuals and the sound impecable. His blastbeats are ridicously good, and he also has the "badass attitude" every drummer should have. You are the star on the stage, act like it.
On the video you can appreciate some really good technique and open-handed playing, showing that speed is not a requirement. Still, his intro and outro solo are quite good, showing creativity out of the pocket.
Now, on this second video, he goes for a full studio solo, showing almost liquid fluidness, with some really cool movements. This is just insane.
(Same goes for the quality)
http://www.youtube.com/watch?v=CAi3pjAQPvY
I would like to close this article by asking you guys what are your little tricks when playing live. Movements? Chops? Stick flipping?
I'm sorry if this isn't a good article, but this is it. This is my article.
Thanks to all for your time.
Comments?
This dude is an awesome drummer, really versatile, good chops and awesome to watch as well. Can't say I'm a Korn fan at all, met him at a clinic though, such a nice guy.
That's true. I've never met him and I probably never will. But his clinic video shows him off as one of the nicest guys on earth.

What did you think of my article?
I saw Ray a couple of years ago at the Sabian APX tour in Sacramento. Got a chance to talk to him for a few minutes and he seemed like a nice guy. Nothing jaw dropping in his playing, but definitly a solid player with all of the required chops. Good choice for DoTM, and good job on the post.
Didn't really know about this guy until I saw Korn playing live in a cropcircle for their album release not so long ago. I was digging his kit, it's nice and artistic and it just seems to have some sort of flow about it.
Thanks for the article man, it was a good read