NGD (sort of): Peavey Axcelerator (Who still has 56k?)
Picked this up in a trade for an Epiphone Les Paul. Apparently it's an early 80's model, made in USA.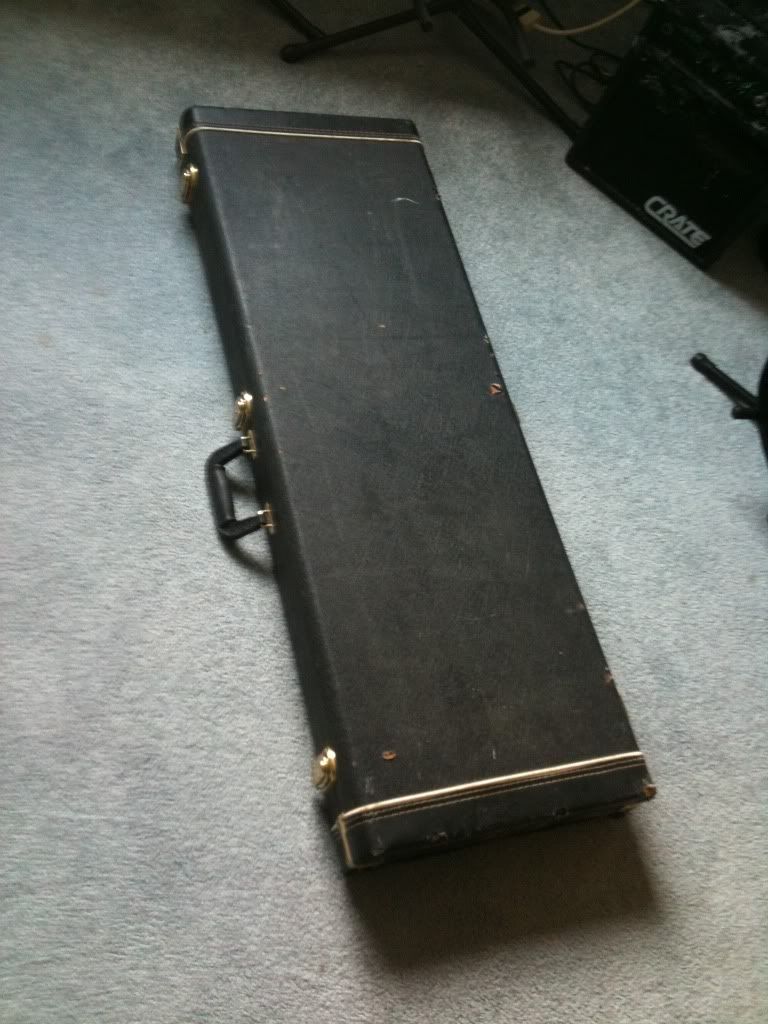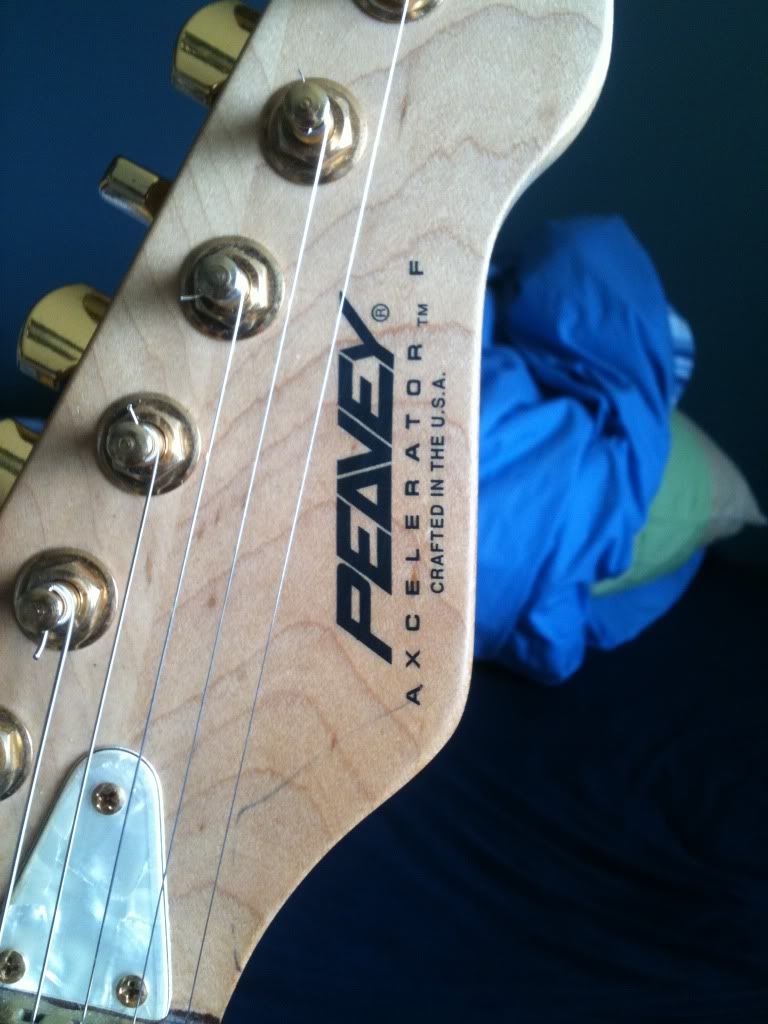 It has some sort of weird switch on it with the knobs, and it seems to change the tone in some way. In certain pickup positions in mutes them, in others it muffles them and boosts others. It doesn't really make sense.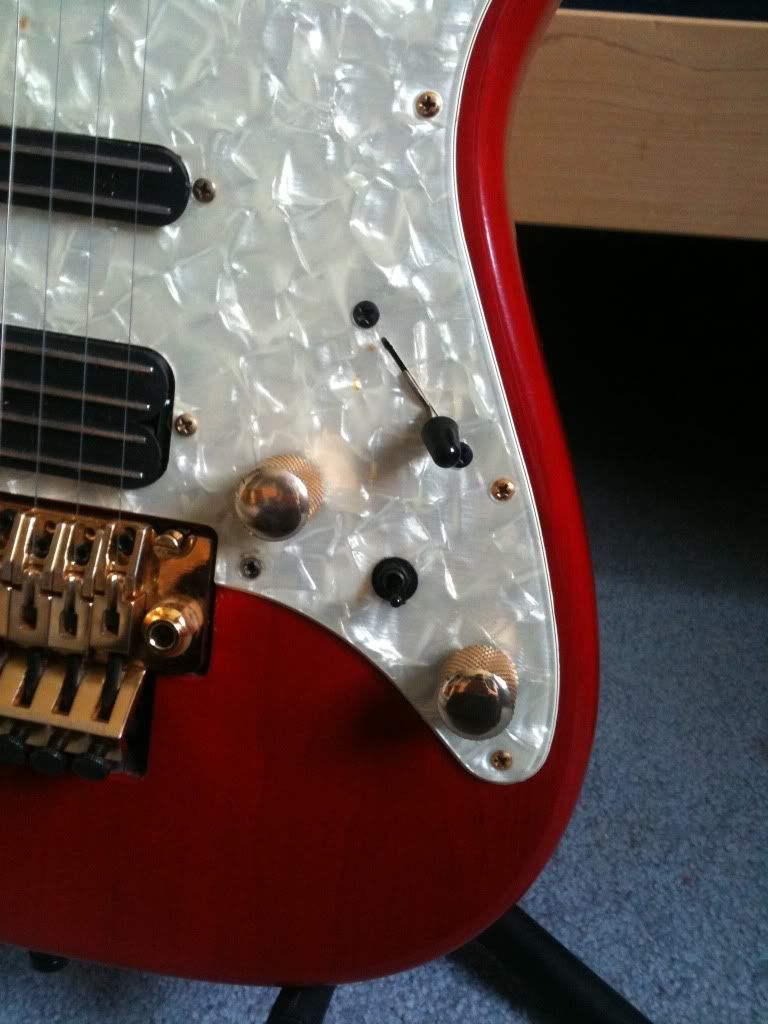 Kitty approved.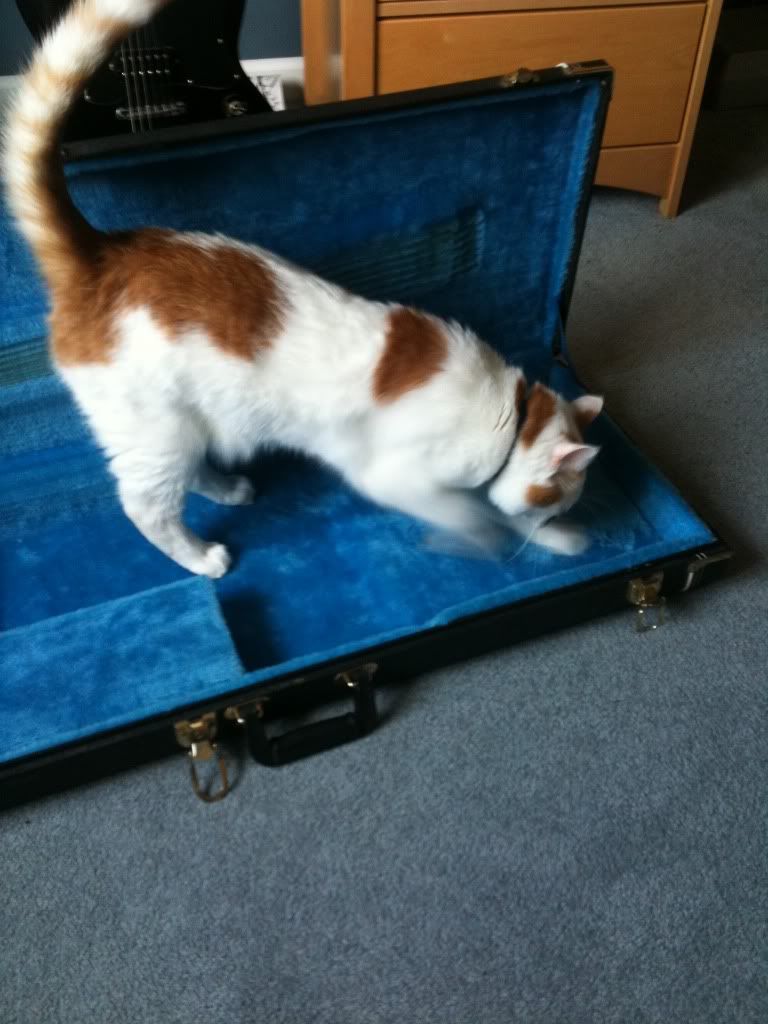 Tone-wise, I'm not sure if I like it. My main guitar is a strat, and this seems to lend itself to more metal type music. It does sound great with distortion though.
Sorry for the margin rape. Taken on my iPhone.

Join date: Feb 2009
30

IQ
HNGD! I don't really see many Peavey guitars anymore, other than some Lap-Steel deals and the whole Wolfgang thing.
HNGD! Secy guitar. That switch could be a coil split switch if it only works in the bridge position.
that looks AMAZING!
is that a double humbucker in the bridge?
Join date: Jan 2011
30

IQ
I'm really liking the way that looks. How does the neck on it feel?
Cool. You don't see the old USA peavey guitars that often. I wish I could find one for cheap at a pawn shop. I swear, if Peavey started making those things again, they'd make a killing, if they are made in the USA. I have to wonder why the only USA made guitars you see nowadays for under $800 are Gibsons. Is it really that damn expensive to make guitars in this country?! I mean, I understand from a business stand point, it's cheaper to make them in Korea and whatnot, so they can sell them cheaper, but c'mon, American guitars built with pride and sold for a competative price will surely have a good standing in the market.

Idk, I'm going to get my certification and build guitars for that market and see how that goes.
larson8er, I'm not sure but I think it's a regular humbucker.

CowpokeFromHell, the neck is just like my strat, which I like a lot. So I guess it depends of you like that style of neck.
If its not a coil split switch, it might be a reverse phase. Any chance you could take a picture of the wiring? Odds are we cant see enough to really tell. If I was doing a reverse phase on that pickup configuration, (carelessly assuming a standard config on the blade switch) I'd reverse the middle pickup. If its a phase switch, it will do nothing when only one pickup is selected.
Is it really that damn expensive to make guitars in this country?
Yes.
looks pretty cool to me.
mess with the switch with the guitar/amp set clean, it should be pretty apparent what it's doing.

well you stole that from him. USA vs asian...USA pretty much wins every time with guitars. seems like a nice guitar. very snazzy.

you rprobbly dont like the sound because it has hot rails, whicher arehigher output humbuckers (even the single coils...which are double stacked humbuckers) and the bridge is a doubel hot rail kinda setup. thats probably very high output. generally pickups like that have ceramic magnets which also change the sound.

i believe it is a coil tap switch, however, i think whatever brand of pickup you have might might have a 4 connector lead. this might be a custom modification. i think instead of tapping a coil, it mas installed to shut off 1 pickup on the bridge position. all other single positions it just shuts off the pickup.

if i am correct:

neck = on = humbucker, off = mute
middle = on = humbucker, off = mute
bridge = on = double humbucker for 2x output, off = 1 humbucker

try that. so does it mute the neck and middle pickup, and on the bridge it goes from normal volume to a bit louder (doubling the output)?
The switch has 3 positions. When I can play it through an amp I'll test that out though.

Join date: Aug 2008
386

IQ
Nice Motherbucker. You could get around $100 for that pickup alone. I'm not totally sure what Peavey used, but the Kent Armstrong ones have 27.5k output. I wouldn't doubt that pickup to be somewhere around there. Take it out and see if has Kent Armstrong on the bottom. That's a sick looking guitar.

HNGD!
Last edited by r0ckth3d34n at Jul 11, 2011,
Join date: Jan 2011
260

IQ
Whoa, that's a sweet guitar. Lol and the cat picture made me laugh

HNGD!