Upgraded Flying V, Take 2!
Guitar: 2003 Gibson Flying V, factory moon inlays and ebony fretboard
***To see the interesting story behind the acquisition of this guitar for $5, check out the original thread
https://www.ultimate-guitar.com/forum/showthread.php?t=1048616
***
I finally finished the upgrades to my Flying V. It started out completely stock when I got it and I was never quite satisfied with how it looked and sounded. I modded the factory wiring for the 50's style wiring and added independent volume controls for the middle position, but you can't see this in pictures. Except for the neck pickup I added, here's the the guitar stock.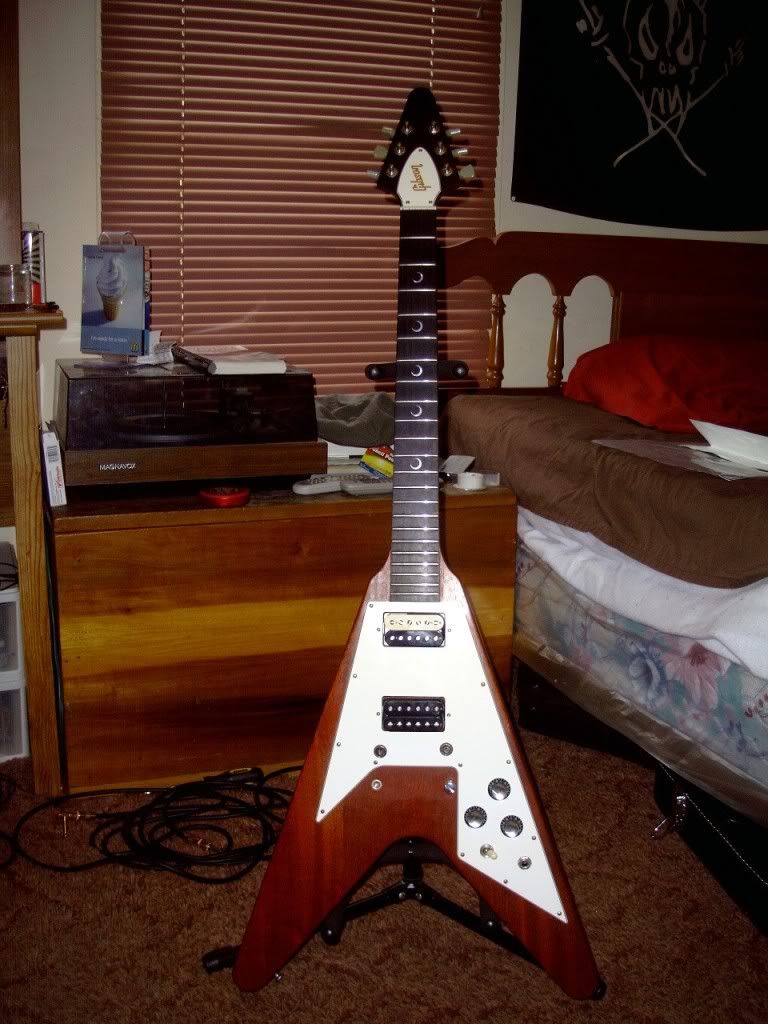 Then I replaced the white pickguard with a black/white/black one.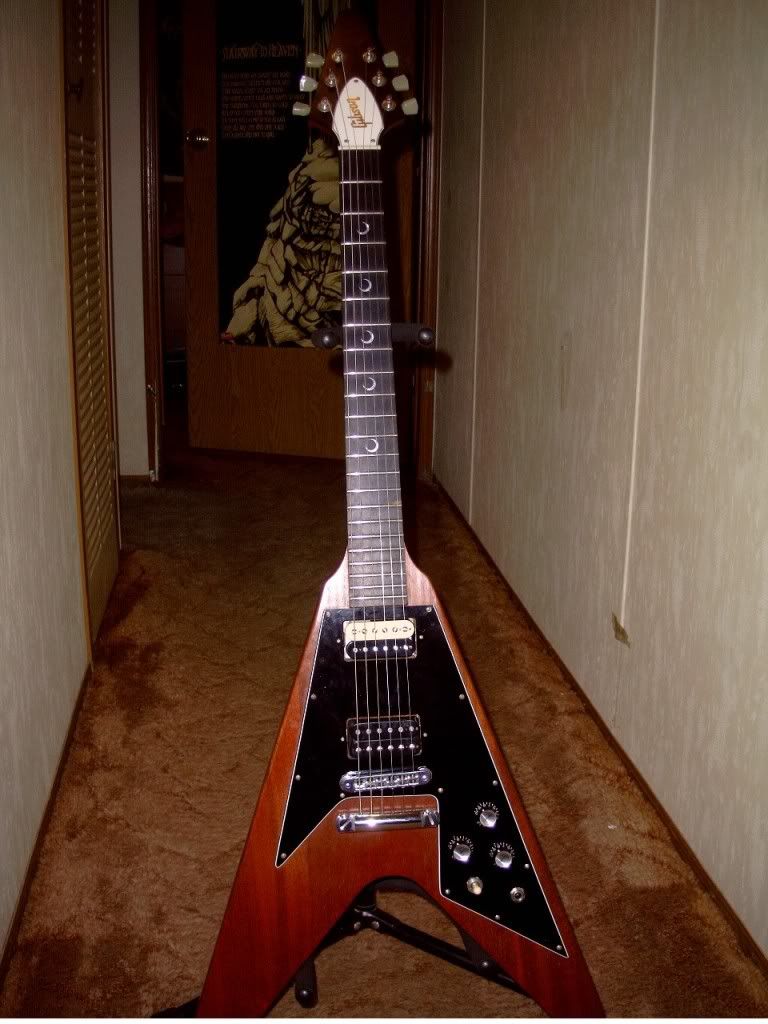 This is how it looks now, I replaced the mediocre Gibson Deluxe tuners for Grover 18:1's, replaced the truss rod cover with a black/chrome logo one.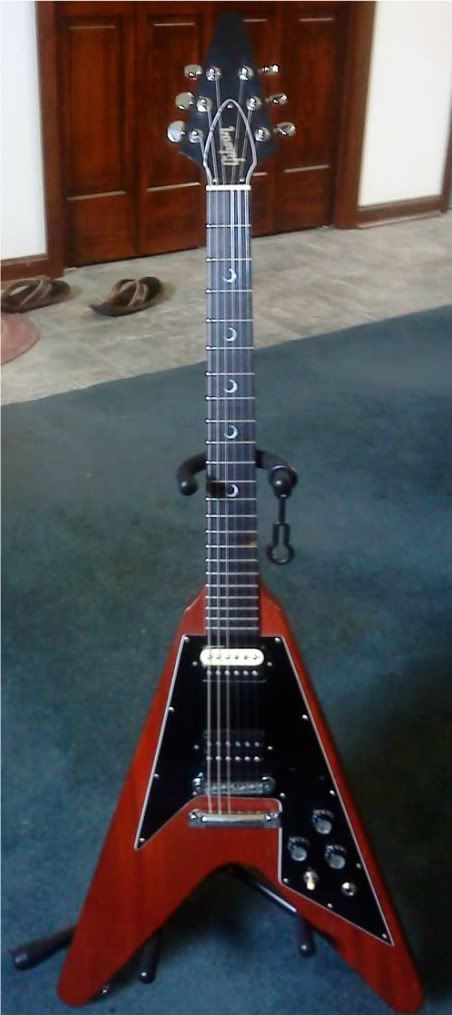 Here's the original headstock...
And the way I have it now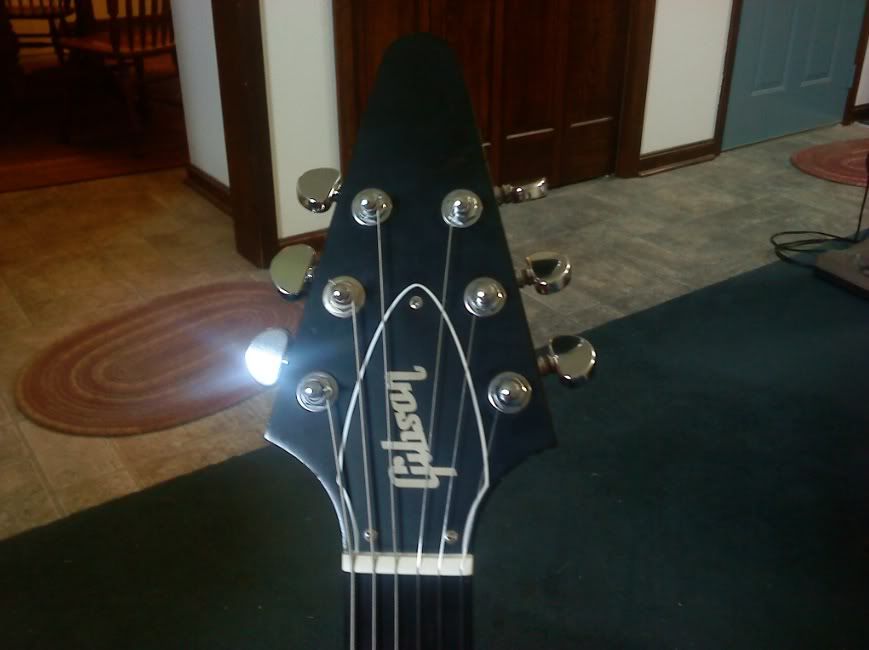 Cool shot of the moon inlays
Oh, I forgot to mention the position indicators I added

Here's the upgrades summary:
-Black/white/black pickguard and truss rod cover
-Seymour Duncan '59 Zebra-Coil in the neck
-Grover 18:1 Chrome Rotomatics
-Chrome Position Indicators
-50's style wiring with independent volume controls
Last edited by Flux'D at Jul 12, 2011,

Join date: Oct 2010
70

IQ
that's AMAZING. great work there! the black pickguard matches the color of the wood perfectly. congrats on that beautiful guitar


Join date: Sep 2007
61

IQ
Sweet guitar man! And that story was really interesting on how you got it! Keep it, honour the original owner...

Join date: Oct 2007
450

IQ
Nicely done! My builds/customs never work out that way...
I think I already told you how in love I am with your V. xD Cheers!
I'm thinking I should've gotten nickel tuners instead of chrome, but either way it was an improvement over the original green ones. I can't imagine anything else I'd want to do to this guitar, I'm completely in love with it as it sits