My amp..fml
I have had my Line 6 Spider lV 75w amp for a month or less. I just realized about 2 weeks ago that there is a huge crack on the upper right side of it..I have no idea where it came from...I haven't banged it around or anything....and now the inside where the side and front come together is tearing apart. I got the amp off of musicians friend, but I didn't get a warranty on it. I probably should have, but didn't..I am afraid that this amp won't last me much longer without some sort of repair. Has anyone ever had this happen to them? Is it fixable? How much would it cost to get fixed?
Last edited by ishredwithnubs at Jul 13, 2011,

Join date: Jun 2008
220

IQ
Is it on the wooden paneling of the amp?
If it's tolex damage, relax, it's an easy fix.

If it's panel damage, panic.
Panel damage in both spots for sure...

Here are 3 photos of the damage.
Side damage
Inner right corner damage
Inner left corner damage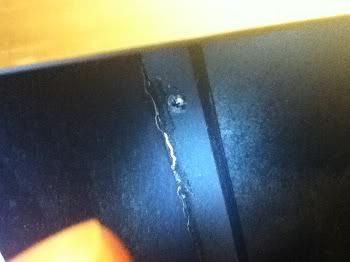 Is it safe to keep using it, even when it is damaged like that?
What you really need is a new amp.


Ok now that that's out of the way...
Remove back panel.
put a little wood glue and some pieces of wood in there that covers the cracks.
Quick and ugly fix maybe, but it may work for you.
I pretty much just got this amp brand new, and a couple days ago. I bought a new Ibanez RG4EXQM1. So I don't have the money for a whole new amp. I don't have the glue for fixing it either..

Just panic, should solve everything.

But really, im not too sure.
lmfao to that post..I'm not much in a state of panic. More of a confused state. But I still reside to my previous question about using it with the damage. Also, if I took it to a music shop. Would they be able to repair it. Or is the damage unrepairable and I should just start saving up for a new amp, then start to panic?
Contact MF see if they'll refund you? No way an amp should fall apart like that in a month.
I did, they won't because there is no warranty on it....and I really can't understand why it is falling apart either. The only thing I can think of is when I had it shipped to me the day that the UPS truck came. The guy had the amp and went to deliver it to the house next to me..idk how he had the address wrong..and when he took the box back on the truck with him..I heard a loud as bang as though something dropped..I ended up having to go to a store to get it.

Join date: Nov 2009
640

IQ
I don't get it. Just looks like the tolex is ripped to me.
That's shitty, don't they have a 28 day return thing?
The tolex is ripped, but on the side of the amp. The panel is cracked. It has been more than 28 days