NGD! Been bitten by the tele bug, wow!
So, yesterday a me and the girlfriend decided to check out the Best Buy that recently opened, I read that they had a huge musical instrument section so I was looking forward to it.
Upon arriving, I was rather disappointed. Only crappy line 6 spider amps, marshall mg halfstacks, and fender frontmans, low end deans, boss pedals, and fender guitars. Really disappointing. There was a super champ XD, a fender champion 600 and a mustang though.
I didn't plan on buying anything, but lately I've been itching for a tele, I can't get over the shape, but there is a certain attraction that they have, especially in natural or butterscotch.
Then in the corner of my eye, I see this.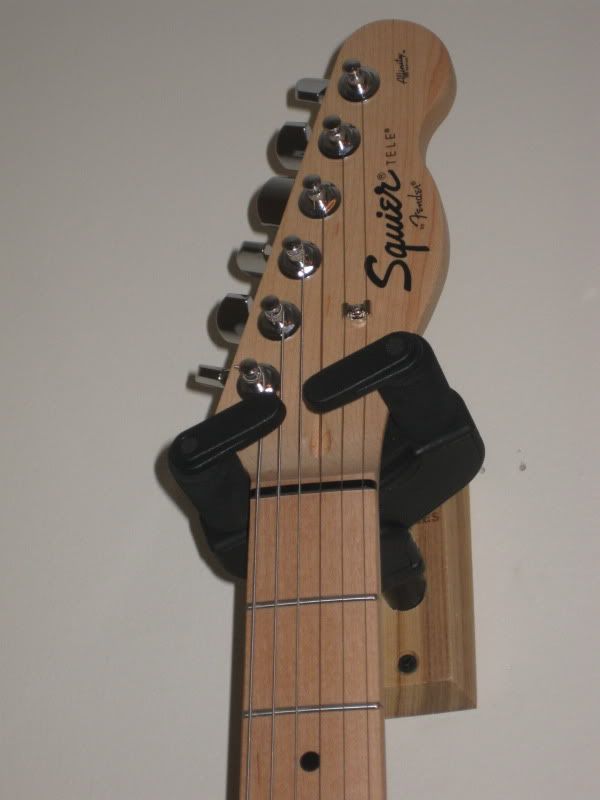 A squier affinty tele. I fell in love as soon as I saw it. I just hoped it played well and stayed in tune. So I picked it up, plugged into a fender champion 600, which sounded great btw.
It blew me away. Low action, little buzz, held tune well, and look astonishing. All for only 179. Sounded nice as well. I was not leaving the store without it. I compared it to a MIM tele next to it, the squier played better, but the pickups in the MIM were more alive. Still, I much preferred the squier.
I used to hate teles, but wow, this is one of my favorite guitars. I highly recommend at least trying one out before rulling it out because its a squier. I'm a believer.
Clips to come.

Join date: Jan 2010
170

IQ
Very nice Tele love the color.
occasionally you do come across a squier that's got a lot of character and is a real joy to play. congrats on finding one of those

HNGD


Join date: Nov 2008
491

IQ
Congrats on the Squier, they are a very under rated guitars if you can find the gems out there, they are few and far, but are out there.
Throw in some nice pickups and you got a beast of a guitar.
Happy NGD

That's a really nice wall stand. What's it called?


Anyway, HNGD!
That's a really nice wall stand. What's it called?


Anyway, HNGD!
Its a hercules guitar stand. They cost like 12.99 at best buy I think. On the more expensive side they cost 19.99 at local mom and pop stores. Yes they are wonderful stands, they close when you put the guitar on it.
Yeah thats great and all, but why are they so cheap? 0_O

Join date: Apr 2011
840

IQ
HNGD! Yeah, I know what you mean about Tele bug. I got it a few months ago and have been wanting one since. I got one the day before yesterday. I really don't like the standard Tele look though. Too industrial looking I think. Mine's a Jim Adkin's signature in natural. I won't post a pic cuz this is your thread. Nice guitar then!
I guess because they are inexpensive to make lol. Best guitar stand for the wall I've ever found.
JoePerry4life
, congrats!

Yeah thats great and all, but why are they so cheap? 0_O
Squier Affinity Teles and/or Strats are stealth weapons. Used, they're even more inexpensive. If you meant the Hercules, they're nicely-priced, too, and are pretty solid. I use their individual guitar stands for oddly-shaped guitars like Explorers.

Join date: Jun 2009
300

IQ
HNGD!
I used to find teles ugly as f
u
ck but once you get used to the look they are quite beautiful

congrats

Join date: Sep 2009
170

IQ
this isn't helping with my tele bug at all. hngd

Join date: Oct 2010
80

IQ
Tele bug strikes again. I currently have it bad and have roughly the same story with the opposite outcome. Went out with £500 Tele hunting with the classic 50's Fender in mind. Got to.the shop and spotted the Squier Classic Vibe in sunburst with the white edging (jaw hit floor, tongue unrolled cartoon style) played awful, fret buzz, sticky neck, I was gutted.

Join date: May 2008
90

IQ
HNGD

and to comment on your Best Buy's music gear selection, just wait a little bit for the rest of the good shipment to come in, cause the one near me had the same stuff, except now they actually sell high end Gibsons and Fenders, Schecters, the have a Peavey 6505+, a Vox AC-15, a Bogner Alchemist head... don't worry, it'll get better.
The tele bug seems to be going around at the moment, a few users (myself included) seem to have acquired one in the last week or so.

Happy New Guitar Day!!