NRD!(Blue Content)
So, many of you thought you'd see a Fender Blues Jr or something or other. But it's not. Definitely not.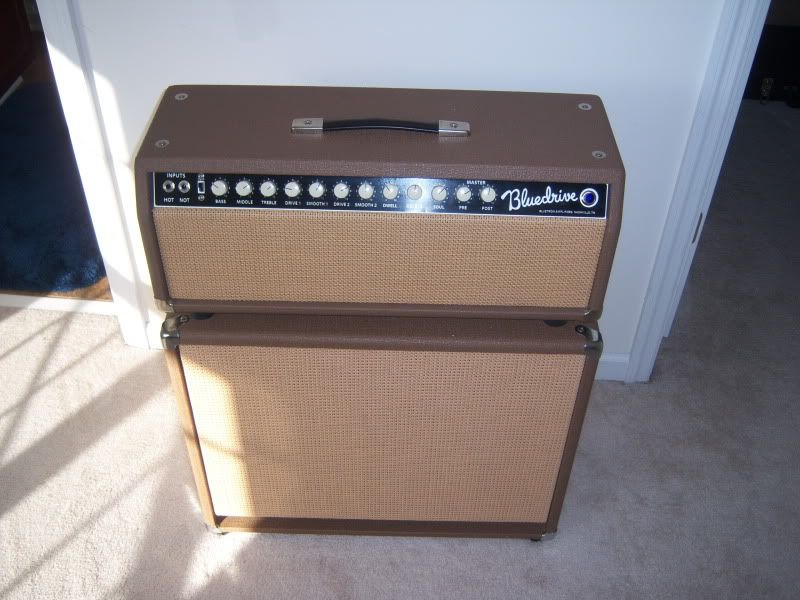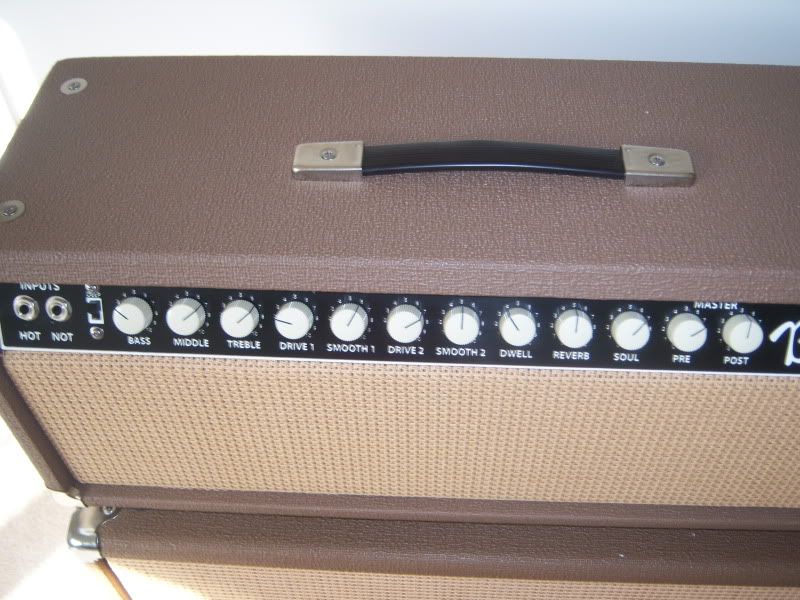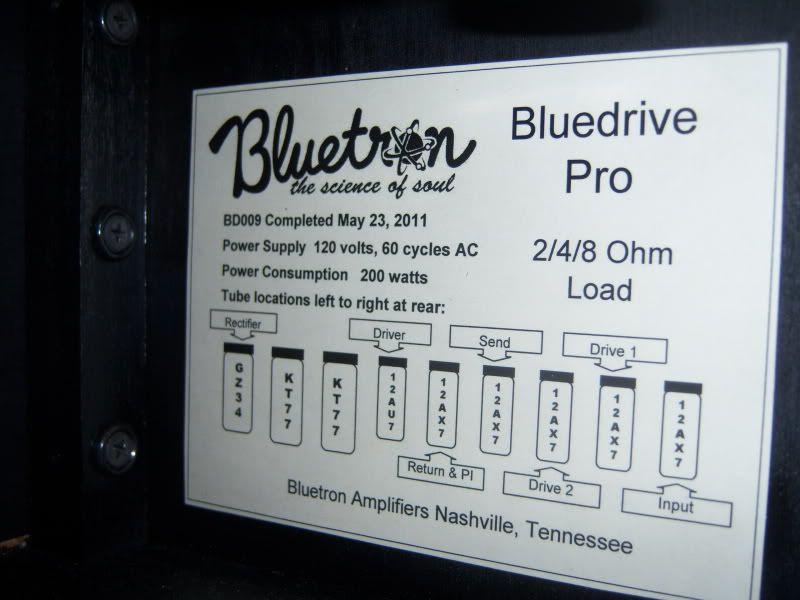 Note the serial number: 9
So here it is, a Bluetron Bluedrive. Talk about an amp!
Features:
Single Channel
35w with a 25w switch (KT-77)
Full 3 tube preamp
Tube rectified
Driver Tube (think Marshall Major)
Bold or spongy feel
Serial Effects Loops (Send and Return controls)
Built in Reverb
Handwired
Selectable 2/4/8 ohm selection
Parallel speaker outs
Controls (from left to right)
Hot or Not Input (just like Fenders, first gain stage)
Deep Switch (changes the feel of the EQ)
BMT tone stack
Drive 1 and 2 (Controls the drive of the 2nd and 3rd gain stage)
Smooth 1 and 2 (Rolls off some of the bass and treble)
Dwell and Reverb (Basic reverb controls)
Soul Control (Controls negative feedback)
Pre and Post Master Volumes
Head is sitting on top of a Ducted Port 1x12 loaded with a Jensen Mod 12-110.
This is the best amp that I have ever played. And I've played a few. The list includes older JCM800s, a vintage Vox AC30, a 66' Super Reverb, and a few Mesa's. I've plugged into both the Hot and Not inputs, and I love the Hot input. It gives a hotter intput into the second gain stage (controlled by Drive 1). Drive 1 can act as a volume knob or a gain knob depending on how you set Drive 2 and Pre and Post Masters. Drive 2 determines the gain in the 3rd gain stage. As you dial up Drive 1 and 2, you'll eventually get both gain stages going into overdrive (it's cascading gain that YOU control!) And then Pre and Post Masters act just like they say. They act as the 4th gain stage.
Wait! Did he just say that?! 4 GAIN STAGES?! Yes! And man does it sing. Want a vintage Marshall? Dial up Drive 1 and 2, dime the Pre, and set the Post to control the volume. Want a Fender? Keep Drive 1 and Pre low, and crank up the Post. Want a Vox? It's in there, too. And the best part is: It doesn't try to be any of these amps. It takes what those amps do, and correct everything wrong with it!
The Soul control takes this amp to another level. A WHOLE other level. It changes the amount of negative feedback the amp has. Think the feel of a British at zero. And American at 10. Once you get bored with the amp, just change the Soul Control.
Another awesome thing about the amp is the Drive 2 control. At lower settings, it's just another way to control volume. At about 6-1/2, it really comes alive. Notes just get more... substance. The whole feel just... changes.
I really wish I had the ability to record the amp, but I don't. I wish you guys could just... FEEL this amp. It's incredible.
As far as the speaker goes, I'm still on the fence. But with only about 10 hours playing it, it still isn't broken in yet. I'll get back to you all about the speaker later.
Last edited by DisplacedLogic at Jul 19, 2011,
looks gorgeous!

how much was it?

Join date: Aug 2006
190

IQ
What an amp. That's really amazing. HNAD sir.

Join date: Jul 2010
10

IQ
That is one sexy looking amp.
After all was said and done, I shelled out $2900. And just the interactions I've had with Smitty (the owner) has made it worth it. He's an awesome guy. The website (bluesamps.com) has some clips. YouTube has some videos, too.
Sounds like an amazing amp. After looking at their website, they only list a Blueverb amp. Is this a new model? I would guess so by the serial number.
now that's sexy.

congrats.
The Blueverb is the basis that became the Bluedrive. Talking to Smitty, the Blueverb is a clean amp (very Fender). The Bluedrive is his take on getting that "tubescreamer into a Super Reverb" sound... Without a Tubescreamer. It's not a metal amp by any stretch of the imagination, but it rocks. I fancy myself a bluesrocker, and this amp is it for me. And I haven't even began to scratch the surface. I'm going to be calling Smitty tomorrow morning to spend some more time talking to him and tweaking. It's got a learning curve. A very steep one. But the awesome thing is, there's never a bad sound. Never.
Schweet

there's never a bad sound. Never.
that's how great amps are.


Join date: Apr 2009
140

IQ
what does the soul knob do

what does the soul knob do
adds to the soul xD
Gets the pecker going


Join date: Jun 2010
120

IQ
what does the soul knob do
robben ford chirp
seriously though
that amp looks ace.

Join date: Sep 2008
10

IQ
what does the soul knob do
It was originally meant to be a switch, but they decided a switch that made Miles Davis burst out of a speaker cabinet was too deadly for any mortal man to posses.
robben ford chirp

seriously though
that amp looks ace.
+1
that looks awesome

Join date: Jul 2009
310

IQ
That looks freaking awesome!
what does the soul knob do
Yes, it does get the pecker going. And yes, it was supposed to be a switch, but Myles Davis does wreck shop on a mortal man's soul.
Here's the best explanation I can give. In British amps (like the AC30), it has zero negative feedback. That's part of the reason for the "loose" feel that they have. So, with the soul control at 0, it has that loose feel. Not just the sound, but
feel
. At 10, it tightens up like an American amp.

Join date: May 2007
40

IQ
ok so kinda like a class a/ab thing
Isnt negative feedback the same thing as prescence?
Looks awesome. HNAD.
Whats it based on? I guess some kind of fender?
God help your wallet when it comes to changing those valves.


Join date: Dec 2009
540

IQ
from the website

"On top of all that, the amp is built to old school standards. Just like Leo Fender would have built it, with one twist. The Blueverb uses audiophile-quality, military-surplus, paper-in-oil capacitors and metal-film resistors for astonishingly clear tone and definition even at high levels of overdrive. Please see the Construction page for more details"

you got gutshots of that bad buy?

Join date: Sep 2008
390

IQ
ok so kinda like a class a/ab thing
Not even close. NFB is completely different and independent of operation class.
Isnt negative feedback the same thing as prescence?

Looks awesome. HNAD.

Whats it based on? I guess some kind of fender?

God help your wallet when it comes to changing those valves.
No, presence controls are typically placed in the NFB loop but a variable feedback control just controls the amount of signal fed back from the OT secondaries. As the feedback decreases, the effectiveness of the presence control does as well until you get zero NFB and the presence control does nothing. That's why Vox amps have the Cut control which works independently of NFB.
Variable feedback is a really cool control though. The CAA PT100 has one and it's one of the reasons the amp is so versatile.
Thanks for helping me clarify that, mmolteratx.

And sadly AM, I don't have any gutshots... Yet.

And beckyjc, it's based off of a lot of amps. The Deep switch acts to change the EQ from a Fender response to that of a Marshall. She cleans up just like a Fender. And rocks like a Marshall.

Either way, hands down, the most versatile amp I've ever played. Even more so than my TA-15.

Join date: Sep 2008
390

IQ
Ya, these have been getting some buzz over on TGP lately. Definitely on my list of amps to try.
Holy cow. That amp looks hot. I've never heard of that particular make before.

Join date: Mar 2008
110

IQ
I've never even heard of that amp but damn does it look sexy! HNAD!!!
All said and done, I don't think Smitty has made 300 total amps to date. I may be wrong, but considering my Bluedrive is #9... Makes you ponder somewhat.
I've seen posts (but they have all been older) on TGP about them. It seems like the only exposure Smitty gets is from people who play his amps.
http://www.youtube.com/watch?v=UrY9v1HXmiQ
And there is my cousin playing his Bluetron (it's a Prototype model, I believe. The amp that predated the Blueverb, haha) 4x10 with EL34's. It's crazy good sounding.