FS: 1988 Gibson Les Paul Custom Lite
Brief & Accurate Description of gear/guitar: Just got this guitar 2 weeks ago and although really happy with her, things come up. Picked her up from my buddies roommate who was the 2nd owner of the guitar. She plays and sounds unreal, and has the wear and tear of a 23 year old guitar. I've tried to list the cosmetics and show them in pictures as accurate as possible, as I don't want a buyer unhappy! Some buckle rash, scratches and small dings on the back, 2 small chips in the top corners of the headstock, One small crack in each pickup ring corner (one repaired already), chip in the tone knob, small dings and a chip in the back of the neck, some rash on the horn, and oxidation on the gold hardware.
Modifications (if any): Swapped original pickups for Emg 81/60 and a replaced knob.
Accessories (hardshell case etc): Original Gibson USA plush case.
Location (City,State or City,Country): Windsor, CT
Contact Info (No Phone #s):
Fullana.James@gmail.com
References Required (eBay or other forum userid):
Price (include currency and if firm/obo): $2150 Shipped paypal gift. Looking to keep this in continental US.
Pictures: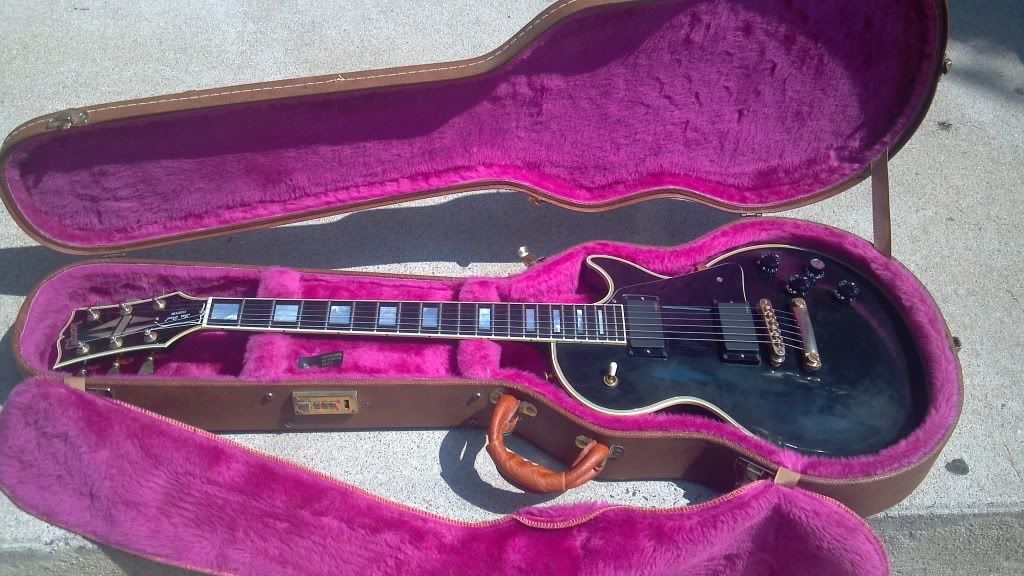 Complete Gallery Here:
Gibson LP Custom pictures by Laxdude67 - Photobucket
Feel free to email/pm me with any questions/offers. I will be more than happy to accommodate you.
-James
bump. $2000 shipped paypal gift!
bump. $1900 shipped. for a LP custom.