NPD: Fuzzy!
I can't believe I've gone this long without ever owning a fuzz..... and boy does this little guy make me regret not having one sooner:
It's the jhs mini foot!
Don't let the name confuse you.... the sound is HUGE. I actually got it based on a few friends who said it is one of the best sounding fuzzes to use in a live show, and from having played with it a bit I definitely agree.
2 knobs, volume and fuzz. Volume is unity at about 12 o clock. The fuzz knob ranges greatly... at about 1/3 up it gives off a great vintage tone.... I had to bust out the strat and play some Jimi.
Increasing the fuzz past noon yields awesome, chewy, velco-like crunch with deep bass and plenty of mids. All the way cranked, it gets lovely, messy and splattery.
Mini shot: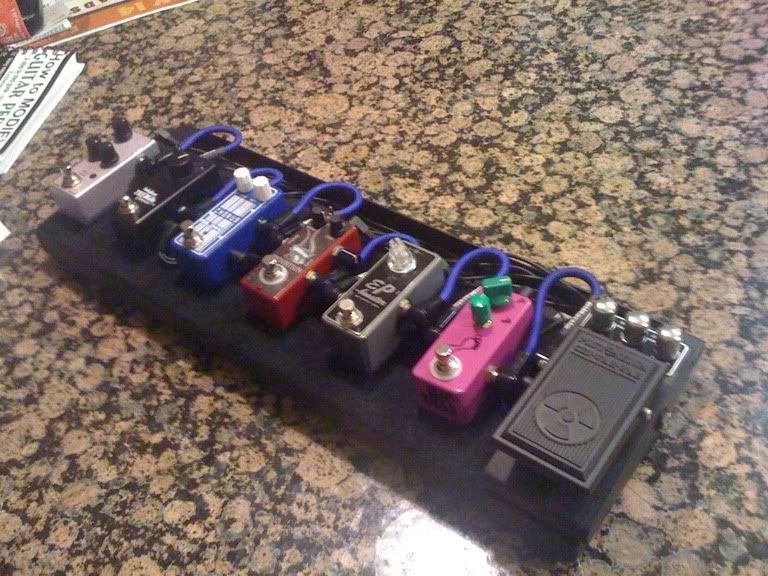 Current gigging board (minus fuzz):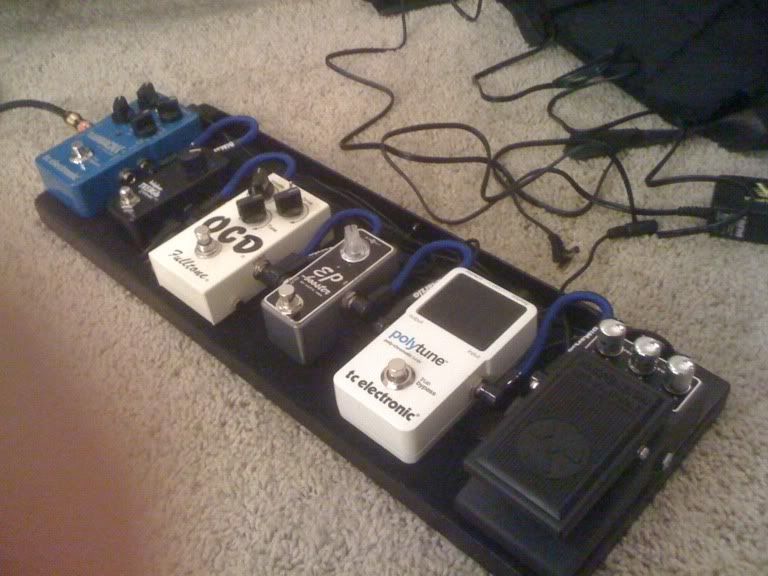 Join date: Feb 2009
30

IQ
HNPD!

Thats a nice board you got goin' there.
nice board, i have the ocd too, i use a fuzz face for my psychedelic needs, looking at getting a zvex fuzz factory too
Thanks man! It's my tribute to pint sized pedals.... plus it's easy to drag around!

I have yet to make my gigging board totally miniaturized though.... I have yet to find a better overdrive than the OCD, and the flashback is just soooo versatile and fun to use with all of the different settings.
HNPD love the mini pedal board.

Join date: Feb 2008
50

IQ
Nice looking newbie - and I like the idea of slim pedals...

HNPD!

Join date: Apr 2009
130

IQ
awesome miniboard dude

HNPD!
The mini pedals are oddly mesmerizing...

Join date: Jun 2006
120

IQ
The mini-board is getting lots of love, and so it should! Looks classy. How do you find the EP booster?
And I've also been after a fuzz for ages ... but still don't have one. I think a Blackout Musket fuzz is in order this summer

The EP booster is my secret weapon. I love it. I use it always on my clean channel and it adds a whole new dimension to the tone. Plus it's nice to boost the OCD for some extra gain, volume, and sustain.

Join date: Feb 2010
100

IQ
Hnpd!


Join date: Dec 2010
101

IQ
HNPD and way cool looking board, I wish mine were that small.