NGD: ViK Duality 7-string custom (YES)
Hey guys,
Before we get into any details I think it's best to get stuck right in with the pics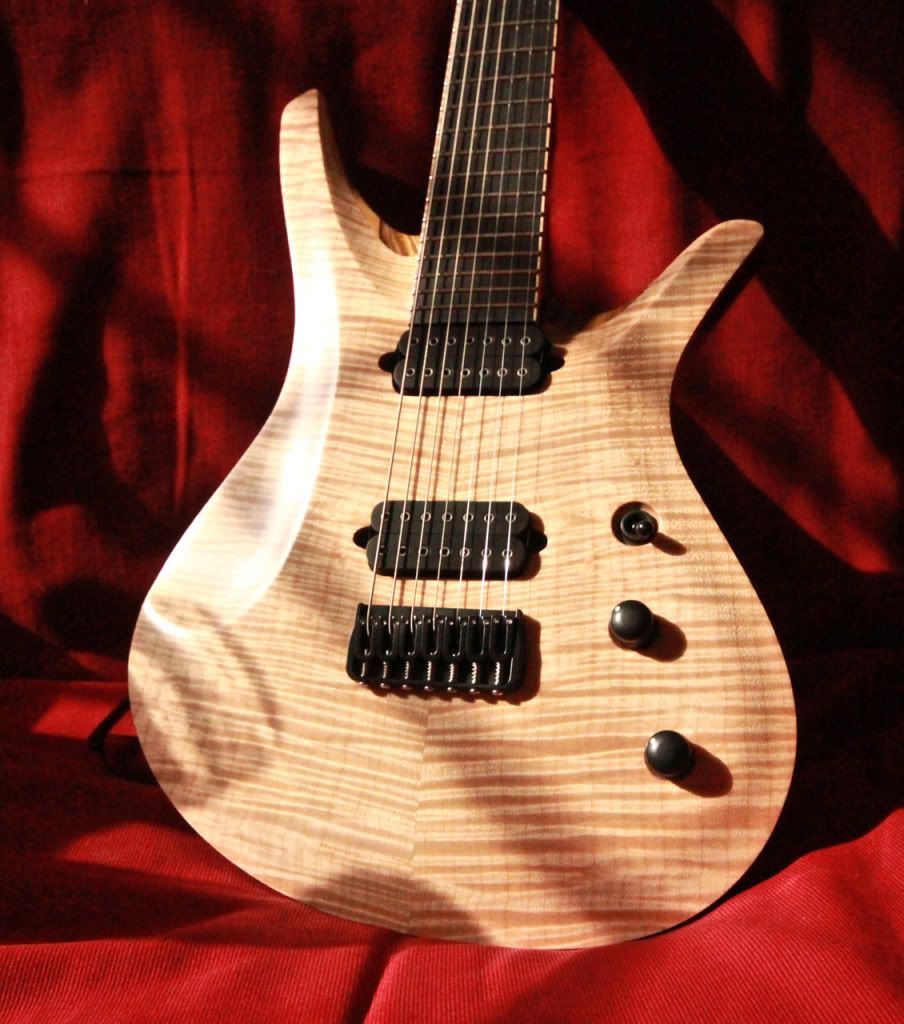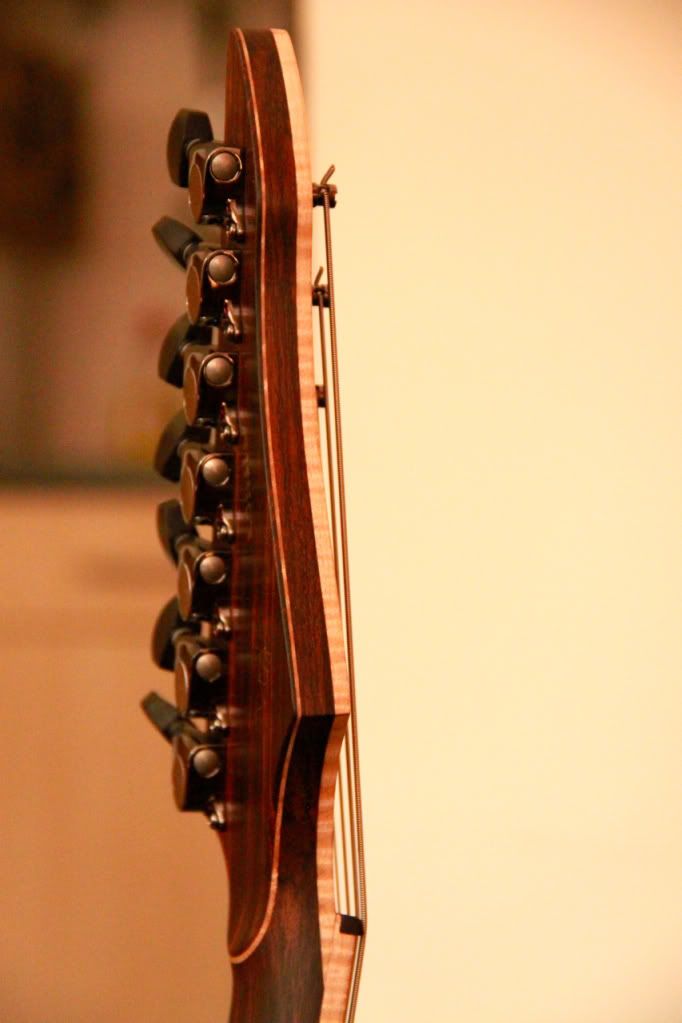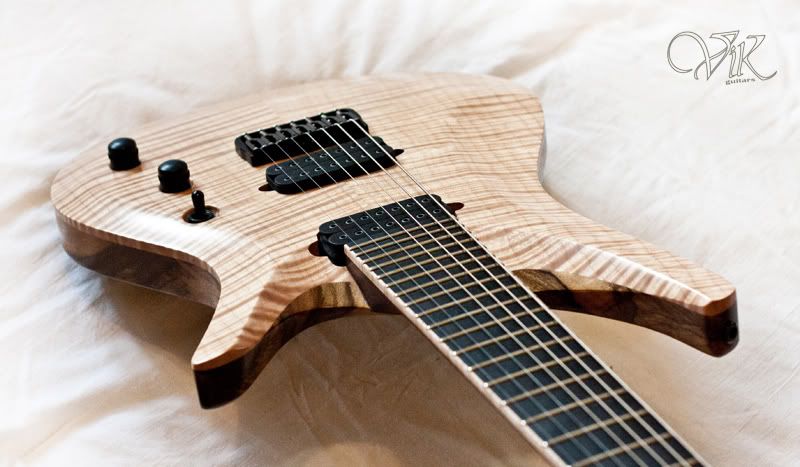 Right, with the porn out of the way, here are some specs:
ViK Duality shape
7/24 frets, 652mm
Black limba with Canadian curly maple top
1-piece old-growth Indian rosewood set-in neck
ViK new reversed "split-design" 7 headstock
Madagascar Ebony fingerboard with compound radius
Curly maple binding around neck
Custom ViK H+H pickups
Gotoh SGS510Z locking tuners with ebony buttons (18:1 gear ratio)
Hipshot 7 fixed bridge
German fretwire
CTS 500K pots (tone pot push/pulls to switch the neck pickup to parallel mode)
3 way toggle switch
Switchcraft long type input jack
Schaller straplocks
Gotoh knobs
Buffalo bone nut
Glowing side dots
Nitro-cellulose satin natural finish
Some of you may have seen the buildstory, if not I would recommend checking the build process out
HERE
.
I managed to wrestle this beastie away from customs this afternoon, and have barely been able to put it down since. I'll try and organise my thoughts somewhat coherently, but there is so much to take in at once it's difficult to know where to start! Of course, I've only just started exploring what this instrument can do so these really are just first impressions..
The whole process with Vik has been absolutely top-notch - from the initial discussions to the end product he has been unwaveringly pleasant, enthusiastic and patient. One of the things that really impressed me when I started talking with him about getting a guitar built was that despite his creations being so wonderful looking, to him the most important thing about them is the way they sound. He is truly focussed on delivering the best sounding instruments he can, not just aesthetically pleasing ones.
His builds always feature drool-worthy woods, so I really enjoyed the timber selection process with him. He did not disappoint, sourcing incredible specimens of each wood for every area of the guitar.
Vik himself wound the pickups, making this the only guitar I own that doesn't have Bare Knuckles installed. It seemed to me to be the best possible representation of Vik's work to have him make the pickups too, making the whole guitar as he intended.
Holding the finished instrument in my hands it's immediately apparent just how much love and attention has been lavished on it. The whole thing is extremely tactile with the satin nitro finish on the body and the oiled/wax rosewood neck. The Duality shape looks even more beautiful in the flesh, with the liquid-smooth body carves being more noticeable. There is always something cool to see at no matter what angle you look at it. The horn carves and non-existent heel make upper fret access laughably easy. The Hipshot bridge is a favourite of mine, so it feels very homely to me. The Gotoh 510 tuners are true luxury, incredibly smooth with zero play, and the self-locking mechanism is very cool once you get the hang of it.
The neck profile is very very nice - 19mm at the nut with a fairly flat-backed D profile. Combined with the compound radius and the flawless fretwork it is effortless to play. Out of the case the action was an inutterably low 0.7mm on the top E at the 12th, though I suspect that it was intended to be that low - a few cold nights in the customs warehouse probably reduced the the neck relief. Amazingly it could be played like that, with the strings sounding only a little choked. With a little tweak of the truss rod though it's still extremely low but the strings have enough breathing room to sing.
Speaking of singing, that's exactly what this guitar does. Unplugged it rings like nothing else, such great sustain and harmonic richness! The upper frets have every bit as much body to their sound as the lower ones, making playing right up at the top end very satisfying in a way few guitars I've come across can.
Plugged in I am still exploring the sounds, but my impressions are that the bridge position (wound to 13.4kΩ with 42 AWG polysol wire) sounds rich and fat, as well as extremely clear and punchy. The guitar has a deep timbre that results in a very satisfying "purr". The neck pickup (asymmetrically wound to 8kΩ with 42 AWG plain enamel) is absolutely beautiful, with an almost acoustic quality when played clean but plenty of body when the gain is ramped up. It's very defined but has plenty of fluidity for Petrucci-ish lead tones too. The parallel option on the neck pickup makes things glassier and sparklier for super-clean and delicate tones but (of course) doesn't introduce hum like a coil-split does. This is my first guitar with a parallel switch, and I don't think it will be the last.
That's about as much as I feel comfortable saying for now since it's still so new, but you can expect lots more thoughts, pictures, clips and videos from me in the near future!
Cheers folks