My plans for world domination (Squier mod help project content stuff)
Yeah, I've got some spare cash so I've decided I'm going to pimp my beloved squier strat. I made a mockup in kisekae of what it should look like.
Yeah I forgot the input jack. Lulz. So yeah, it's going to have an Irongear Hot Slag in the bridge and an Alchemist 90 in the neck.
Wiring will be like this:
3-way switch, bridge - both - neck
2 volumes (one per pickup)
Push/pull pot on the bridge volume for le coiltapz
Blower switch (straight to bridge bypassing all controls)
Thing is, I'm quite new to wiring guitars. I know how to solder but I'm not familiar with the mechanics of wiring and this isn't exactly a conventional control set-up. So I was wondering if you kind folks could explain to me what I'd need to do and maybe draw me a diagram

Cheers guise

If you're new to wiring, I wouldn't try to take on this complex of a wiring job until you familiarize yourself with wiring.

I've been doing this for years and I actually don't quite know how you would wire that up unless I did some serious research into the parts.
Ah, damn.

Don't give up on it though, just, get some practice and look for wiring diagrams that fit what you want to do first before you jump into this build.
Yeah. Can't seem to find one for 2 volumes anywhere >< If all else fails, I could always wire the basic stuff in then get a tech to do the complicated bits after.
if you can find a good wiring diagram for it, and read it enough to understand how everything works, then its not too hard. you just have to be patient and work with it some.
i dont think its too hard really, but ive read enough that i know what the wires are doing.
if you can get to the point where you understand why the switches do what they do and stuff, then i think you can tackle this. its mostly a matter of following the wires around and knowing what the switches connect when in different positions.
read around on wiring diagrams, find various ones online (google image search) and start understanding how they work, then give it a go. expect that you may mess it up, and be willing to take time figuring out why. if you can manage to solder stuff, then as long as you have a diagram and know whats going on, you should be fine.

cliffnotes - read diagrams and learn about them, then do it!
heres the diagram. someone can glance over it and check it because im going to go eat =D
but it should be right.
but its up to you to figure out what it means!
lower right circle is output jack
edit: see later post
Last edited by xadioriderx at Jul 24, 2011,
Thanks guys

One thing though, the push/pull is on the bridge rather than the neck


Join date: Jul 2007
40

IQ
Thanks guys

One thing though, the push/pull is on the bridge rather than the neck
You might as well put a push/pull pot on both pickups.
oh wow, i screwed that up, i thought the bridge was a single coil. well, you get the point with it though! lol

if you use both as push pulls, you can coil tap both, OR one of the push pulls can be the blower switch
Can't coil tap the neck, it's a P90.

Join date: Feb 2007
808

IQ
actually with one pot you can coil tap both of the pickups and then the switch will jsut decide which one is selected. so you get either both pups coiltapped (but one pickup selected or two together) either two full humbuckers

heres a revised fixed one!
if you use a push pull on the neck, basically take the dpdt diagram and attach it to that pot and wire it that way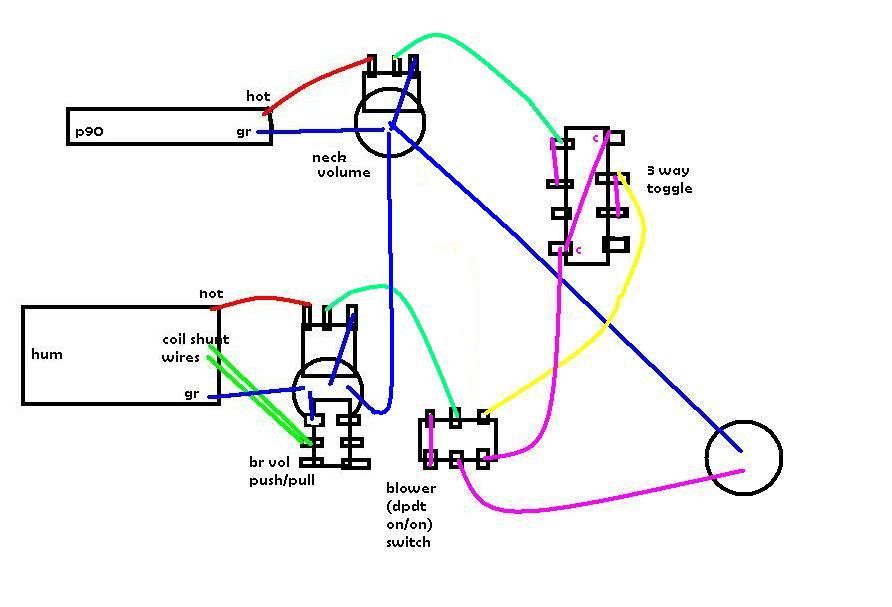 Sweet, cheers man

Ordered everything today so I'll get cracking when they're here

youll have to figure out which wires are which. most importantly the humbucker wires (which should come with a paper that says which wires are which) - none of that diagram is color coded. the blues are all grounds that all run to the backs of the pots, but the rest is a free for all!
the coil shunt wires
must
be the ones going to the push pull, the "hot" and ground on the humbucker arent as important, but know that one way will put the bridge and neck pickups
in phase
, one way will put them
out of phase
. these are
2 different sounds completely
. youll probably want them in phase, so if it sounds thin and quacky, that means theyre out of phase and you have to
either:
reverse the 2 wires on the p90,
OR
reverse the "hot" and ground on the humbucker.
by reversing the wires for the humbucker, not only does it change phase, it also changes which bobbin is active when the coil is cut. again, i strongly suggest you familiarize yourself with wiring diagrams and understand what they mean and how they work as you dive into this! that way you dont end up with a mess =p
as long as you learn to read them, which isnt too hard, then you should be fine doing this as your first one.
my first one was pretty strange too and involved making a buffer and blending actives with piezos and coil splits and such as well...
which reminds me: the output jack, the blue wire is ground, make sure you know which of the parts of the output jack is the ground!!! and which one is the lead. google image search for output jack wiring should show you if the new part doesnt. this is critical and can lead to major headache if you dont know theyre reversed! i know this

Sup guys, bumping this thread cause I've changed my mind on the wiring a bit. I'd rather it was 1 volume, 1 tone, blower switch, bridge humbucker - inner coil of bridge pickup and neck P90 - neck P90, and no push-pull pot. Figured that might be a bit easier to pull off and wouldn't require me drilling into the guitar to get the push/pull to fit. Can anyone help me with this?