Having problems restringing- please help!
Really sorry for asking such a stupid question but I am a complete newbie.

Restringing my acoustic guitar for the first time and I am getting into a bit of a stress! I am getting confused about which way to wind my key for different strings, I have heard bass should be wound on anticlockwise and treble clockwise. If I did this wrong would it make a difference? I am getting confused with my treble strings, if I turn the key clockwise the string winds on but looks wrong because the string doesn't seem to be winding on to the right side e.g. the g string is rubbing against the string post for the b string as it is feeding into the far, rather than the near side of the string post.

Hope this makes sense!
Last edited by nerdofprey at Jul 25, 2011,

Join date: Nov 2001
288

IQ
It all depends - are all the tuners on the same side of the head of the guitar, or are there 3 on one side, 3 on the other?

If they're all on the same side, you should wind them all in the same direction.
Hmm I think I know what you're saying. It should be clockwise when you're holding your guitar like you usually do. Although, clockwise is clockwise no matter how you look at the guitar.

And yes it make a huge difference. Pic would be nice!
When I learnt to restring myself I did it the "wrong way" (on a guitar with thee tuning knobs on each side), so nowadays I always tune my guitar counter-clockwise, doesn't matter if it's the treble or the bass. But that's what I'm used to and what I like, but it doesn't look symmetrical and other thinks it's weird. But have never had any probelms with it.

But if you want it in the "correct" way the bass should be counter-clockwise and the treble clockwise on a guitar with three tuning knobs on each side.

Join date: Aug 2008
53

IQ
lol i used to have that same problem !! You should check out justinguitar.com and he goes step-by-step in how you should tune your acoustic guitar-it's really great and it helps a lot !! good luck
Thanks for the help so far, I am just being such an idiot!

I have 3 tuning knobs on each side. In normal playing position with my bass strings if I turn the tuning peg away from me they tighten, and towards me they loosen; is that right??

Should it be the same with the treble!

I took them all off at once so I can clean - I regret this now!!
Last edited by nerdofprey at Jul 25, 2011,
it looks like guitar heads should look now, it is symmetrical and the strings aren't hitting anything!! Does that mean I must have wound them the right way or is it possible for it to look normal but be wound wrong?

Also on my A and D strings they seem stable but I only have 2 loops on each, should I re do them- how many loops is optimal on bass strings??
If you have three on each side. Maybe try to remember it this way.
Wind the strings so that they sit on the inside of the pegs.
Or the middle of the headstock.
Not on the outside.
So it should be anti-clockwise.
As for loops, twice is fine, just enough to stop them from slipping.
Mine are only looped around once.
like this:
Last edited by Casuist at Jul 25, 2011,

Join date: Jan 2011
196

IQ
all pegs go counterclockwise if youre looking at the peg straight on
and i made this a while ago quickly for someone, its how i wind my strings to help stop slipping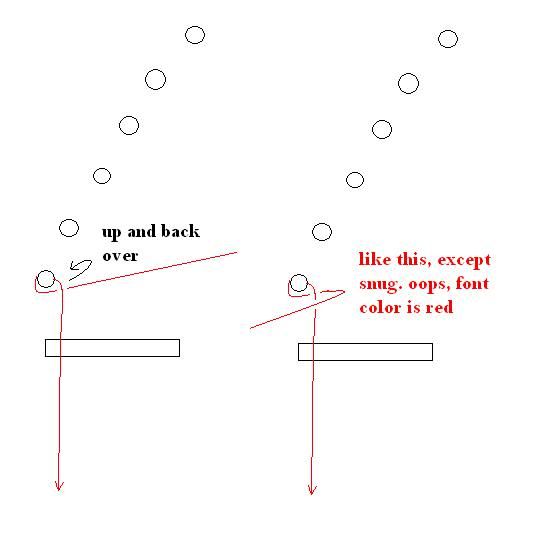 for a 3x3 (3 on each side) headstock, the same can be done but reversed