NAD. Haters gon' hate. (About 65% less than usual).

Join date: Nov 2007
110

IQ
This actually came a couple of days ago, I paid for express shipping and got Priority. Lovely. There'll be e-mails sent when I can be bothered..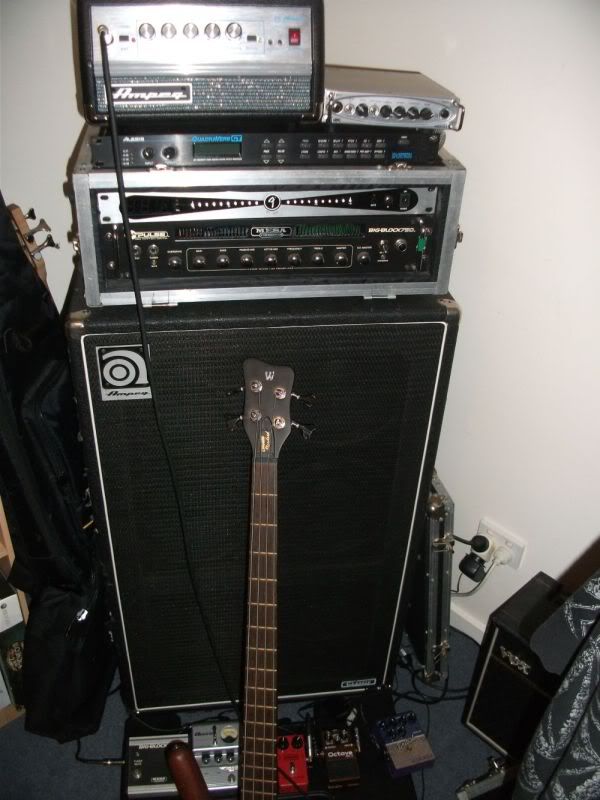 So, as you can see the main ambition behind buying this amp was to try and get my little stack to the roof. I'm getting there, but it wont be easy.
Actually I bought it because it has an effects loop and the GK MB200 doesn't, which shitted me. Great sound on this little amp, nothing groundbreaking but definitely a nice sound. A couple of annoying little things about it however; no Speakon, I mean, seriously? C'mon Ampeg, get with the times. And the headphone circuit. Doesn't cut off the signal to the speaker when headphones are plugged in, so you've gotta take the stupid speaker cable out to use headphones, and the audio in will only go out into the headphones, it wont go through the speaker outs as well like on the GK, but I never really used that feature too much so whatever...
That all being said I do like it, and it loves pedals, especially modulation effects. Gonna grab the matching cab when my Lakland sells, or next time there's money in my account and I'm bored.
The MB 200s going to a new home on Saturday, so stay tuned for a NBD then.
The Micro-VRs the new one if you didn't already work it out.
Soooo sleepy. Goodnight all.