NGD - Garage sale steal =p
Its not super special, at all, BUT it was cheap! Its a squier strat, someone spray painted the body (did an alright job, but not my thing), apparently has a loose wire somewhere, im not even sure where it was made, but the tuners and neck plate say squier, so its got that going (or not) for it =p
doesnt have any major damage, just an iffy paint job, was missing the trem cavity cover and whammy bar. oh well, i can fix it up and make a little money off it, or just have a beater

for a grand total of $4!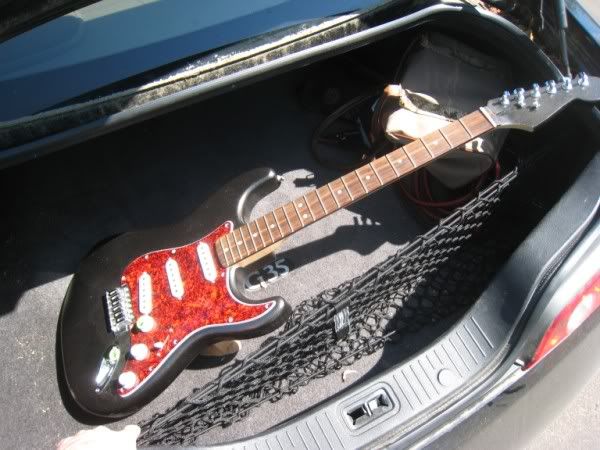 Join date: Aug 2009
100

IQ
wow, $4?!?!?! Were they even serious xD

Anyways, that's a real steal. Any plans for it?
so far no plans, i still cant stop grinning about it. =p
i have guitars i much prefer to play, and im in the middle of building an SSS tele, so i can either steal parts and sell parts, or keep it how it is and give it to my brother who just decided to start playing. BUT i just started another build for him, so idk yet. i cant decide. sand it down and refinish, leave it fix it and sell it, fix it and keep it... idk! what do you guys think? worth parting it out? i need money more than this guitar, but i could also just use some of the parts like pots and switch and ditch the rest. i also have an HSS strat pickguard with pickups from a MIM i think, i could put it on if the holes line up, hm..
I'd sand it completely so there isn't a hint of paint left. then I'd hit it with tru-oil if the wood grain is half decent. Then GFS pickups and some kinda neat pickguard and it'd be a fun custom guitar for less than $100. I'd probably level the frets, upgrade the tuners(Wilkinson maybe?) and the tremolo block. GFS has about everything you'd need for cheap.
yeah maybe over time - for right now my VERY limited income goes to the 2 builds im doing, so that may have to wait, but it does have potential to be a good beater. the frets show hardly any wear on them, but a levelling may be in order. ill have to test it out and see!
the paint is textured and sparkly charcoal, pretty gross really. my mom held it up and i thought it was a guitar hero controller from the side


Join date: Aug 2008
386

IQ
$4? Jeez. That's super lucky. If it IS a Squier, it might have just been one of those starter pack Squiers.
Even if it's a Bullet, they cost $120 or something like that, right? You could probably make it infinitely better than a Bullet, $116 dollars later.
See if you can make a better Bullet for $116. I dare you.

im assuming he didnt even tape off the pup routes and stuff, but where would markings be for a better ID? headstock obviously if i can chip the paint off, is there any under the pickguard? its not really a big deal, but would be nice to know
Join date: Sep 2009
223

IQ
im assuming he didnt even tape off the pup routes and stuff, but where would markings be for a better ID? headstock obviously if i can chip the paint off, is there any under the pickguard? its not really a big deal, but would be nice to know
Not really. It only says definitively on the headstock. But there are other ways of telling what model it is.

Join date: Nov 2008
50

IQ
4 frikkin dollars!? xD hell even those tuning pegs could sell for 4 dollars alone! xD

you win my respect for this steal! really strange body too from this picture angle, looks kinda jazz bass stratocaster, can i name it jazzocaster? xD HNGD!

Join date: Apr 2006
170

IQ
Hot damn, $4... shit, you could buy a single plank of wood and make profit off a $4 investment, steal doesn't even cover it

haha its just a normal strat, the angle makes it look like a jazz guitar or something.
still havent decided what to do yet!
it looks like he oversanded one spot when i looked back over it, just above the rear strap peg is an indent, looks like its sanded not just dented. its not too bad really, but it means he probably sanded the body, and probably the headstock, so i may never know where its from!
i want a G35.

congrats on the epic deal, but honestly, i want pics of the G.


im glad you asked for pictures of the 'g' and not the 'g35', because that means i can post pictures of several cars =p
heres my 2000 g20t (silver), and my ex's 1996 g20 that i built for her: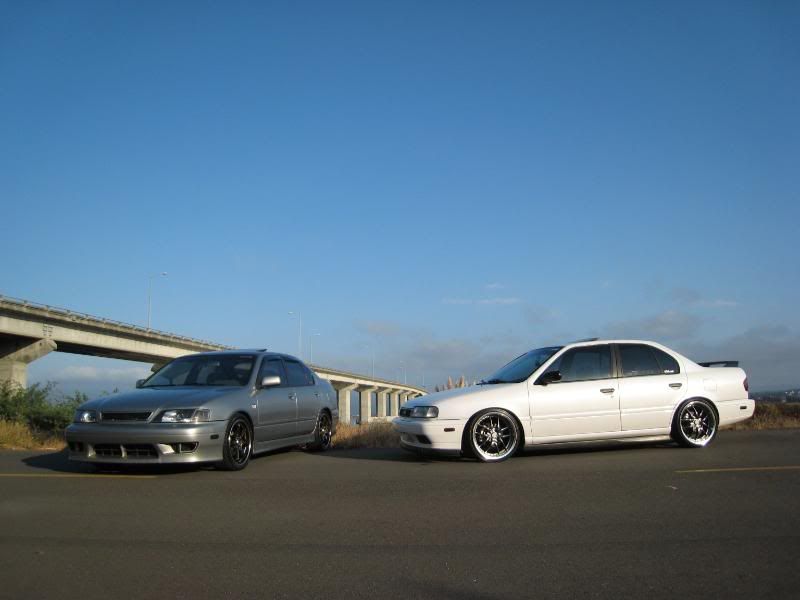 my 2000 again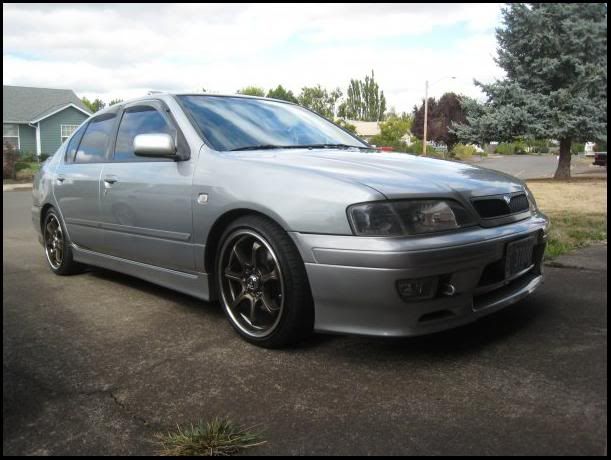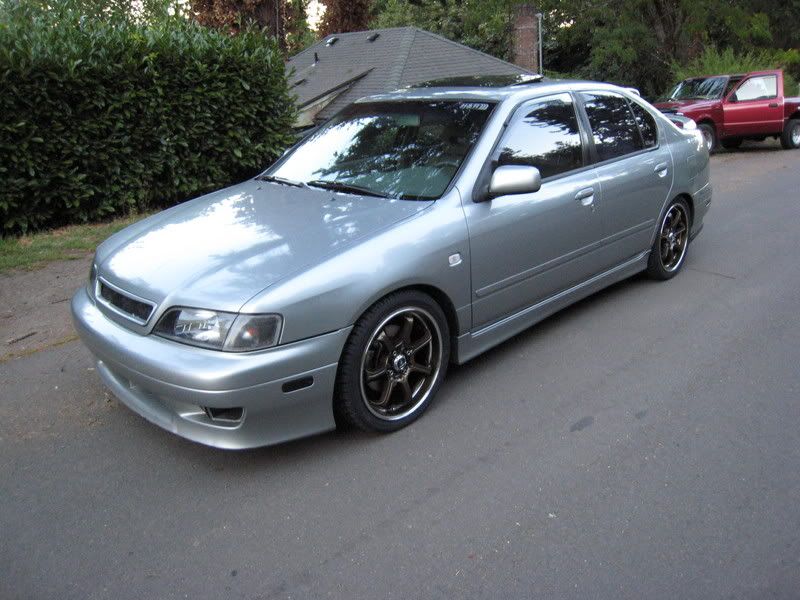 my 1991 $300 g20, i spent a lot more than that putting an LSD tranny from a 2000 in it (it was my main autocross car so i wouldnt have to keep racing my silver one), but i sold it last year.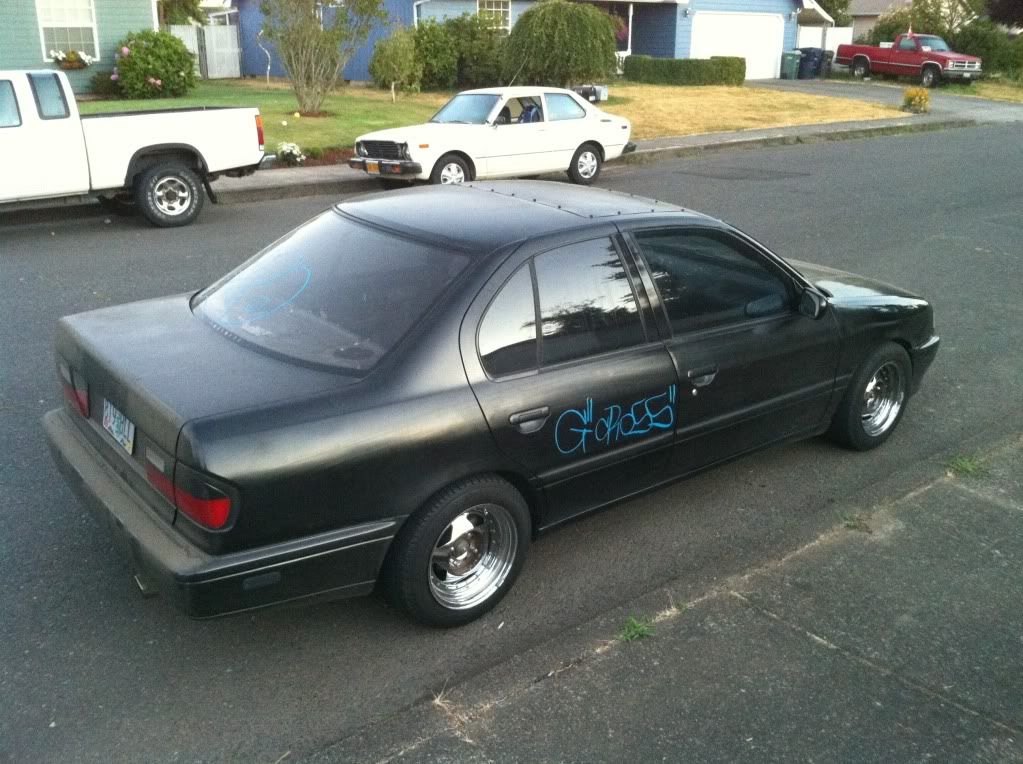 and, its not a G, but its the original nissan silvia S10 - 1979 Datsun 200sx, i had briefly, i got it for $175 bucks because the carb was torn apart and the guy forgot how to put it back together. i had it running in a day, and running well again after a few weeks because it had some issues. sold it as well!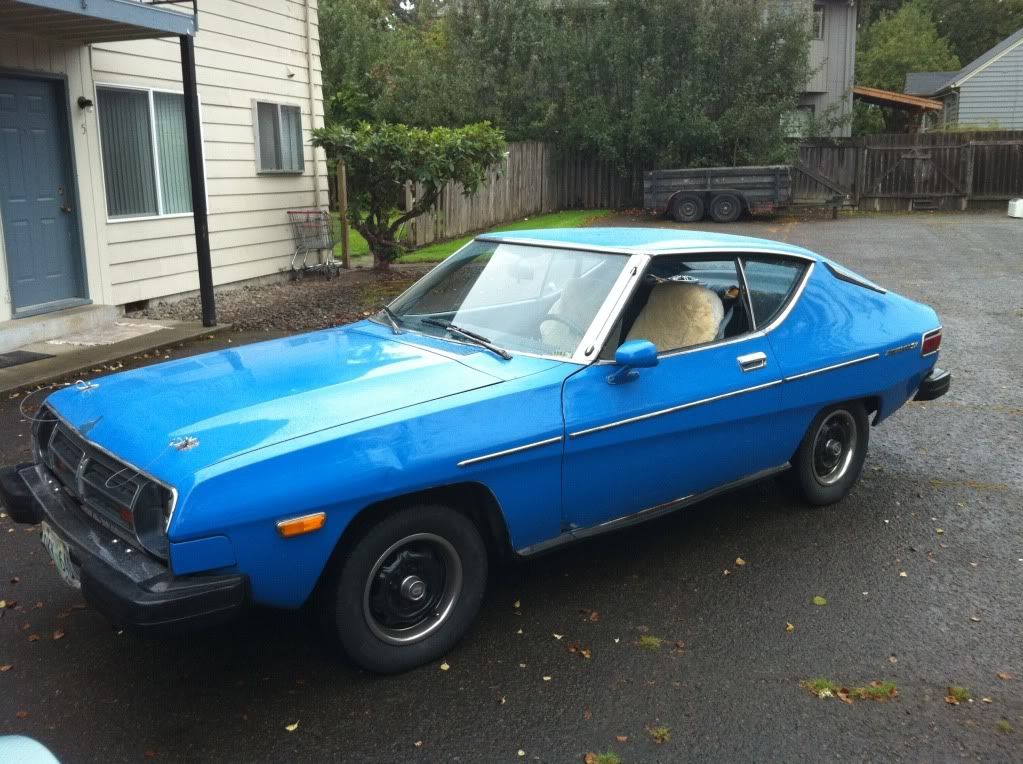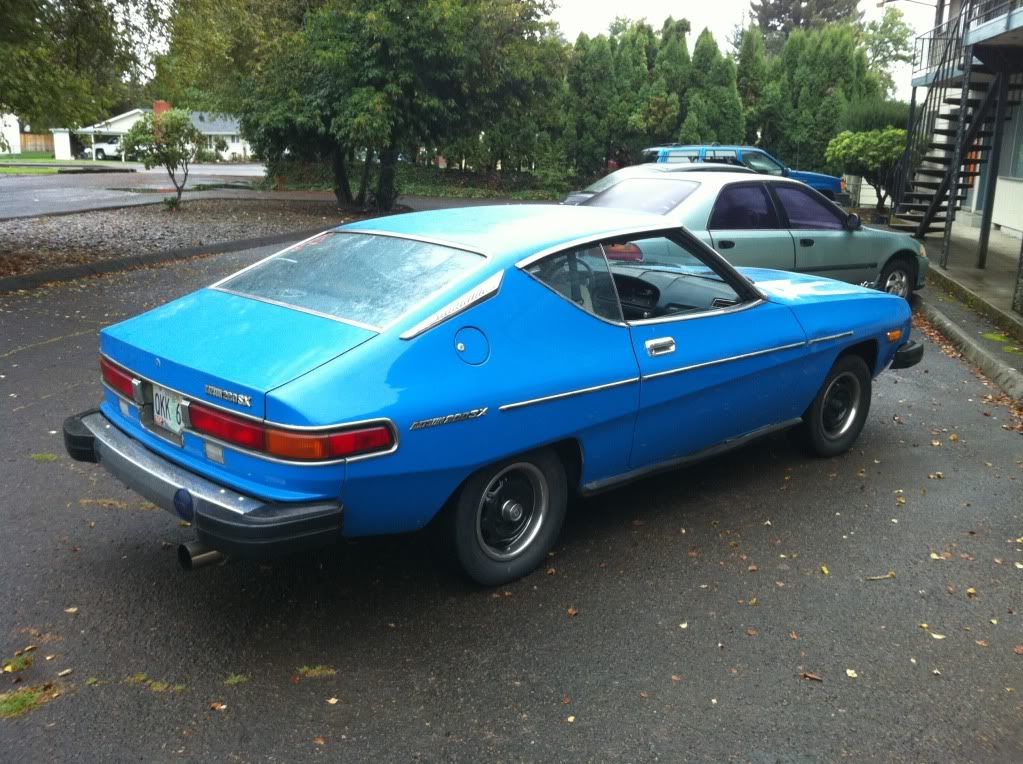 and unfortunately you wanted pics of the g35, but this is the only one i could find lol, g20, g35, and i30 (infiniti family!)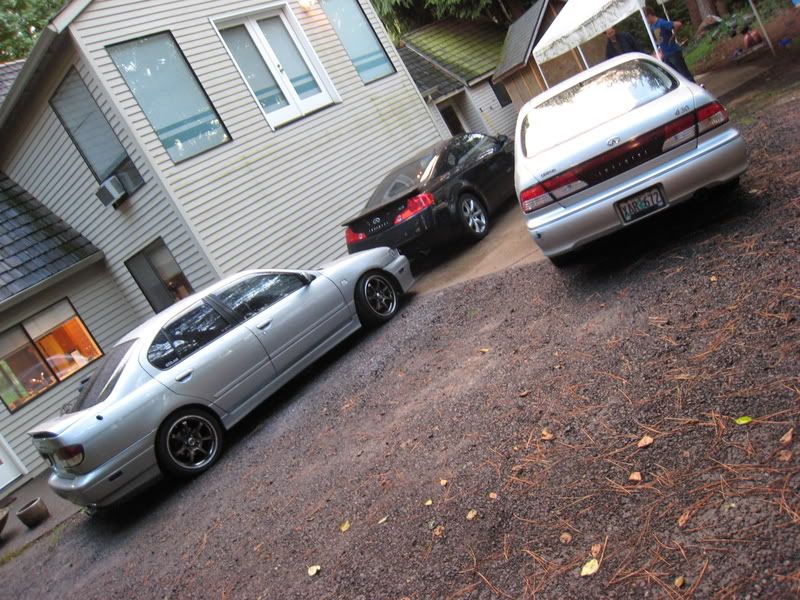 Love your Primera GT

Love your Primera GT
heck yes! ive been a big part of g20.net for years now, thats where a lot of the g20 and primera owners hang out. first forum i ever joined! a lot of US people though, fewer primera owners. i suppose on here there would be a lot more people familiar with primera though!
alright so first thing i did was pull the output jack to see if a wire was loose or if they were reversed. i have no symptoms yet because i have no strings to put on it right now. but wiring is easy, so it would be easy to figure out.
so i pull the output jack. ground, hot, wired the right way. alright so thats not the problem.
so then i unscrew the pickguard and pull it off. and it did just that, came all the way off. the output jack wires are just sitting there not connected to anything LOL
looks like he cut them off to paint it, then forgot where they go. so ill solder them back up and call it a day =p

one interesting thing, maybe its common on strats - the tones are wired to the other set of poles on the 5way so that lower one works on the bridge setting, both work in position 4, the upper works on the middle setting, the upper works in setting 2, and the neck setting has no tone pot.
is that typical?
its an import switch also, so thats the only bit of identifier i have so far =p

i guess the point would be less tone loss for the neck pup on setting 1?
alright so we got the wires hooked up, and threw some old strings on for a test, but it looks like the tone cap is toasted because it IS there and wired right, but the tones act as volumes
that datsuns awesome!
its a love or hate kinda car. people think its either hideous, or think its fantastic. i nicknamed it the blue whale, for obvious reasons. the interior was like a spaceship. had the L20b in it, when i rebuilt the carb i bypassed the air pump and took out the emissions stuff. it was a blast to drive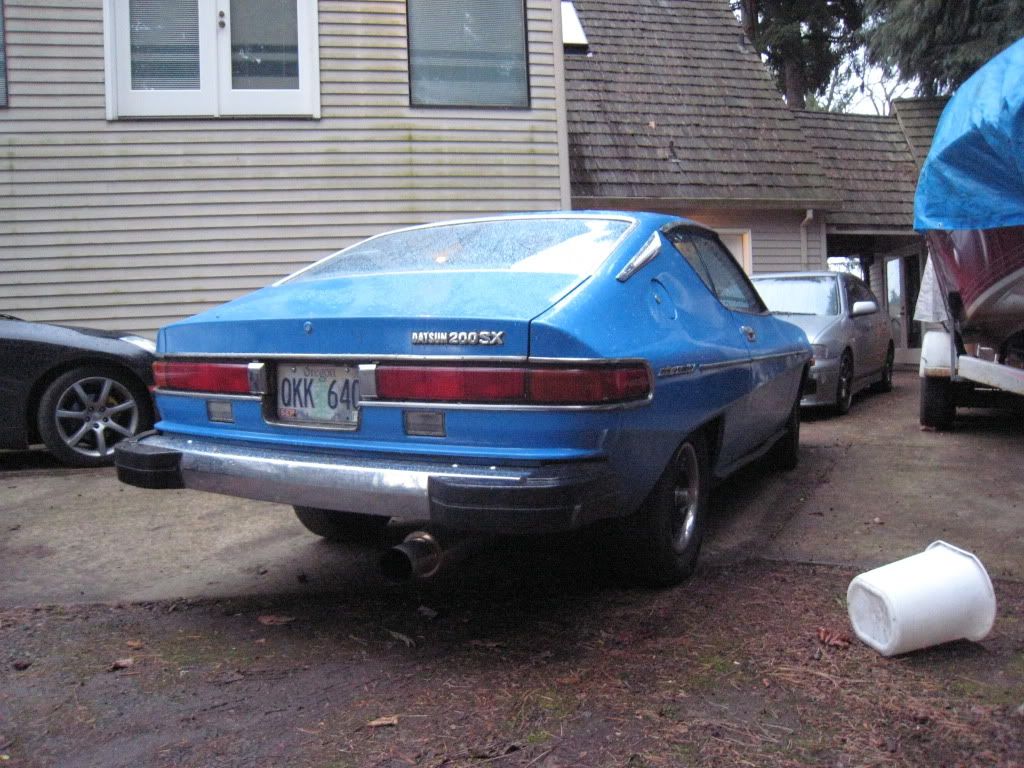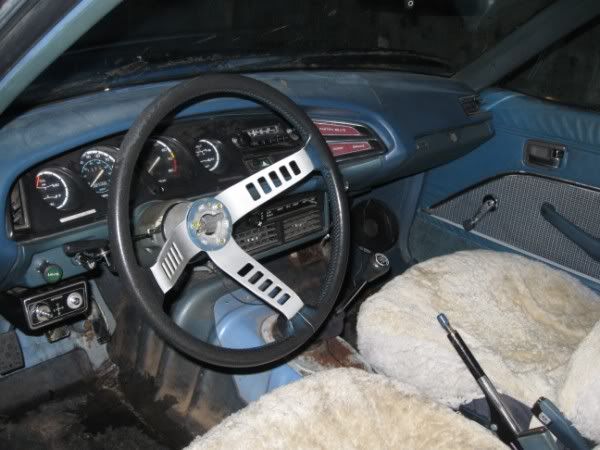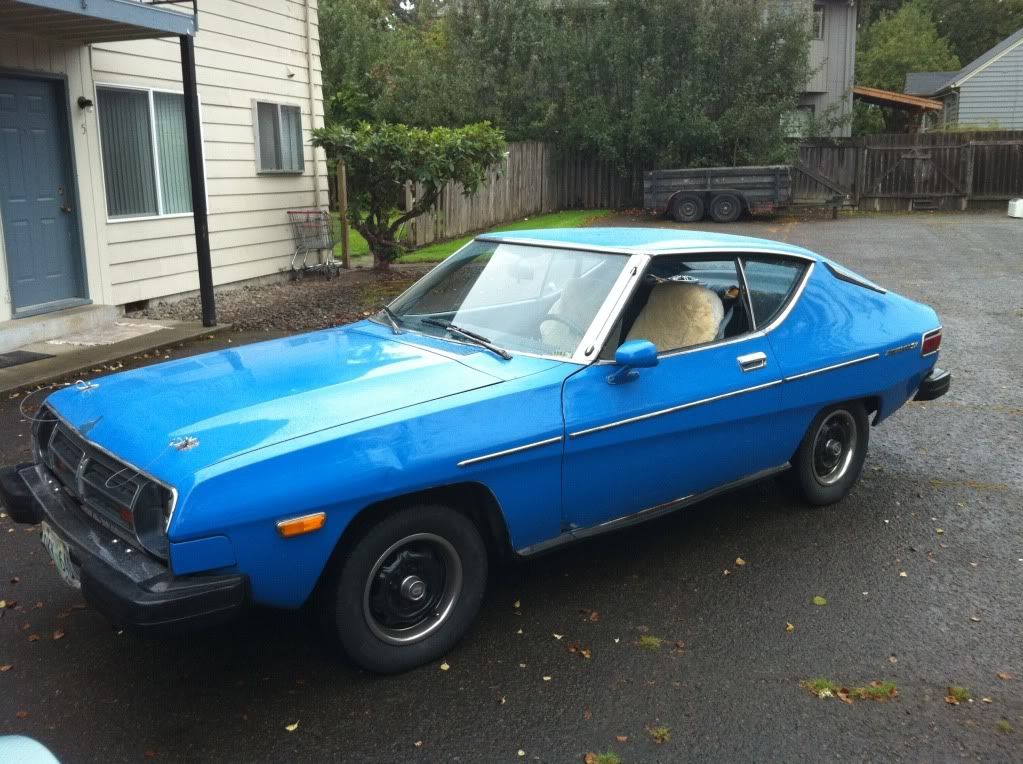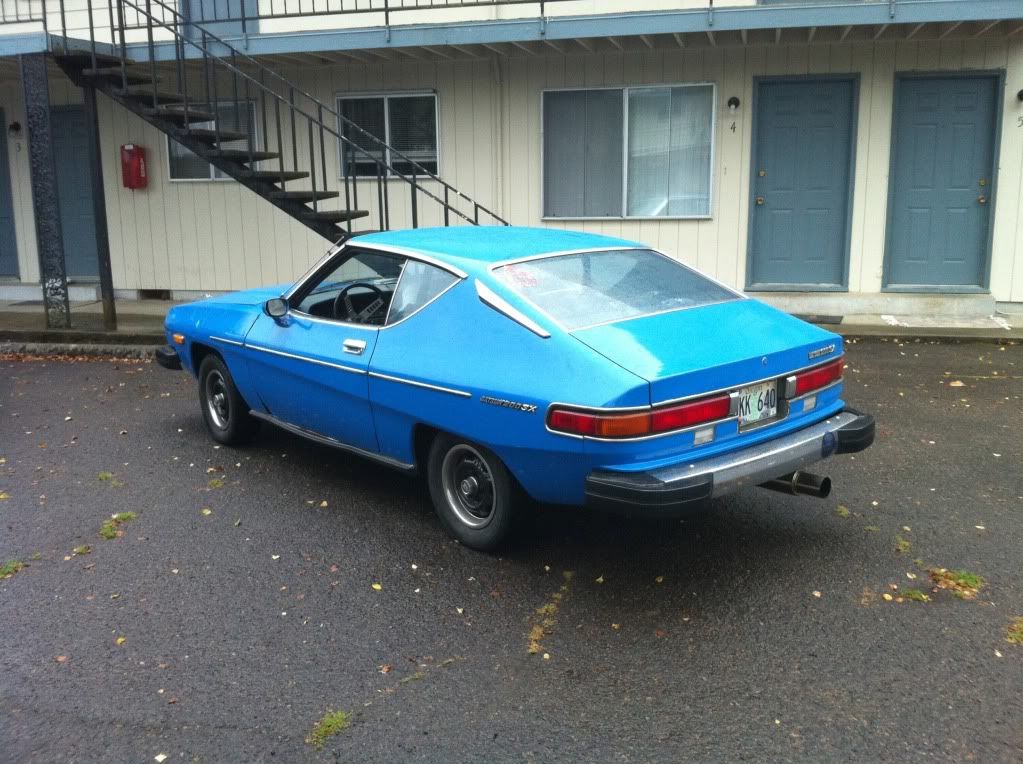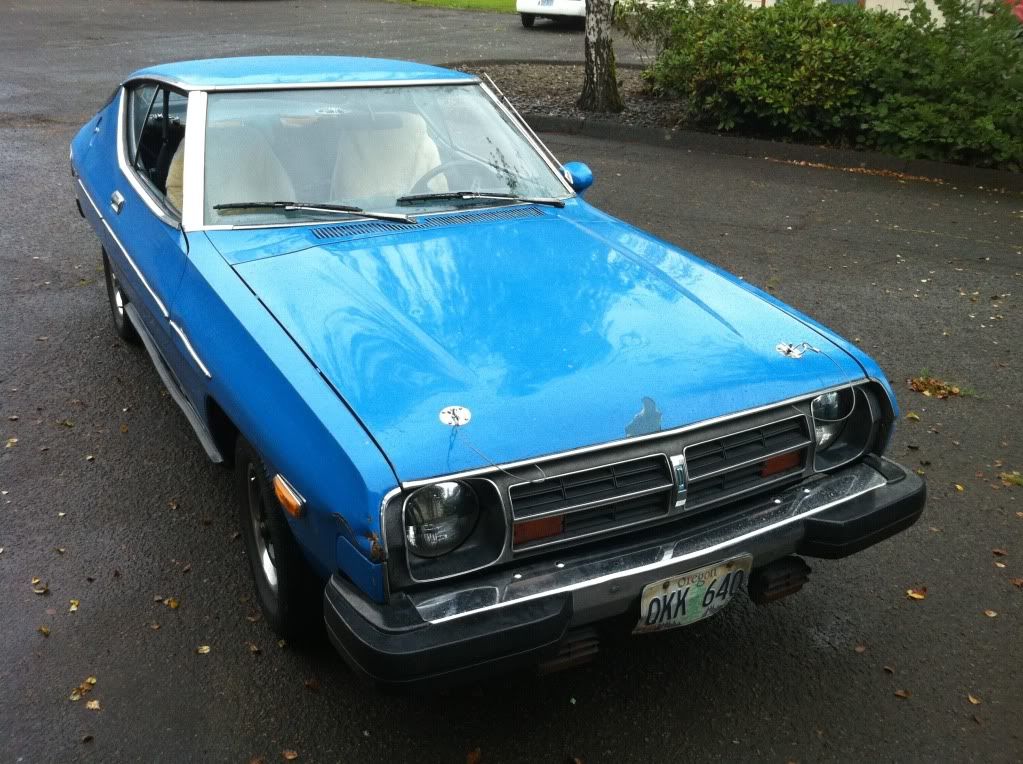 very cool.

i build old 'merican muscle cars, but have always had a soft spot for nissan/infinity because of a 98 max se 5 speed i had a while back.
would love a g35 coupe down the road.

the g35 is auto with tiptronics, which i frankly hate, but its better than nothing. sometimes...
but it is a very fun car to drive. the 91-96 (p10 chassis) g20 has independent rear suspension, and is one of the best handling cars ive driven. g20t means its got an LSD tranny. the p11 chassis (99+) has a beam rear which is too bad, but still a great handling car.
if i got a 35 i would get a g35x with AWD, that would be a blast!
the maxima's were like that too where they had independent rears but dropped it for a beam in 95 i believe? i suppose they had to cut costs somewhere to keep the price point with all the other upgrades they made, but that was a bummer.
if i got a g-35, it would have to be a manual. modern automatic transmissions, tiptronic or not, make me want to let it roll off a cliff. i'm just used to a manual i guess. (control freak issues abound here lol).

very nice stuff. (strat too squier or not).
meh i could talk cars for ages, guitars not so much.. haha.
cars are pretty much my life, but financial problems have put that on hold. im selling my silver one now too =(

Join date: May 2011
190

IQ
Wow, that's a steal.

HNGD!

the tuning machines are horrible, they catch and have play in them
and i should have gotten a pic of the neck pocket. the pocket end instead of rounded or squared looks like, well, if you look at it with the neck pocket aimed upward, its shaped like a nutsack. its pretty weird. the neck does fit snug against the end, the corners have two bulges that are weird. its confusing.
Last edited by xadioriderx at Aug 6, 2011,
My friend has a squire that looks EXACTLY like that, right down to the horrible paint on the neck, black paint on the neck and headstock, mostly worn off the neck, tortise shell pickguard, white p'up covers and knobs, Squire engraved on the plate.....weird
Last edited by ecvMatt at Aug 7, 2011,
it looks like there was a sticker on the pickguard that he went to town on with a razor or something. its pretty well shot, looks like heck!

Join date: Oct 2010
60

IQ
Looks pretty great for $4.
lol why didnt he just give it to u for free...
it was his mom. im sure she just wanted it gone. he had a new guitar already apparently lol
Sell it and go buy a pedal.
i dont use pedals =x
i have a zoom 505 and a cry baby, hardly use either. i just turn up the gain a little and rock out

not big on effects.
since my brother wants to start, im gonna just leave this as is for a bit, maybe swap to the HSS pickguard i have and let him learn on it until we get his build done

if you are going to buy anything.
might i suggest some stairs for that door on your wall?
watch that first step, it's a dooosey.


Last edited by gregs1020 at Aug 7, 2011,

Join date: Jul 2009
10

IQ
if you are going to buy anything.

might i suggest some stairs for that door on your wall?

watch that first step, it's a dooosey.
lol!
We had a 92 Infiniti Q45 but my dad had a fender bender and sold it. (Hit a deer a long time before, but got it fixed) The Chevy truck we hit got hit in the front right tire and lets just say it didn't drive away. the whole tire wheel suspension construction was frikken collapsed. It was pretty much completely my dads fault but the other guy (Who happened to be a contractor who helped plumb our house) didn't have a license with him, so it was him who got screwed. There happened to be a pair of cops within earshot (lol they heard it.) They actually added some paint to the road at that spot to prevent the specific maneouvre we did.
before that, we had some sort of maxima, my guess is around a 95 or so.
Now we have an 08 or 09 Infiniti M35. It's my moms. Haha, she would have our most expensive car...
We had a G35 the same body style as the one in your picture for a little while as a loaner from a dealership when we bought a Lexus.
well i have some ironic news. today the g35 got backed into by an elderly man. the dent isnt very wrinkled or anything, but its pretty big. got the guys info and stuff, will be taken care of =/
sad day
well i have some ironic news. today the g35 got backed into by an elderly man. the dent isnt very wrinkled or anything, but its pretty big. got the guys info and stuff, will be taken care of =/
sad day
mojo your way.

well today i got builders ADD and when i took off the squiers SSS pickguard to use as a template for my build, i decided to do a little work. i had the HSS pickguard with pots and switch and pups, with wiring problems, so i cut it apart and rewired it all up. The volume is a CTS, the other 2 pots just say mexico on them, not sure if they were factory. my uncle had some work done on it and the dude messed it all up. it was wired ALL wrong.
anyways, now shes an HSS strat!
BUT, i figured there was what, a 98% chance squier and fender winds their pickups the same direction. WRONG. so now the humbucker is out of phase with the middle pickup.
ever heard a humbucker out of phase with a single coil? holy crap, its such a strange tone, ill have to get a sound clip. its BIZARRE! my first build has a split hum OOP with a single and thats pretty quacky, but this is a whole new level. the switch also seems to have an issue, crackles when i shake it in one of the positions. wires are all good. oh well.
booya!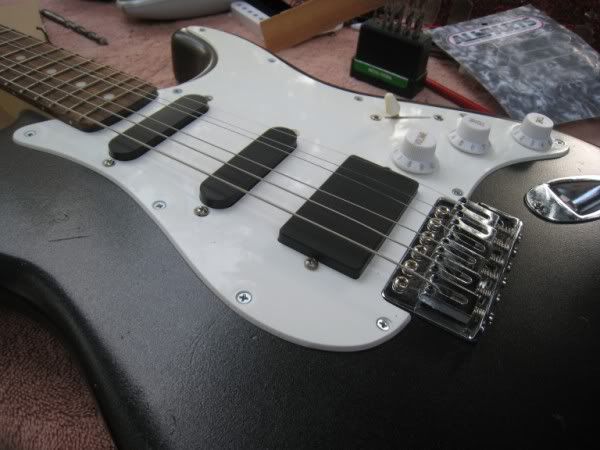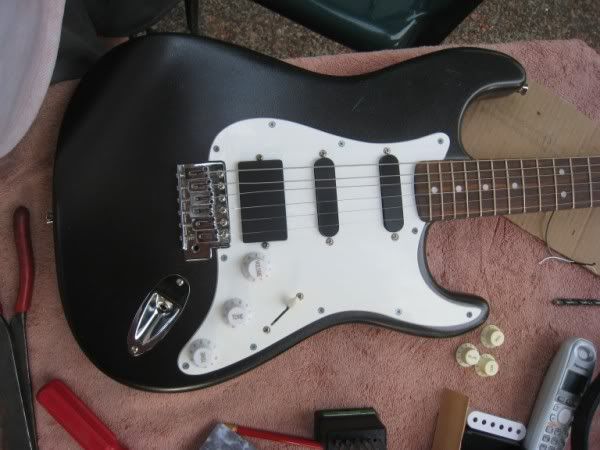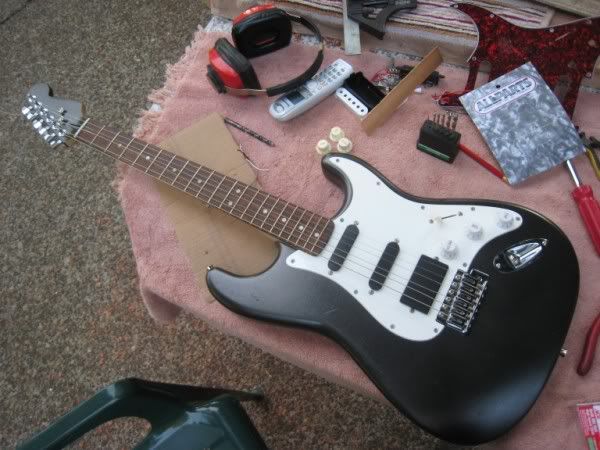 can anyone identify the one with tape on it? i assume its a factory MIM pup, but i dont know for sure. may be a squier one too..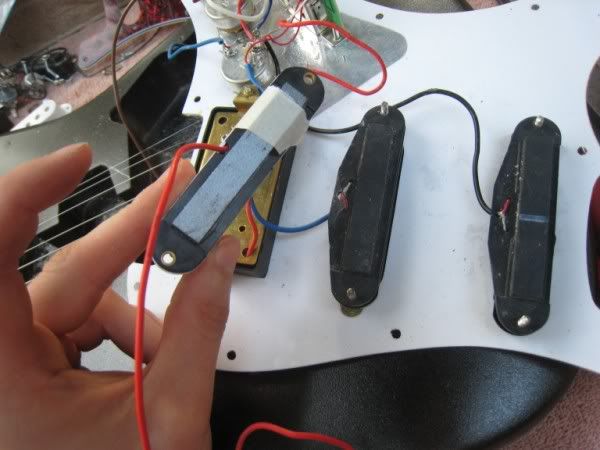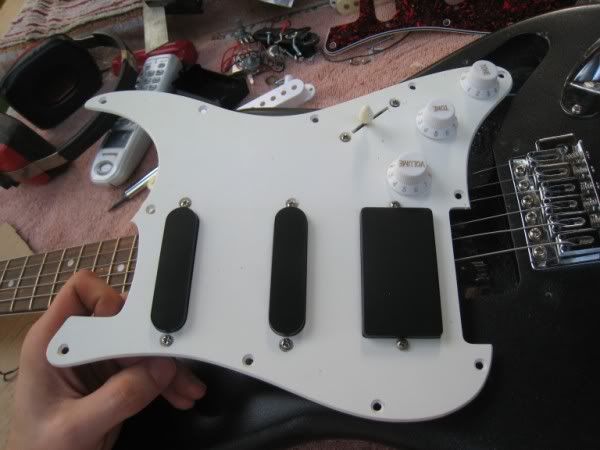 all done!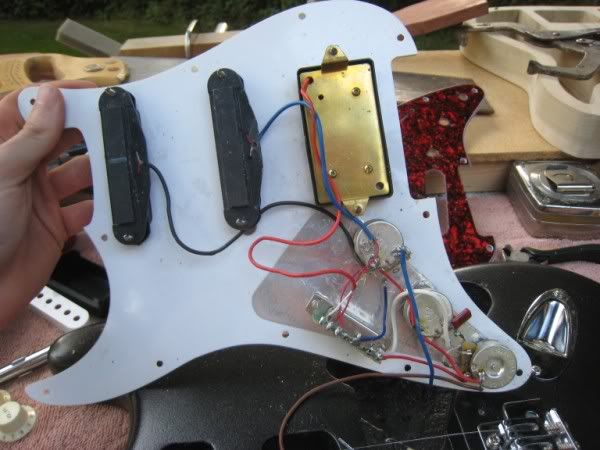 Had to drill a tiny bit for the humbucker screws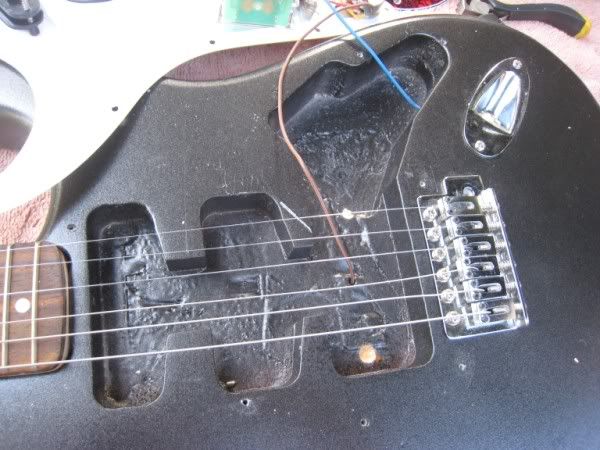 see any issue here?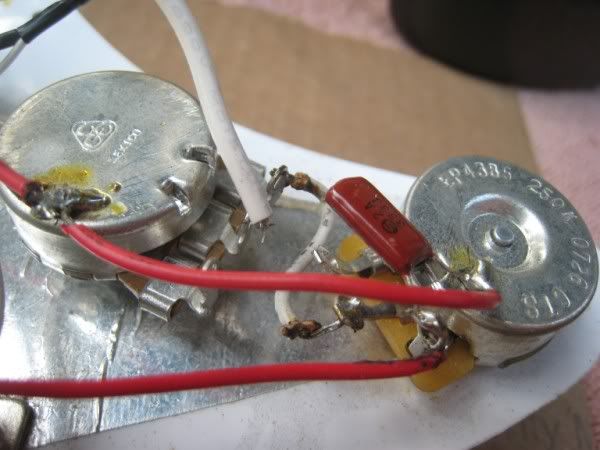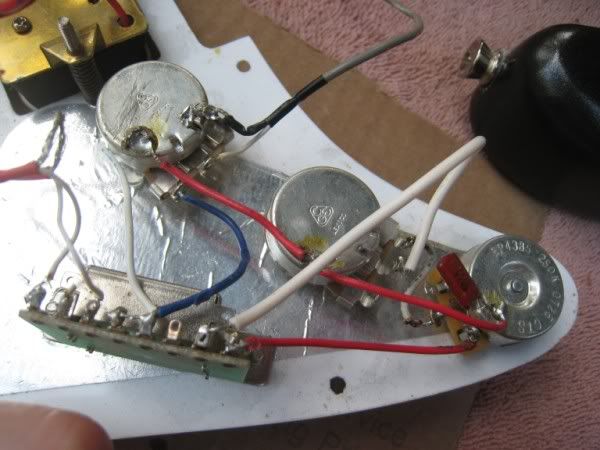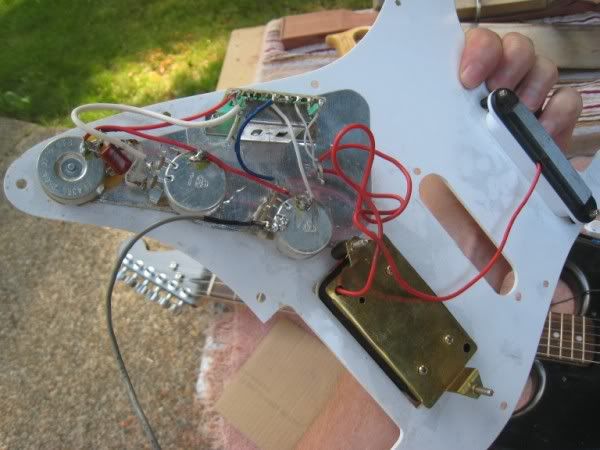 HSS original setup, minus middle pup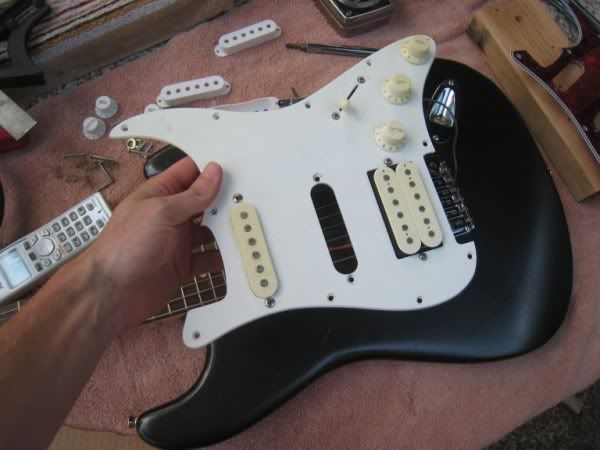 screwed up SSS pickguard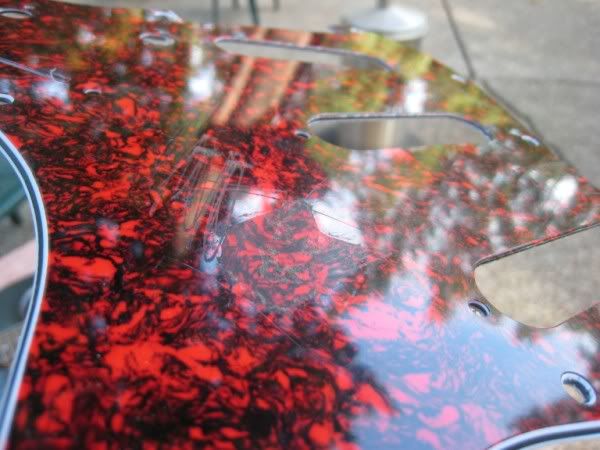 messed up neck pocket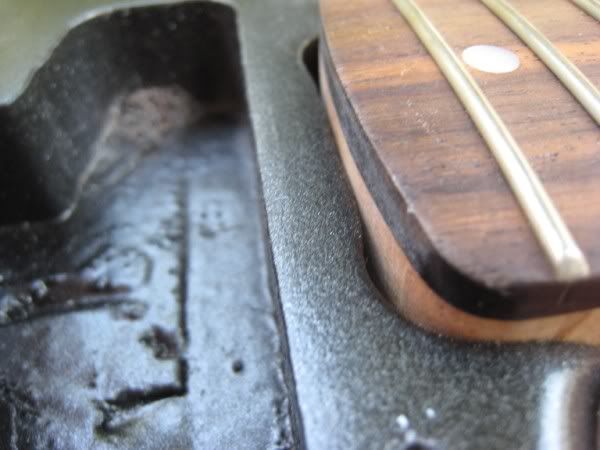 Messed up neck pocket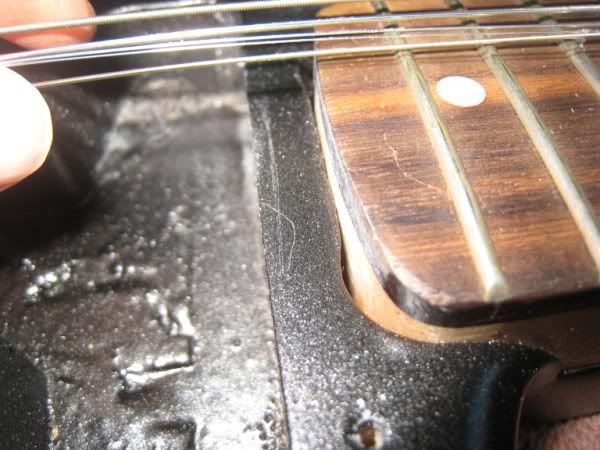 Crappy original wiring