Things you've discovered
So Pit,
What are some things that you have personally discovered. It can have been discovered before you, but you have to have stumbled upon it by yourself. It can be a boring discovery or an awesome one about bears and/or goats, whatever, as long as you discovered it.
I'll kick it off.
So I was in my room last night listening to Wubstep (Culprate - Trench Foot if you were wondering) and I tripped up and fell over on the ground. I was just lying there for a while pretty uncomfortably so I rolled over onto my back. Upon rolling onto my back and being forced to look directly up I was blinded by my lights (Because my lights are manly and really bright. None of this pussy energy saver shit, **** having dim lights, dim lights are for pussies). So I chucked my hand up to protect my delicate eyes aaaaaaaand,
Made a discovery!
My discovery was this; When my hand was almost fully covering the light I could see all this floating dust and shit. Like you know when you're just chilling somewhere and you see a window with the sun shining in, and you can see little dust things floating around inside and they'll just fly around forever? It was like that except there was so much of it, I couldn't believe it.
Diagram: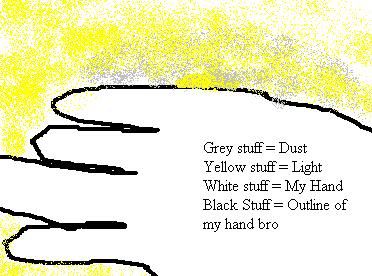 As you can see from the diagram there's heaps of dust and sh*t. I took my hand away to see how much dust and sh*t there would be normally. The light was bright as shit and hurt my eyes, but all the dust had disappeared. I put my hand back to check if it had got offended and left, but no, it was all still there. I checked again to see what it looked like without my hand blocking the light. Hurt my eyes again because the light was bright as shit.
Diagram: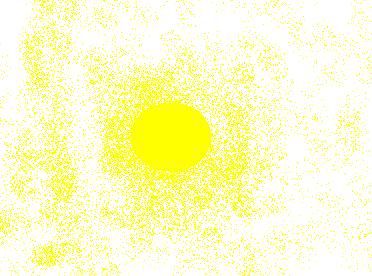 As you can see the light was really ****ing bright. So I looked around my room and couldn't see ANY of the floating dust particles while just looking around with regular human eyes. I checked against the light again, and it was ALL STILL THERE. I was amazed and spent the next ten minutes thinking of uses for the tiny invisible dust colony that was apparently everywhere.
tl:dr;
I discovered an invisible species who hide from humans who don't hold their hands in front of lights.
TT: Post Discoveries you have made by yourself
Secondary TT: Think of ways to harness the dust army, poss. by arming all of the pieces of dust with tiny swords and then releasing them onto Australia to fight all their spiders and possums and sh*t.
Last edited by devourke at Aug 6, 2011,