Saturated Fat has...another NAD?!
Yep. Thats right. But first... some backstory

I recently bought a fender blues deville reissue. 60 watts. Powerful as hell. Beautiful sound. I am extremely happy with that amplifier. It is now at my drummers house, hopefully being taken good care of, although he screws with the knobs every once in a while but thats OK.
But I would go home, after playing that beast of a machine at practice, and sigh to myself because I didn't really have anything to compare it to at home in terms of that loud, clean sound and balls-y overdrive. Sure, I have a VoxAD50, which is, dont get me wrong, a very good amplifier, but it didn't really compare to the Deville. I stopped practicing by myself at home, and would only practice at band rehearsals, with the fender.
So, here is the solution.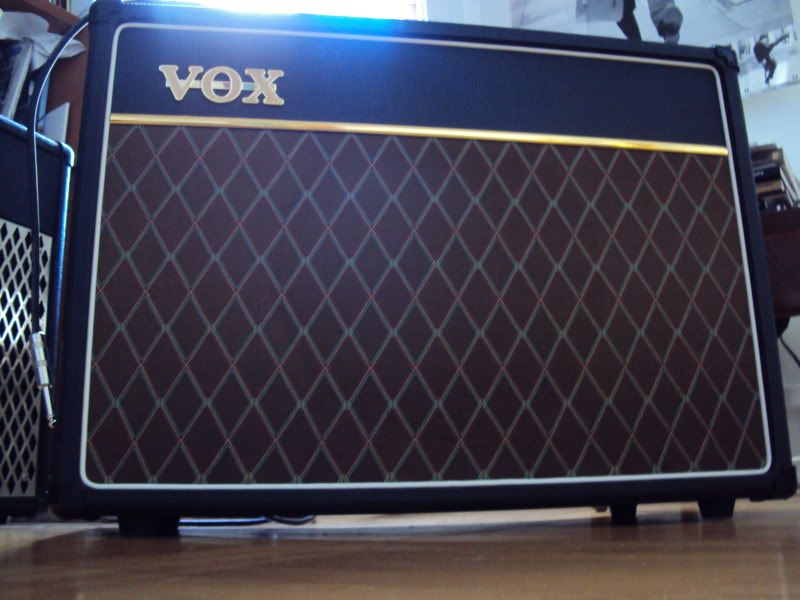 It was actually a HUGE impulse buy. I was looking through craigslist, like I always do, just seeing if there were any super sweet deals that I couldnt pass up. This thing was being sold for $350, brand new. It still has the tag on it and everything. And it was basically exactly what I needed.
Drove over to the guy's house, and the thing surpassed my expectations. I thought it wouldnt be loud enough. I was wrong. I thought it would have no headroom. I was wrong. The overdrive on this thing is pretty damn thick, it has a little more low end than the fender. The celestion greenback is pretty nice, although I haven't really gotten into speakers but I know celestion is a well respected company.
I have ONE criticism of the amplifier. The reverb controls are not very intuitive. It seems like if I turn the reverb down, I have too little. If I turn it up, I instantly have too much. I can't seem to find the sweet spot. It does sound very good all the way up though.
But anyway, now I have it at my house, im practicing as often as I can, and I love it

I might move it to my drummers and bring the fender home, or I might join a second band and put it there. We will see.
I will upload more pictures in a second!
So AC15 I'm guessing?

HNAD man!

Join date: Feb 2009
164

IQ
HNAD!

Is it an AC15C1? I was going to buy one, but I decided two amps would be too much at the moment. Maybe I'll buy an AC15C2 later or something more expensive
or you can run both amps in stereo

or you can run both amps in stereo
This is my plan soon...
what's the model of that cream colored amp? I'm pretty sure it's a crate. We had one of those at school and it crackled a ton (probably due to a tube) but it sounded pretty decent at times.
looks to me like a Vintage Club 15

Join date: Mar 2008
334

IQ
I read both posts, and still don't get told what it is

is it a AC15C1 or AC15VR?

Join date: Mar 2008
60

IQ
Congrats!


Join date: Mar 2008
780

IQ
HNAD

now.............what is it?
Well, it can't be vr because it's controls are on the front of the amp. I'm guessing it's an ac-15.
Last edited by kutless999 at Aug 11, 2011,

Join date: Jun 2010
40

IQ
someone's selling an AC15 in my area for $350 too
its a AC15

And dont think I held out on you guys on purpose with that information.
Im just stupid.
I knew it.

Clips?

congrats.

Join date: Jul 2009
310

IQ
Those are some nice amps. Some good mods that can be done to it too

HNAD!
Thanks guys! I just wanted to share my whole gear list for you guys, maybe you can give me something to look into, since I need some pedals:
Guitars:
SX stratocaster Copy
Epiphone Les Paul Standard
Amplifiers:
Vox AD50
Crate Club 15
Vox AC15C1
Fender Blues Deville
Pedals:
LPB-1 Clean Boost
Dunlop Original Crybaby
Ibanez TS-9

My band has been telling me I need a chorus and a distortion. I have always kind of hated distortion pedals since it makes it sounds kind of tinny to me. Any ideas for those?
What style of music do you play? If you like the disortion on the Vox, you could always boost it with an od pedal for that extra distortion and tightness.
Let me guess, most distortions you have used were low budget ones? Personally, for a full sounding "distortion", I really like fuzzes. My buddy has an Earthbound Audio Supercollider (now discontinued) and it sounds absolutely massive on both his guitar and bass. I want one

Chorus is something that I thought I needed, but I find myself using it less and less. Doesn't mean I'm going to get rid of it anytime soon though. Have you thought about reverb? Delay? What sort of distorted sound do you like?
Well, I play in a trio, and we are going for a sort of- funkier Nirvana sound. I need to sound half like John Frusciante, and half like Kurt Cobain. We are named "The Porn Groove" by the way.
We are going to try and cover "Wild Thing" and "Territorial Pissings" Which I am excited about. And I know Cobain used Chorus and Distortion pretty heavily, so thats why I am thinking about the two.
Regarding something fuzzy, I was thinking of maybe a Big Muff Pi, or perhaps
this bad boy.
I know Jack White is an avid user of the Big Muff and I love his raunchy dirty tone. Grunge-y.
And I am absolutely clueless on Chorus. I barely know what it really does, I know it sort of "multiplies" your guitar sound and makes it sound like there are a couple playing at once, but thats about it