squire p-bass referbish.
alright, i have bought a used squire p bass off of a buddy. i plan to referbish it. i'm gonna stick with the color it has. but it has some dings and cracks i'm gonna fix. i'm gonna paint the pick gaurd yellow, like he tried to, so basically what i'm doin is giving it a fresh coat of paint, fixing imperfections, and basically staying true to how i bought it.
now, i removed a good portion of the stickers(we're both punks and he did this when he was younger) but i'm tring to find somthing to clean the glue residue off the body, can anyone help me out with this? also how would i go about finding the shade of paint the factory used?
this is what i've done tonight:
is there a way to clean the pickup poles(the magnets)?
Last edited by drugfreeboy at Aug 14, 2011,

Join date: Jul 2007
40

IQ
Is it the "Standard" series? My brother has one and it's fantastic for the price he paid for it (£60).

You might benefit from new pickups. Just a thought.
I was thinking that. But I play distorted/fuzzed all the time, so I wasn't sure what would be good.
cleaned the sticker/glue residue of the body.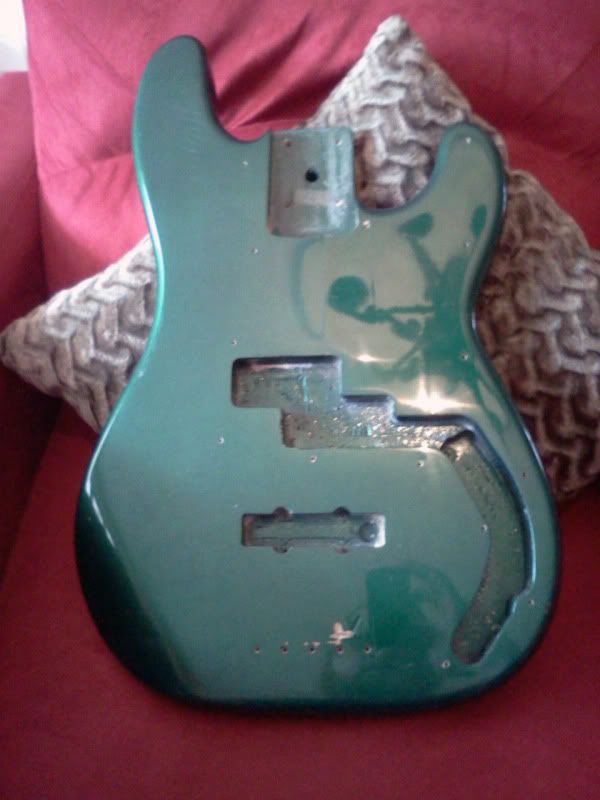 got a few chips on the body.
gonna strip it down and reseal it(possibly) and paint it the same color. what's the easiest way to clean fretboard grime?
where can i get a good wire kit? also would you say its a kelly green...or a candy green?
Last edited by drugfreeboy at Aug 14, 2011,
Fretboard clean, thanks to some 0000 steel wool.
Took the rest of the stickers off of the pick gaurd and sanded it with some 320 to take the yellow off. Now its ready to prime.
hopefully my next task is to replace the tuning pegs/machines.
Any input on things? Or is it cuz its a squier no one wants to help?

Join date: Jun 2007
407

IQ
For cleaning the fretboard you should have used lemon oil.
did have any. just made do with what i had. came out nicely though. as soon as i get some dough i'm gonna get some fretboard conditioner.

any suggestions for pick ups are welcome.

i would like to install new volume and tone pots, any suggestion there is welcome to.