NGD: "#1"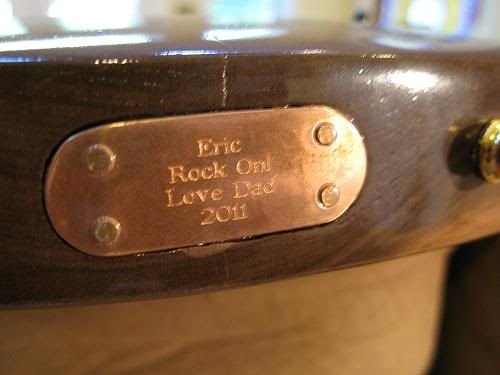 Used to seal the crack at the end.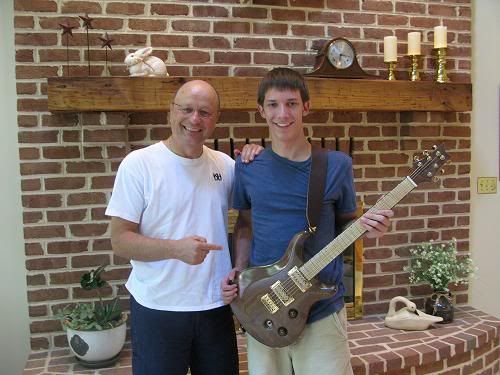 Family Shot #1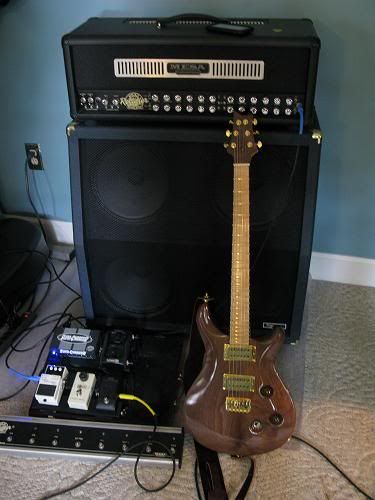 Family Shot #2
For those interested in the entire process of building this, the link in my sig will take you to the GB&C thread I made in January.
Specs:
-Black walnut body
-Soft flame maple/black walnut 5-piece neck
-Hipshot hardtail bridge
-Grover mini rotomatics
-Bare Knuckle Aftermath pickups
-25.5" scale
-Stainless steel gold jumbo frets
-14" radius
It was originally my dad's idea to make me a guitar for a graduation present. We started working on it in January and the deadline was originally set for May. Well, 7 months later it is finally finished! Over 150 hours were put into this guitar over the span.
Review: Honestly the best sounding guitar I've ever played. The Aftermaths are extremely crisp and defined, but I can still get a very impressive clean tone with them. The guitar has a ton of sustain to it and weighs on the heavier side of 7 pounds. The only slight mistake we made was having the bridge off by about 1/8"-1/4", making the B and E strings about a quarter tone off when you intonate the guitar. However, that's barely noticeable.
Working on this taught me a ton of useful information about woodworking and using common sense. I'd love to build another one soon, but I'm going off to college and officially have $0 left for guitar toys. Also, I can't record any clips of it unfortunately, but let me just say that this guitar screams.
Enjoy!

Last edited by polishedbullet at Aug 17, 2011,