Another new build! Custom Semi-hollow Double Cutaway, Dual P90
Yep, Ive got 2 builds going on right now. the other one is for me, this one is for my brother.
He had an amazing 86 MIJ Strat black on black, black headstock, system III (?) trem with fine tuners and factory strat locking nut with the little switch... great guitar, got it for 300 bucks, in great shape. got stolen (or may have been pawned, was in a dark time of his life, a lot of drugs). Hes cleaned up now, and wants to learn again. So Im more or less walking him through this build, although ill end up doing a lot of the work probably.
Details so far:
Poplar core
Sitka spruce top and back
Dual Mighty Mite P90's
Transparent charcoal to solid black burst
Black Hardware
Hardtail bridge (learning, so no use for trem yet)
Unsure of the neck wood yet, rosewood or ebony fretboard, 3x3 headstock (offset probably)
3 way switch, 2 vol, 2 push/pull tone
push pulls control phase reversal of bridge, and series/parallel for both together
So far hes only gotten the outline traced and partially cut. he works slower than i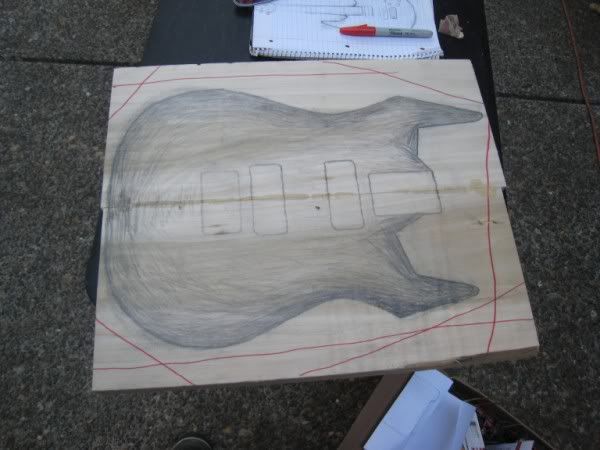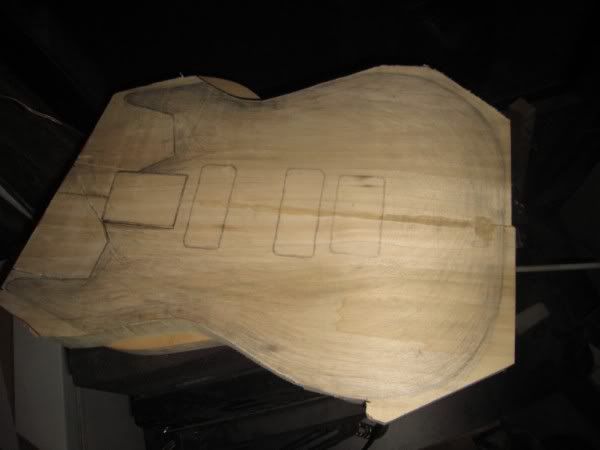 i may have to get it going for him to start getting into it

Last edited by xadioriderx at Aug 18, 2011,
alright i took over for the day. got the outline roughed better, and got it chambered out
left a spot for the forearm curve he wants. i will end up doing that as i did in my first build, cut a small groove in the back of the top wood so it will bend in a line. it wont be a rounded curve.
shaped for the most part, except around the horns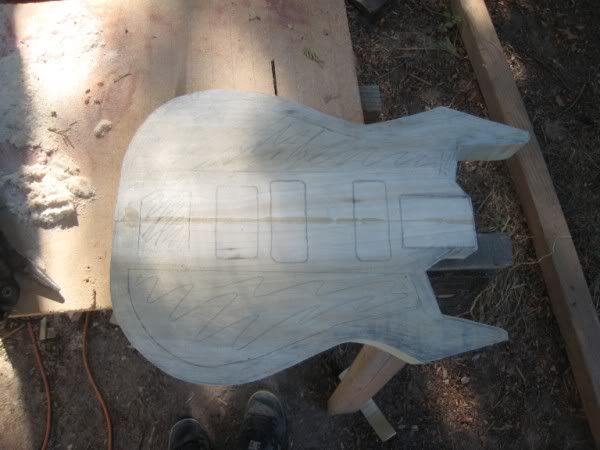 outlines for the chambers
no way in hell im jigsawing the whole thing. so i used a skilsaw to make as much of a dent as i could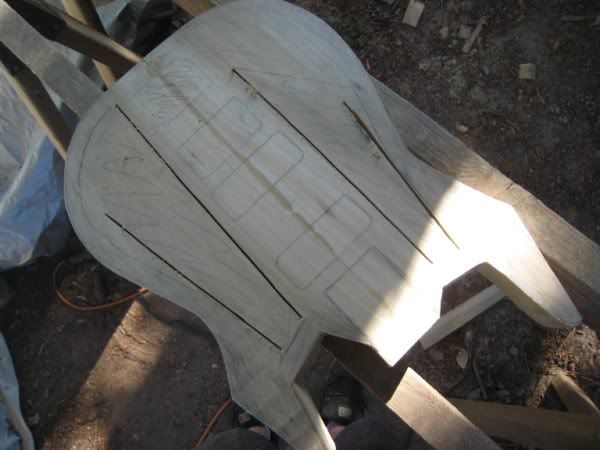 two main chambers, left space for arm contour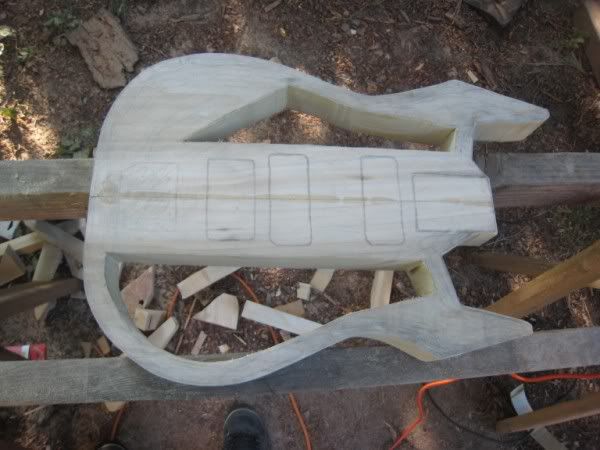 all three chambers cut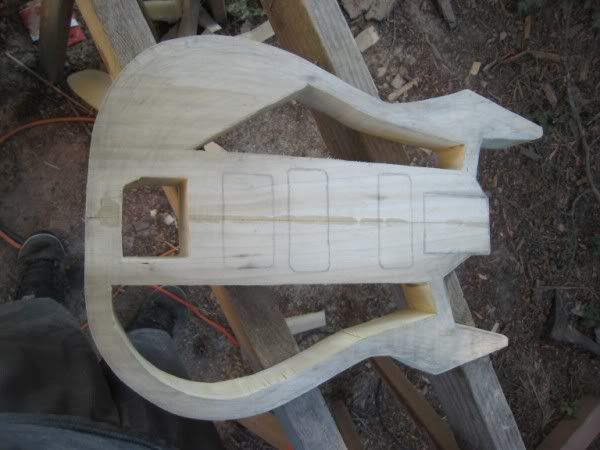 threw the neck from my other build on. not a good headstock for this body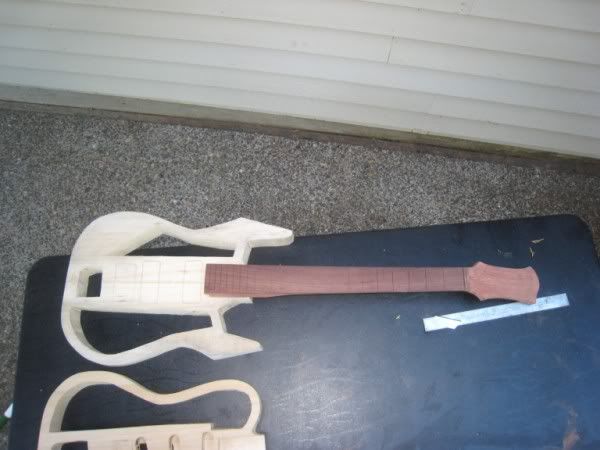 ughh, well today i had a small disaster. to thin out the body, i decided on using a router instead of the belt sander because the belt sander would take forever to take 3/4" off this.
thats not where the disaster happened. i managed that alright, i just had to leave a few pieces un-routed here and there for the router to sit flat on. then chisel the leftover pieces off, then belt sand the last little bit off.
well, apparently i chiseled too hard in the wrong direction with the body mounted to the table, unthinkingly. and it broke just above the neck pocket and just above where the rear strap pin would be. i sat there in shock looking at what i had done, then it occurred to me it would be alright.
you can see my thinning method, i had chiseled most of it off, then i was going to take it down about 1/8" more with the sander and smooth it out.
luckily it happened at 2 clean splits, and fits together seamlessly. so i setup my table as i do for gluing my bookmatched sets, and put a little wood glue on. when its all said and done the sides will be black, and it will have a 1/4" top and back on it so i am not worried at all about the integrity of the areas that broke. disaster, but curable!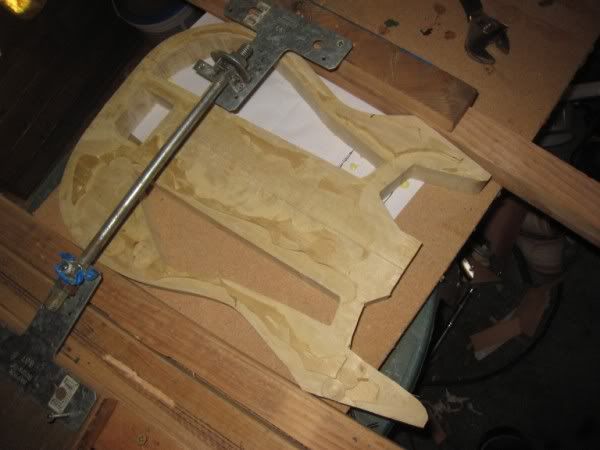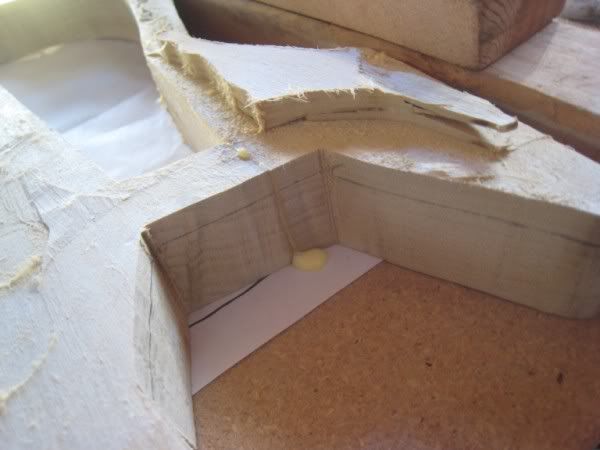 Nice save man!! im looking forward to seeing this finished.
suddenly i am too

im lucky i have 2 builds going on, so while this ones drying i can work on mine.
but because my brother bought me a guitar yesterday for my birthday (early), i really want to get his done for him

Join date: Sep 2011
170

IQ
Sweet guitar man!!