I need...a distortion pedal.
Well, I bought a Way Huge Swollen Pickle yesterday.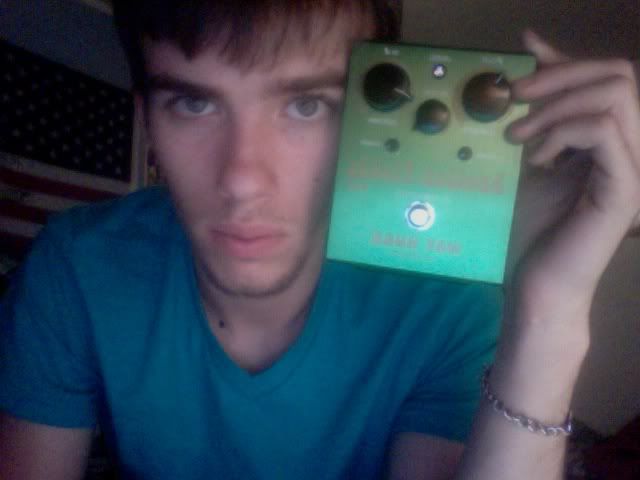 Sadly, this is not a NPD.
I am returning this beast. Yes- It isn't working for me. The sustain is crazy, yes, the fuzz is off the chain, and the compression and signal boost are all nice, and at the guitar center, it sure did sound great. It even has two knobs INSIDE the pedal, one to "vary between smooth or opened fuzz" and the other to " set the intensity of the scoop control." The scoop control is basically a midrange frequency cut. Its very dynamic, each knob can make a WAY HUGE amount of different tones and i am sure that for a fuzz, its definitely an awesome one. yadayadayada.
But it severely cuts my trebles, which I am a heavy user of. It also has next to no dynamics- if its on, everything is super fuzzy basically no matter how light you play. I am a heavy user of that too. What I need is a distortion pedal that can allow dynamics-and maybe even increase my treble frequencies.
When I am not playing but the pedal is on, its noisy and sounds like someone is moving a boulder.
So, UG, I need help finding its replacement. I am looking for a crunchy, slightly treble boosting distortion pedal that isn't TOO heavy, but can get heavy enough. It also shouldnt be noisy when im not playing if the settings are right.
At the moment, I am leaning towards a similar pedal to the Way huge, the Big Muff pi. But does it do what I want it to? When I tried it out yesterday, the swollen pickle just did everything it did a little better. My friends told me to try the Tone Wicker, and I looked it up on PGS, and it did sound a little better than a normal one. Another option is the Germanium Pi 4, the OD/Distortion.
I wanna have a sound similar to Jack white(who I know uses a Big muff extensively), Kurt Cobain, and Andrew Stockdale. Think of those guys and a heavy mix of garage rock-y like tones.
just For the record i guess, I will be playing into a Fender Blues Deluxe, using a strat, and occasionally a Les Paul. I have a Clean boost, and a TS9. I dont use a wah too much, although I'll use it once in a while.
Whats the Scoop guys? Got any suggestions for me? Thanks!

Join date: Oct 2007
250

IQ
i'd ask matt (mmolteratx) to build me one, tell him what you want. he'd make you something nicer than you'd find in a store and you could tell get it made they way you want.
Last edited by gumbilicious at Aug 19, 2011,

Join date: Oct 2010
81

IQ
a big muff tends to have a scooped, bassy sort of sound it doesn't sound like your going for that. kurt cobain used a boss ds-2 for his tones you might try that.

I vastly prefer my Big Muff to the Swollen Pickle I tried.
Plimsoul is trebly, power tube break on stage 2 drive, can go light distortion
Fuzz Factory is a more trebly fuzz, but not that light
For Muff sounds try a Pharaoh fuzz, it is capable of light or heavy

Join date: Nov 2010
160

IQ
It's not a fuzz pedal but - the Suhr Riot is an excellent high-gain distortion box that doesn't have some of the problems you describe. But from reading your post in more depth, it seems like you don't just want "a distortion pedal". You specifically want a fuzzbox.
Last edited by Brainpolice2 at Aug 19, 2011,

Join date: Oct 2007
250

IQ
kurt used a ton of stuff in the studio, but he also used a DS-1 and a sansamp as well as the DS-2. i think he is talking more about fuzz tones.

but then again he may be looking for just a distortion pedal.

hey TS. i didn't see you had a tubescreamer, you try cascading the tubescreamer into the swollen pickel. you won't be able to use much gain but you can kick the highs and mids you that way.

i run my boost pedal and/or OD cascaded into my fuzz a bit. might as well try it.

Join date: Sep 2008
390

IQ
i'd ask matt (mmolteratx) to build me one, tell him what you want. he'd make you something nicer than you'd find in a store and you could tell get it made they way you want.
No need really. The BAT Pharaoh sounds like it should be up his alley and is reasonably priced ($150). Maybe the LSTR if he wants more gain and a more traditional Muff sound. Neither is really dynamic though. Thanks for the plug though.

TS, the dynamics Jack White has is mostly from turning on/off pedals (and the guitar volume knob when all pedals are off since his amp is distorting already) and he's playing through a fairly bright amp to begin with. He also hits the Big Muff with a Micro Amp for more gain. No Big Muff is really dynamic. The philosophy behind the design was a ton of compression/sustain.
Well, it doesnt have to be a fuzzbox. It has to have that sort of heavy crunch gain is all Im asking.
I can link you guys to a video of how I would love to sound:
White Stripes-Jolene(Blackpool Lights)
The gain I want to have is at about 2:05, especially when he is just kind of chucking the strings and its really...chunky and awesome i guess

See how his trebles are still present though? And he has dynamics too? Is that just the twin reverb he is playing, or am I missing something? Cuz it sounds awesome!
I purchased this. Hopefully it'll do a little better in terms of treble. It also has a LITTLE more dynamics involved, if you keep the sustain knob down a bit. Although Im starting to turn towards just using it for the really heavy distortion bits and hi-gain stuff anyway, and then turning off when I am playing anything soft.
Not a NPD QUITE yet though. I still need to test it out, try it, really see if I like it.
Also, I am making my first pedalboard soon! Maybe even tomorrow, and I will put some pics up of it once its done.