FS: Dean Razorback Explosion
Soooo as some of you may know. I bought a razorback about 2 months ago. It's fine and dandy but it's just too big for me

I'm looking to sell it.
The guitar is absolute perfect condition.
No marks whatsoever to my knowledge. I got the guitar and the neck pick up needed adjustment (the idiot who put it together didn't get one of the height screws in the spring) so I fixed that. Re set up the floyd rose system (Was a bit loose) and now it's just sitting in the case waiting for a new home.
The only "Problem" some people may have is that it didn't come with a floyd arm/bar so I had to order one... the floyd rose itself is Nickel but the arm I got was chrome so it doesn't quite match but when you're playing you won't notice a bit. Yes I'm throwing in the bar I had to buy too

Now like I was saying, the guitar is in perfect condition. I mean I seriously only played the thing 4 times. But I live in a tight space, not a lot of room and I don't want to ding up my guitars!
It comes with a hard case as well, so I'm shipping it with the hard case. In fact I'm shipping the guitar with EVERYTHING that came with it. Probably the box it came in too.
If you have any questions shoot me a PM or reply here.
Price: I'm asking 550 but I'm willing to talk about it.
Location: I'm in Oregon, United States and I don't want to ship outside of the country...
I have pictures for anyone who's interested. Thanks for showing interest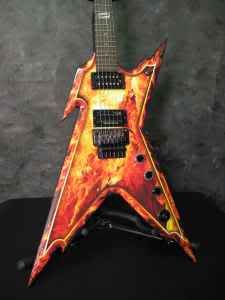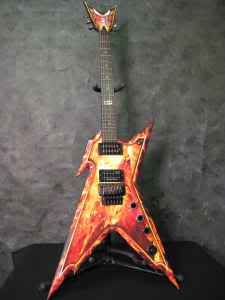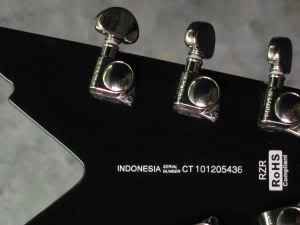 Here are some pictures like I was talking about. They were taken by a shop who was trying to list the guitar for a few weeks.
And again. PM me if you're interested, or reply here. I'm more likely to see a PM tho

Also willing to trade guys! Sorry I forgot about that haha
Would u add cash for another guitar?
Depends I suppose, what'd you have in mind??
Depends I suppose, what'd you have in mind??
I have an ibanez prestige rg2610 in mint condition with case. Interested?
Thanks but I'm looking for an HH or HSH set up.

I'm asking 550 like the post says

If you'd like more detail I can try haha
550$ for that razorback?


r u sure?
Total crap shoot here but ill trade u my flextone
Total crap shoot here but ill trade u my flextone
EDIT flawless cosmetic condition, one small scuff on the outside from when i bought it off CL getting it into my car. Upgraded wgs 30 speaker ( v30 clone but very comparable, some say better) its a 1x12 as 75w and gets pretty loud, competes with drummer and takes pedals really well
Yea 550 lol since I'd only be seeing about 500 for it (Shipping will cost me quite a bit) and I paid 1000 for it not two months ago I'm already taking a $450 loss XD

And thank you but not on the flextone, I'm sorry but I already have a full time amp :/
More of a decked out practice but thats cool.
If there's anything else you wanna talk about I'd be more than happy to

Nah everything else i got is pretyvmuch essential. All i got left is my halfstack, 2 guitars and my zoom g2.1u and I'm not willing to let go.of.any of those yet:p good luck though
Good luck to you as well!

Bump. Still selling or trading!

Make me offers people! I'm willing to talk about anything

not yet haha so if you're still interested it looks like it'll be around for a while xD
flextone is still up in the air :P
If I didn't want more guitars I probably would haha. I've been trying to check out some other brands still
u try postin ur stuff on CL?
Yea nothin yet haha. Pretty sure I live in a poor area anyway :P
I'll shoot

Epiphone Gothic Flying V?
Thanks, but no thank you haha. I'm looking more for a standard shape. I've really been looking at Ibanez RGs and Jackson Soloists. But this is good! I like offers, no matter what they are.

I actually went into a bit of debt with some family for this guitar.. regret that since I'm trying to sell so soon after the initial purchase lol
i dont think u can get a soloist for that man. these guitars arent really that demanded among people due to their reputation
Oh I know, I'm not expecting one. Just what I'm interested in. I'd even pay toward a nice soloist/RG along with the guitar haha.

I'm just lookin to get it to someone who wants one. I've got one guy locally who's looking to buy it but he doesn't have the money right now, so if anything gets sold I'll post about it.