High E String Keeps Breaking Help
Hello everyone. First of all, this is my first thread and I'm not really sure if this is in the right category but anyways.
So, just today, I was tuning my High E string from D to E when, just like that it snaps. It snapped near the tuning peg. I forgot what strings are on it because I had it set up not too long ago. I just recently purchased it actually. It's an Epiphone Les Paul Traditional Pro electric guitar. I've been playing 3-4 hours a day for like the past month and I've been bending the strings even up to 2 1/2 steps. Like I said, it snapped near the tuning peg.
Later today, I was playing my acoustic-electric Ovation and tuning the high e string from D to E and then it snaps. It also snapped near the tuning peg. I can understand why that would snap because I've had the same strings on it for a while but I just got new strings for my electric.
Please help!
Thankyou!

Maybe youre not putting the string on right.
Well, that could be a possibility although, I'm pretty sure i'm putting them on right. My electric was strung for me.
Hmm... Do you bend strings alot and what guage are you using?
Maybe youre not putting the string on right.
This - or the tuning peg has a sharp edge. Did it break right where it went through the hole in the peg or a bit away from the hole?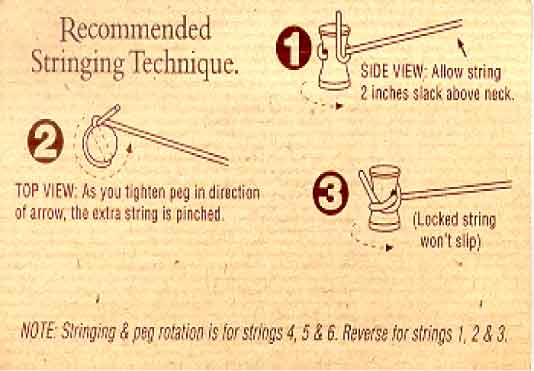 Then add a couple of extra turns around the peg beneath this being careful not to cross over itself. Thusly:

Join date: Jul 2011
30

IQ
Bring it to a local music store and have them check for problems on the bridge, nut, and tuners. They really shouldnt have to even thinking of charging you unless they have to fix it. It could even be the brand of strings that you're buying.

Join date: Feb 2011
300

IQ
The older the strings, the easyer they break, because they are streched out to there maximum potentual.
You also have to take in to consideration the corrosion of the strings over this amount of time.
Yeah, the tuners or maybe even the saddles could be sharp. Bring the guitar to a repair shop and have them look at it for you.

Yes, I bend the strings often. I was using a light gauge on my acoustic. (0.012-0.053). They were D'addario strings.
Yeah, it must have something to do with the tuners or the saddle. Bring it to a music shop and have them look at it.


Join date: Jan 2011
10

IQ
Old(er) strings break easily, especially if they take 'abuse', retuning and bending etc etc.

If it is a recurring problem, you might want to check the metal parts (tuners if that's where the string is breaking, or equally commonly the bridge saddles). If it keeps happening, definitely take it to a shop for a check up (argue for a free one if nothing needs changing).

Otherwise, just change the strings, clean the tuner head, saddle and nut for any sort of detritus and restring it, then wait and see.