NGD: Handbuilt soloist
Some people may have been following this thread in the GB&C but the guitar was finally delivered today and now it's time for my first ever NGD thread =D
Story: I've been friends with a guy named Mike for a long time who is the son of a famous British Luthier called Brian Eastwood. He's been making guitars for decades and he loves making mad stuff. Anyway, his son builds guitars too and with me being friends with him, when I finally decided I wanted to get a guitar custom built I asked him to do it for me. He agreed and made me a guitar that is perfect for me in pretty much every way. I adore it already. It sounds like I wanted it to sound, it plays like I wanted it to play and it looks how I wanted it to look.
The aim: Very simple guitar that just does exactly what it needs to, nothing more nothing less. If it doesn't need it, it doesn't have it. Very high quality, but simple. Ie. Something that is brilliantly built that I can gig with without worrying about dinging it, or changing anything. She's a workhorse baby!
Pics: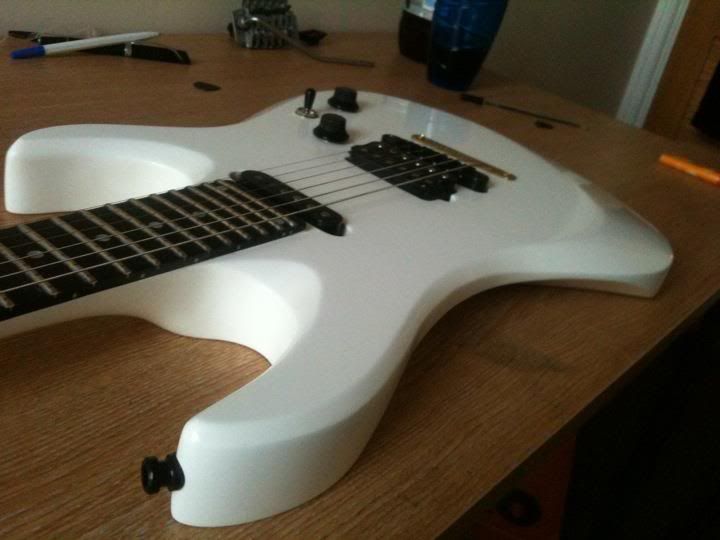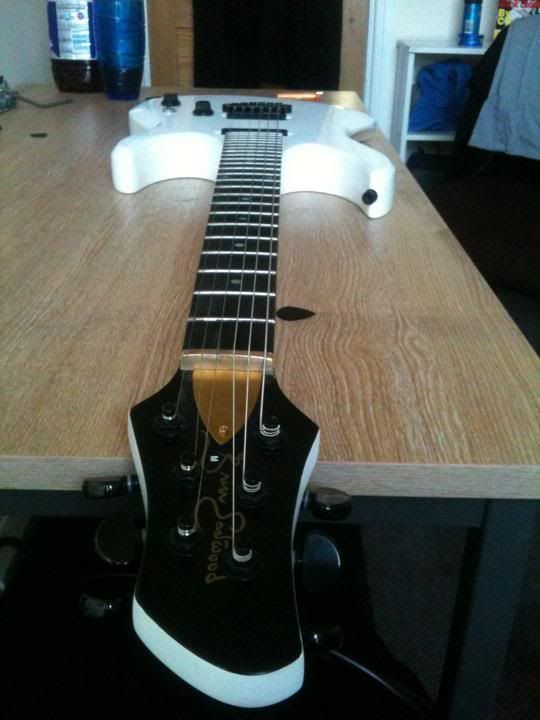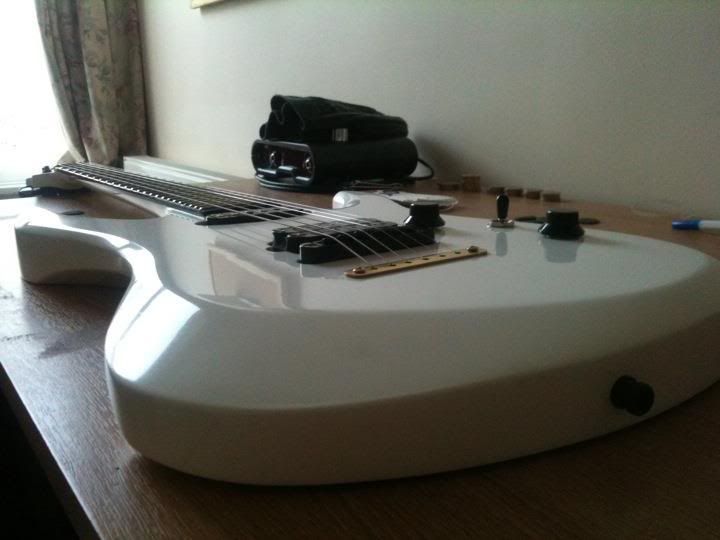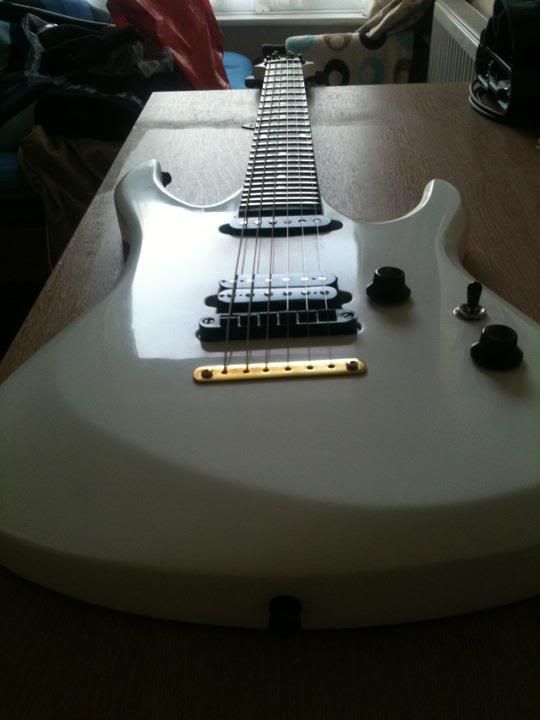 and one picture of her as a project . . .
Specs
Maple neck through. Basswood sides
Patrick Eggle style headstock
Brass truss cover
Brass nut
Ebony fretboard
24 jumbo frets
Neck profile based on my brian may guitar (thick D shape)
True single coil in the neck
Iron Gear hot slag pickup in the bridge
TOM and string through body
Volume
Tone
3 way toggle
Rear mounted input jack
and a group shot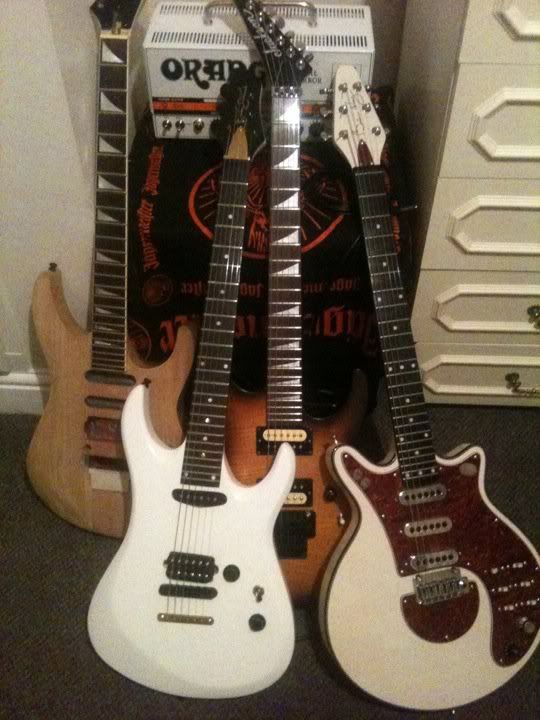 Review: I don't know how much I can say really. I love it, but then I would, it was made for me. The thick D shape neck feels like its been cut for my hand . . . because it was. The sound is exactly what I wanted, which is very very bright and cutting. It's a snarling noise rather than anything else and it's very very clear. I'll be recording something soon for it, but I have an exam tomorrow to revise for tonight =D
So yeah, it's all made me pretty happy. I think tomorrow after the exam I'm going to treat myself and learn an album start to finish with her.

Join date: Jun 2005
90

IQ
That's a beauty. I have a few including a Jackson Dinky that's the same color scheme but has slightly different electronics. I bet it sounds beastly.
Join date: Apr 2006
140

IQ
I've got to be honest, I do not like that metal plate where the strings meet the body but apart from that it's damn sexy, HNGD!
Looks like a great guitar.

Why does the guitar use a brass cover instead of ferrules for the string holes?
hot damn! that is one sexy guitar!

Happy NGD.
Looks like a high quality and comfortable guitar. HNGD mate! How much it was?
The brass thing instead of ferrules was a bit of an odd one. Basically we wanted something just a little different. Not so drastic that everyone would spend ages looking at it, but just enough so that it wasn't exactly the same as everything else. The reason it was done in brass was to tie in the truss rod, brass nut and logo. I think that was the theme for a lot of the guitar. Not drastically different, just lot's of little things that are a bit different. I forgot to mention the middle position was out of phase.

Entire thing cost 680GBP. I supplied some of the wood, the pickups and after all he is my friend =D

Join date: May 2008
90

IQ
the rear-mounted input seems very odd to me. but very unique. any reason on why you chose that placement?
I've never been a fan of front mounted jacks when the rest of the electrics are rear mounted and when using side mounted it always feels like it gets in the way if I cant find a 90 degree angled jack. It keeps the front and sides looking clean, and from that angle the input jack can fold over the straplock very easily when playing live.
sweet

aside from not having a floyd, that's awesome

haha, this was always going to have a floyd until I realised that pretty much everything I have ever owned has had a floyd. =D I decided I finally needed something that didn't for live use, just in case a guitar bust a string and was in a different tuning.
ah ok



Join date: Dec 2009
190

IQ
That pickup combo (HxS) makes it look odd...
yeah, no-one ever seems to like H-s. I always thought it was the sexiest of all the configs. I hate middle pickups though - I never ever use them and since this guitar was meant to be everything I need and nothing I don't, we cut it out =D

Join date: Dec 2010
240

IQ
the input jack on the back is a brilliant idea btw awesome guitar looks great!
HS is beyond awesome. the only way you can make things more 80s (and by extension, more awesome) is to go for the single slanted bridge humbucker


Join date: Mar 2008
334

IQ
HNGD!
Thinking of modding my main guitar for HS!
Last edited by Emperor's Child at Aug 24, 2011,
HNGD!
Thinking of modding my main guitar for HS!
I had a strat that had a HB in the bridge, and the middle pickup was busted, so I had a HS. I thought with the dead middle spot I could do some Tom Morello shit, which I never ended up doing. That dead spot on the selector was a PITA live.

Join date: Jan 2010
40

IQ
You're very lucky, congrats!
HS is beyond awesome. the only way you can make things more 80s (and by extension, more awesome) is to go for the single slanted bridge humbucker
+1
sick man, great looking piece.

Awesome guitar dude

HS is for real men.

Join date: Jan 2009
200

IQ
That guitar has a smokin' backside.

Seriously, the body contours and the shape of the heel look like a dream to play.
+1



Rear mounted input jack

Any particular reason????
Anyway HNGD, that thing looks sweet

Hey guys, I've just uploaded a video of this entire guitar build. Start to finish. =D It might take a little while to see because I've just uploaded it, but it's al there =D