That Magnifabulous Made-up Words Thread!
Oh, go on! it might be fun

This is where we speak in made up words, no 'normal talk' here please! Keep it random and crazy and you will do just fine

Actually i'm rather schnubbely at making them up, but i want to see what you other gobblewhoppers are capable of.
After all, the Pit IS full of stupendolous imaginatificators

(Don't start being flamey or mean, whatever your daddy issues don't take it out on me or the thread, mmkay?)

And just to helpfill you along, a little presentillium from good ol' Spongebob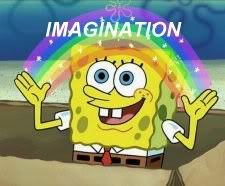 Off you go now!