A Rainy NGD

Join date: Apr 2007
223

IQ
Well - where I live it's absolutely pouring out so what an oppertune time to write up a NGD.
The Guitar: 2004 MIM Fender Stratocaster
Special Edition
.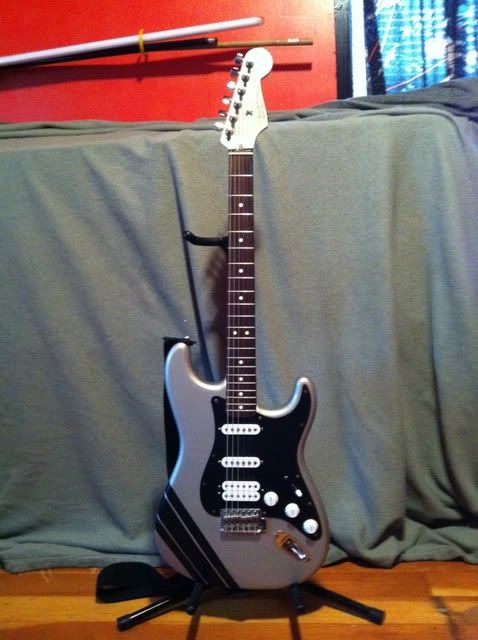 Sexy Matching Headstock (I'm a complete sucker for them)
Body Shot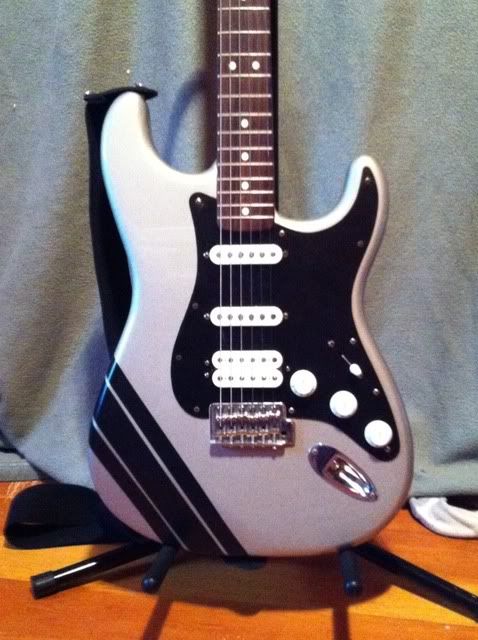 Features:
As far as specs are concerned it's your fairly standard fat strat. SSH pickup configuration, 22 frets, alder body, rosewood fretboard, blah, blah, blah.....Nothing so special there.
Sound:
The guitar has a pretty wide array of sounds that it can produce. The bridge humbucker handles distortion much better than the standard strats single coil - much, much crunchier and lots more oomph. The neck pickup can get pretty creamy sounding. However my main complaint about the guitar is the pickups are somewhat noisy, not unbearably nosiy but enough to be annoying. I've ordered some shielding to see if that will help cut down on the noise, but I think that some noiseless picks may eventually be in order.
Fit, Finish and Action:
The guitar has a Metallic Silver finish with matching headstock, hence the special edition tag. Only a 124 other guitars were made with the same finish. The pickguard that was on the guitar when I got it was a horrid metallic gold color (

) and it was imeadity replaced with the black one. There are a few dings and a small crack in the finish. The guitar was setup excellently when I got it - innotation was bang on, action was nice and low.
Durability:
The hardware for the guitar seems pretty solid, tuners hold tune pretty well, all the knobs and switches work properly. The one notable exception is the input jack which constantly seems to wiggle around a bit. The guy I bought it from said that he gigged pretty freaquently with the guitar and from what I've seen in my first couple days of playing it, I think it's a pretty solid instrument.
Final Thoughts:
The guitar does have a few minor flaws, being a little beat up, wiggly input jack and the pickups are bit noisy. But considering I only paid $225 bucks for this bad boy, and it's my first proper electric; I have to say I'm quite pleased.

Join date: Oct 2008
180

IQ

HNGD!

Join date: Jun 2008
180

IQ
I could take or leave the metallic gray, but the black stripes are quite sweet and good call on switching out the pickgaurd. HNGD!

Join date: Jun 2010
40

IQ
I love matching headstocks too but for a second there, I thought it was maple since the pics kinda suck
Looks sexy nonetheless


Join date: Jun 2009
110

IQ
Thats the finest looking Fender strat I have ever seen.

Hngd!

Join date: Feb 2010
100

IQ
Nice man HNGD

It's raining like a boitch here too.
Congrats!


Join date: Jan 2005
626

IQ
I've always loved matching headstocks.

Join date: Jul 2009
100

IQ
nice. by the way that's 21 frets not 22

Join date: Jul 2009
320

IQ
You should paint it yellow but keep the black stripes, go all Bruins on your guitar

HNGD!


Join date: Nov 2008
50

IQ

Join date: Sep 2009
233

IQ
I've always loved matching headstocks.
+1

Join date: Feb 2011
40

IQ
Strats with rosewood boards and matching headstocks are my favorites. Love the black pickguard too. Black or silver pup covers and knobs would be nice too.
Bitching finish and guitar!
Looks good!
Happy new guitar day


Join date: Oct 2010
80

IQ